Looking back with Ian Scott: The importance of doocots to our ancestors and our heritage
Last week's report on the restoration of the Dollar Park doocot reminded me of how important these bird houses once were in past centuries.
Watch more of our videos on Shots! 
and live on Freeview channel 276
Visit Shots! now
A few years ago I visited one of our local primary schools to talk to the children about Callendar House. I showed them a photo of the doocot on the old stable block and asked why people used to keep pigeons. One lad offered "To race them against other birds". Another said " To carry messages tied to their legs". Finally one of the girls said "To eat them!". This was greeted by everyone making sick noises and shouting "Yuk" or "Ugh" etc.
They had not yet discovered the pleasure of a wood pigeon casserole which was a very important part of our forefathers' diet. In fact almost every mansion house had either a purpose built pigeon house or dovecote (doocot in Scotland) or had one adapted within an existing building for the purpose.
Quite a few of them are still to be found in our area though many are in a poor condition due to neglect or vandalism. Some have fared better than others and the finest example without a doubt is at Westquarter where the magnificent lectern style building has survived the demolition of Westquarter House in 1933. It bears the date 1647 and the initials WL and HL for Sir William Livingston and Lady Helenore his wife.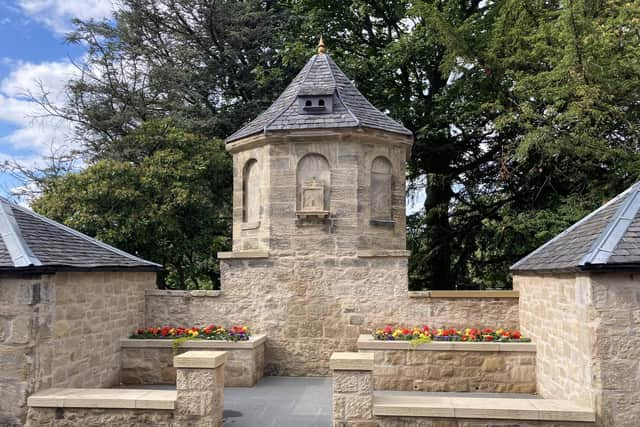 It has been restored and is protected by an A listing from Historic Environment Scotland. It has spaces for nearly 900 birds. Not so well preserved is the interesting tall octagonal shaped red brick doocot close to the ruins of Carron House in Carronshore. This Georgian structure had room for over 1000 birds and despite its B listing has lost part of the top sandstone cornice and is at very high risk.
Parkhill House in Polmont has a nice example of the square Gothic style doocot which looks a bit like a small castle. Unfortunately it is hemmed in by housing and is also badly in need of some care and attention. There are others like the one at Muiravonside, also lectern style, and the mansion house at Avondale close to the landfill site which has a doocot set above the arched passageway through the farm buildings on the approach to the house. Unfortunately we do not have an example of the beehive style which is a pity but there are magnificent examples not too far away in Linlithgow and Corstorphine.
The Dollar Park building is probably the best known of the doocots in the Falkirk district. It stands behind the mansion house of Arnotdale built in 1832 by the lawyer and man of business James Russel. The doocot was erected a couple of years later and is still home to a few white doves introduced in more recent days. The brilliant restoration is a credit to the Friends of Dollar Park and the skilled craftsmen who did the work.
Back in 1991 Geoff Bailey compiled an inventory of local doocots and calculated that at one time or another there had been no less than 53 in Falkirk district of which only 13 were still standing.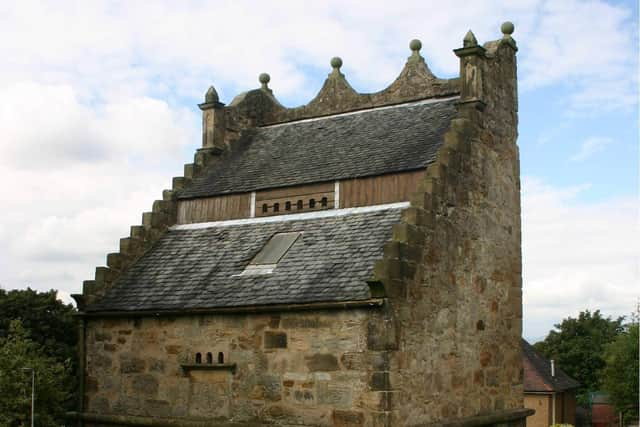 If we are not careful then this number will continue to decline and we will be the poorer. They may not be castles, churches or fine municipal buildings but they help us understand an important part of our heritage and deserve to be protected.