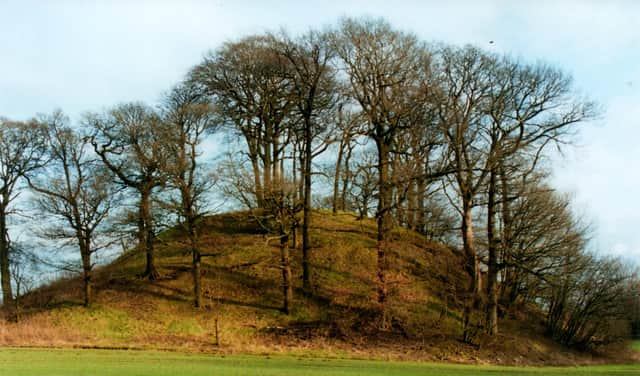 The Hill of Dunipace.
When my attention finally turned from great events in distant lands to history on my own doorstep I discovered that we were not short of a few myths ourselves.
No matter how daft they seem many keep coming back again and again and I admit that I have been known to repeat a few myself... though usually with a health warning!
Place names are a rich source for the inventive mind, from those who claim that Slamannan comes from the fact that the unyielding soil in the area would slay-man-and-mare, to the 19th century scholars who thought Dunipace was made up of the Gaelic 'dun' meaning a hill and the Latin 'pace' meaning peace.
Wallace's Oak in Torwood.
Hence the hills of peace marking a treaty between the Gaelic speaking tribes and the Latin speaking invaders.
Fanciful to say the least! John Reid, who has spent a lifetime studying such matters, finds all this stuff scunnersome and I would advise against mentioning the name Skinflats anywhere in his vicinity!
Among the most persistent of the stories tells us that in 1298 Sir Brian de Jay, a leading Templar Knight in the service of King Edward at the battle of Falkirk was trapped, horse and all, in a muddy burn and killed by the pursuing Scots.
The place he died was then called Brian's Ford which changed over time to Bainsford.
The truth is a bit more obvious.
In the 18th century a man called Thomas Bain owned the land next to the ford on the burn.
Another from the Battle of Falkirk has William Wallace carrying his friend Sir John de Graeme to his grave in Falkirk Kirkyard before making a long speech in praise of his friend.
All this at a time when Wallace would have been running as far and as fast away from Falkirk as possible in search of an oak tree in Torwood where he could hide.
Oh, and that's another of the legends.
My favourite is the story of Camelot which was, of course, Camelon!
Here King Arthur and his knights held sway in the dark ages in what Robert Burns thought was "the ancient metropolis of the Picts".
The famous Roman Temple called Arthur's O'on in Stenhousemuir which was demolished in 1743 is often drawn into this particular story and I remember the late Archie MacKerracher publishing an article claiming that the O'on was actually the famous Round Table – and he provided a lot of 'evidence' to support this outlandish idea.
Down Bo'ness way visitors are often told about the Lady Alice who jumped to her death from Kinneil House in the mid 1600s to escape the clutches of her Cromwellian husband General Robert Lilburne.
Her ghost is said to appear from time to time which is a bit of a surprise to American writer Mervyn Hagger who assures me that Lilburne was not a General, never stayed at Kinneil and his wife was not called Alice anyway!
Still it's a great story and for generations the children of Bo'ness have learned that 'Lady Alice Lilburne, died in the Gil Burn'.
All this goes to show that you shouldn't believe everything you are told about local history – unless of course it's me that is doing the telling!
Thank you for reading this article on our free-to-read website. We're more reliant on your support than ever as the shift in consumer habits brought about by Coronavirus impacts our advertisers.
Please consider purchasing a subscription to our print newspaper to help fund our trusted, fact-checked journalism.