Falkirk historian Ian Scott recalls his hero in the dark blue of the Brockville Bairns
Back in the 1950s I was a schoolboy in Falkirk and one day the teacher asked the class to write an essay (they called it a composition in those days) entitled MY HERO!
Friday, 5th February 2021, 4:30 pm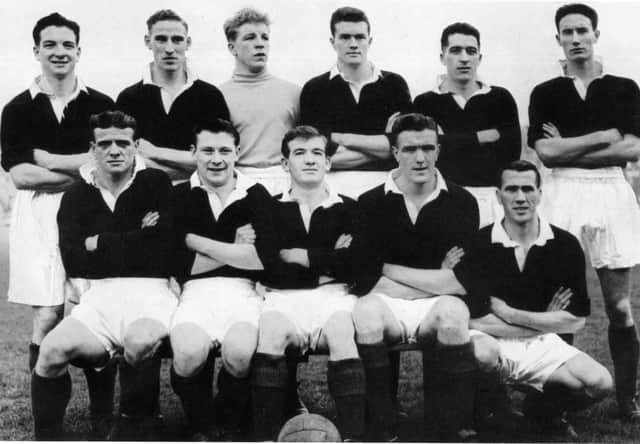 The Bairns in 1954. Angus Plumb is front row left with Bert Ormand, Javo Davidson, Bob Morrison and Alex McRae. Three of the future cup winners, Slater, Parker and Rae are in the back row.
We handed in our efforts and a few days later back came the results. "Excellent Michael" she said to the class brain box, "Leonardo da Vinci was a great choice and well worthy of your praise".
Turning to another favourite, she declared "Well done Marie, Lord Horatio Nelson was indeed a great hero". So it went on with a roll call of the great and the good of world history – artists, writers, inventors, soldiers and statesmen – and I was already nursing a sinking feeling.
"And Ian Scott" she announced "has chosen Angus Plumb".
The class collapsed in laughter, or at least the limited amount of laughter allowed in classrooms in those days.
I was forced to stand up and justify my choice and, given that it was nearly 70 years ago, I probably have to do the same for most folk reading this column.
In the early 1950s Angus Plumb was a bustling centre forward who scored many goals for the Brockville bairns at the heart of a forward line that read 'Delaney, Dunlop, Plumb, McRae and Kelly'.
I remember the great Jimmy Delaney a famous international who had won honours with Celtic and Manchester United and, who like Johnny Kelly on the left wing, was as bald as an egg. And we loved Alex McRae a crafty inside forward who went on to manage the club.
But it was Angus Plumb who was my hero.
No amount of criticism (and there was plenty) from football purists could shake my admiration for the man who put the ball in the net and made Saturday afternoons such a pleasure for me and hundreds of others.
Of course times moved on and so did the players to be replaced by new heroes like 'Javo' Davidson, Bob Morrison and Bert Ormond but Angus remained alongside them though he was gone by the time of the Scottish Cup win in 1957.
For those who were at Hampden Park that year the names of the winning team are forever etched on the memory but in all the decades since the name of Angus Plumb has remained etched on mine.
This story has a sequel. Donkey's years later I was playing in the band in Linlithgow Golf Club and at half time our host took us into the bar for a drink.
One man waiting there was his pal and he introduced him to me as follows – "Ian, I don't know if you've met my mate Gus Plumb". And there he was! My hero shaking my hand and offering to buy me a drink!
To my astonishment, he had an English accent, when I had always thought of him as 'Angus' a wild Scot in the Wallace mould! Somehow it made him seem even more exotic and, of course, I could not resist telling him about my childhood composition and the reaction to it from my classmates.
He thought it was a great story and assured me that I was one of a kind, the only person ever to think of him as anything more than a journeyman pro. He bought me a double!
Angus is long gone now as are all the boys who wore the navy blue back then. Gone, but not forgotten, especially MY HERO!