Sponsor a Tree in the Triangle Wood this Xmas
Burgh Beautiful Linlithgow and Linlithgow Community Development Trust have joined forces to offer the opportunity to sponsor a tree in Triangle Wood.
Wednesday, 25th November 2020, 12:19 pm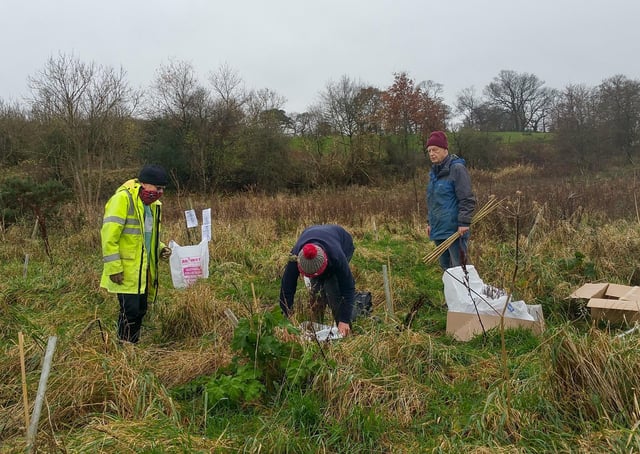 Trees being planted by Burgh Beautiful Linlithgow volunteers west of Linlithgow Leisure Centre earlier this week
Triangle Wood is currently grassland leased to LCDT by West Lothian Council, located west of the leisure centre at Kettilstoun, bounded by the Union Canal and A706.
Burgh Beautiful is committed to enhancing the town and improving wildlife spaces, and over the past year almost 1000 native trees have been planted by volunteers in the most westerly corner of the site.
This will eventually provide a shelter belt while opening up a network of paths and adding to diversity of habitats for wildlife.
LCDT Trust is run by Linlithgow residents, who believe that active communities will be the most successful in adapting in a changing world.
It currently has an ambitious plan to develop a cycle circuit and wider sports facility for which over £500,000 has already been raised.
Sponsoring a tree costs £5 a time, a certificate will acknowledge your contribution and an annual record of sponsorships will be publicised.
Pamela Barnes, community coordinator at LCDT, said: "Trees are vital to help combat climate change and compensate for deforestation and urban growth.
"The aim is to increase the diversity of habitats, with the focus on native trees: Willow, Alder, Hazel, Rowan, Birch and Hawthorn with a few other native species: Oak, Ash, Scots Pine and the occasional Sycamore.
"They will help provide a shelter belt for the new outdoor sports facility and help with drainage in what has been a marshy area.
"Christmas is coming, this year why not give a gift of trees?"
In addition to the work going on at the Triangle Wood the money raised through sponsorship will also help enhance the town's floral displays.