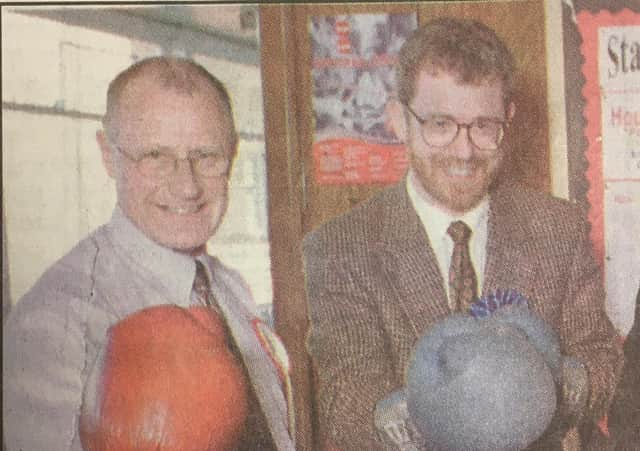 Dennis Canavan (left) and Gordon Millar (Conservative) pictured at a pre-election hustings debate.
Voters across Falkirk district take part today (Thursday) in Scotland's most historic election.
They will help elect the first Scottish Parliament in nearly 300 years and choose the 32 politicians who will run the new Falkirk Council.
And, for the first time, proportional representation will be used in part of the ballot.
Polling stations opened their doors at 7.30am and will close at 10pm.
Just as in the Westminster elections, Falkirk district will be represented by members from Falkkirk West and Falkirk East.
The fiercest battle is set to be fought ikn Falkirk West where rebel MP Dennis Canavan is standing as an independent candidate.
The seat has long been a Labour stronghold but Mr Canavan's decision to go it alone means it will now be a three-way fight between him, Labour's Ross Martin and SNP candidate Michael Matheson. All three predicted that they would emerge victorious.
Michael Matheson said: ''Our canvass returns indicate that we are ahead in the constituency.''
Mr Canavan said: ''I am confident, not complacent.''