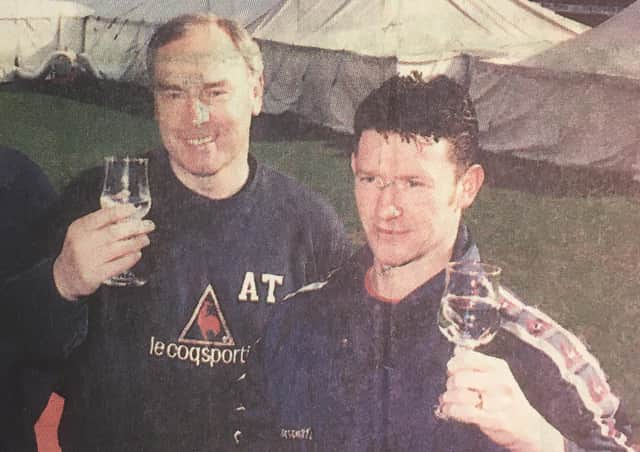 Bairns' boss Alex Totten and Kevin McAllister toast the success of the gala night.
Saturday night's Back the Bairns gala dinner was a rip-roaring success.
Cash raised from the marquee event inside Brockville is still being counted but organiser George Craig reckons he will be handing over at least £10,000.
George and his team from Amicable Marquees handled everything from start to finish including organising the catering and music and even down to picking up the rubbish afterwards.
"It was a fantastic night," said George. "All the players were there and they got involved with everything and were fantastic.
"Four guys put up cash to have a kickabout in one of the goals and they even managed to persuade Paul Mathers to do his stuff.
''He ended up with his good clothes covered in muck from diving around but that was the kind of night it was.
''I reckon if we could have bottled the high spirits we could win the premier league, never mind just stay in business.''
Bairns' defender Kevin James raised an extra special cheer on the night as well as forking out several hundred pounds when he won the bidding for a bathroom suite.