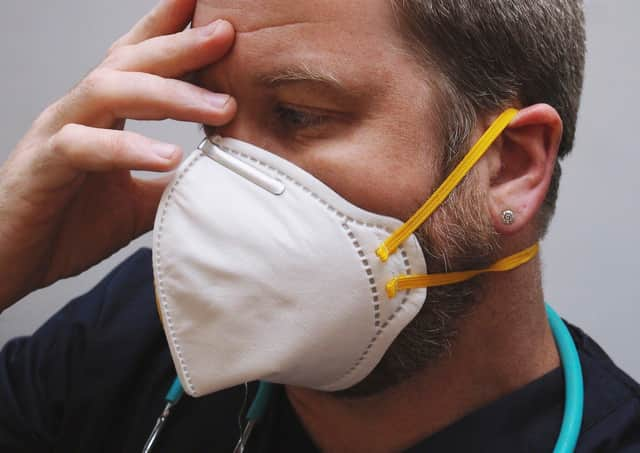 Overworked and underpaid...NHS Scotland staff are facing enormous pressure thanks to the Covid-19 pandemic but they feel the government and NHS Scotland are simply paying lip service to their efforts.
Unite Scotland released the worrying findings this week from a survey conducted between June 24 and July 31 among 2198 members.
It revealed that 83 per cent of NHS Scotland staff faced acute staff shortages, 79 per cent regularly worked beyond their contracted hours and 51 per cent didn't feel valued by their employer.
Unite hopes the survey will serve as a 'wake-up call' for the Scottish Government and NHS Scotland at a time when health service workers face enormous pressures and challenges due to the pandemic.
The trade union is also demanding that the findings should guide the re-opening of NHS pay talks.
The NHS pay order of August 2018 allowed for talks to be re-opened through a trigger clause, which Unite says must now be used.
Cabinet Secretary for Health Jeane Freeman has offered to start negotiations on future pay but, to date, has refused to use the trigger clause.
More than 60 per cent of NHS Scotland staff at the top of their pay band have been paid less than other public sector workers over a three-year period.
James O'Connell, Unite regional officer, said: "The survey findings should be a wake-up call for all involved in the management of the nation's health service.
"Around four out of every five NHS workers are working beyond their contracted hours and experiencing acute staff shortages. The scale of the problem is unsustainable and the workforce is at breaking point.
"Worryingly more than half don't feel valued at all by their employer or the Scottish Government, despite the public praise being lavished upon them.
"There is a widespread belief that the work they do is being paid lip service and just isn't being valued in the way that it should be.
"Urgently addressing these issues must be a priority for the Cabinet Secretary for Health. A key element has to be the re-opening of the NHS pay award from 2018, which expressly allowed for talks to begin if the circumstances changed.
"It's our hope that what thousands of NHS Scotland workers have told us in this survey should facilitate immediate talks on how we can ensure the NHS Scotland workforce are properly valued, resourced and supported in their day to day roles, particularly for all that they have done during this pandemic."