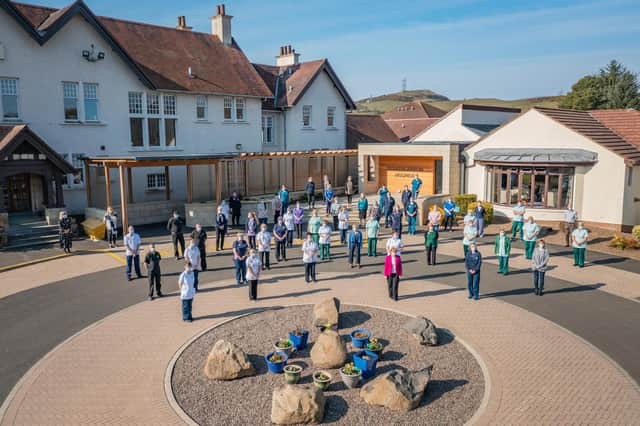 Strathcarron Hospice staff are celebrating their 40th anniversary. Picture: Scotdrone.
The descriptions were used by those who have witnessed first-hand the level of support the palliative care facility's doctors and nurses offer as they paid glowing tributes to the service in the run-up to its 40th anniversary on April 21.
Lorraine Turnbull and Martin Mellon say they'll never be able to repay the Falkirk district hospice for the way in which it looked after their late partners.
The former lost her husband, Gordon, to prostate cancer aged 63 in February 2019.
Dennyloanhead husband and wife Lorraine and Gordon Turnbull. Contributed.
Dennyloanhead resident Lorraine, 61, looked on with amazement as Strathcarron staff showered Gordon with affection and emotional and physical support over a three-year period.
Speaking to The Falkirk Herald as part of our Support Our Strathcarron campaign, she said: "Strathcarron means the world to me.
"Gordon was diagnosed with prostate cancer in 2010 and sadly it spread. In 2016 an oncology specialist nurse put us in touch with Strathcarron and from that day onwards we never looked back.
"I used to call them my earth angels. Where we would be today without Strathcarron, I really don't know. The care was absolutely tremendous.
The work of Strathcarron Hospice chief executive Irene McKie and her colleagues has meant the world to countless families over the years. Picture: Michael Gillen.
"Gordon was in for pain management for a month at a time. They were just top of their class for their care.
Martin and Frances Mellon were able to marry one another courtesy of support from Strathcarron Hospice. Contributed.
"Even three days before he died he had his birthday and the nurses decorated the room and sang happy birthday.
"It's the standard of care that makes them stand out. They're experts in their field."
Lorraine, a former community nurse, believes Strathcarron's work would convince anyone who's sceptical.
She added: "You shouldn't be afraid of the word hospice as far as Strathcarron is concerned.
Lorraine Turnbull is full of praise for Strathcarron Hospice for the way it cared for her husband Gordon. Picture: Michael Gillen.
"I couldn't thank them enough for what they did for us."
Martin, 59, will also be forever grateful to Strathcarron as it enabled him to marry his partner of 20 years, Frances, 61, better known as Faye, at the hospice the day before she died from lung cancer in 2018.
Martin said: "We kept meaning to get married but work commitments and things meant we never got round to it but I was determined she was leaving this world as my wife.
"On December 20, 2018, with the help of Strathcarron, we got married. What those people did for me and how they helped me with fast-tracking the wedding was unbelievable.
"After the wedding ceremony they put on a spread for us. It was unbelievable. They really went above and beyond.
"I don't know how I would've got through without those people."
Kilsyth man Martin asked doctors at Glasgow Royal Infirmary if Faye could be transferred to Strathcarron so he could visit her more easily, as he worked in Falkirk at the time.
He continued: "What stood out was just one wee incident: it was her first night there and she'd suffered with mouth ulcers as a side effect of the chemotherapy and hadn't had any treatment.
"One of the nurses came and gave her a hygiene thing and spent maybe an hour with her. After it Faye said, 'This is the best my mouth has felt in months'.
"There was absolutely nothing they wouldn't do for us."
Thank you for reading this article on our free-to-read website. We're more reliant on your support than ever as the shift in consumer habits brought about by coronavirus impacts our advertisers.
Please consider purchasing a subscription to our print newspaper to help fund our trusted, fact-checked journalism.