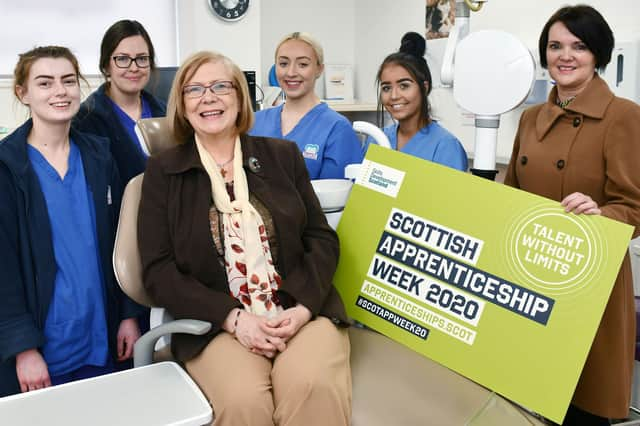 (From left) Jade O'Brien, RGDN; Lauren McCulloch, clinical supervisor; Iona Rae, trainee dental nurse; Elaine Smith MSP; Rebecca Douglas, trainee dental nurse; and Helen McLaren, skills investment advisor at Skills Development Scotland. Picture: Michael Gillen
Tryst Dental Practice has offered support and opportunities to young people considering a career in dental nursing since 2015, in partnership with Ident Training.
The team welcomed Elaine Smith, Central Region Labour MSP, to their King Street clinic last Friday as part of Scottish Apprenticeship Week, a nationwide campaign aimed at encouraging more employers to take on trainees.
Co-ordinated by Skills Development Scotland, the theme of this year's Scottish Apprenticeship Week was 'Talent Without Limits'.
The initiative celebrates the achievements of individual apprentices and all those who contribute to their success and creates opportunities for all, no matter their background, and for every business, no matter its size or sector.
Last week's meet and greet proved to be a valuable opportunity for the employees, including trainees Rebecca Douglas and Iona Rae, to talk about their experiences.
The gathering also allowed clinic bosses to share their views on the scheme from the perspective of an employer.
Linsey Paton, Tryst Dental Practice business manager, was among the staff who spent time with Ms Smith during her visit to discuss the ways in which the clinic has benefitted from the concept.
She said: "Providing apprenticeships allows us to instil in our team an understanding of our ethos and the high standards we expect to deliver, whilst also creating developmental opportunities for our existing team members who support the trainees whilst they are learning.
"Apprenticeships work to build all levels of the business and can play a vital role in helping to create a sustainable future for generations to come.
"We currently have two trainees, Rebecca and Iona, who are working towards qualifying as professionally registered dental nurses. We hope they will both qualify in early 2021 with the support of our whole team."
Lesley Donaldson, principal dentist, added: "One of our qualified nurses, Jade O'Brien, completed the same training with us and Ident.
"Jade's hard work and commitment throughout her training impressed us enough to earn a full-time job and she is now a key member of our team, taking on some additional training and responsibilities for infection control within the practice.
"Apprenticeships at all levels can open doors for young people and help them to find their own path – they truly are helping to develop Talents Without Limits."
Apprentices are employed across Scotland in a wide range of jobs in sectors which include engineering, construction, financial and business services, health and social care, digital technology, tourism and food and drink.
Those who are interested in pursuing a career in dental nursing are encouraged to contact Helen Donaghy at Ident Training. Visit www.identtraining.com for further details.
Search for 'TrystDentalPractice' on Facebook or @trystdental on Twitter for more.