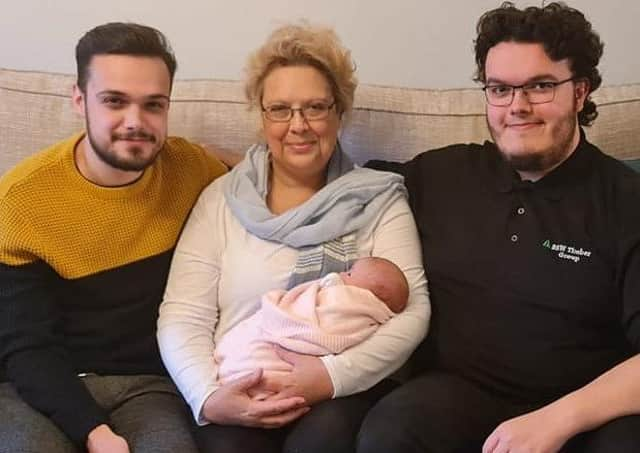 New arrival...Fiona Morris was able to celebrate the birth of her first grandchild Iona Louise last month with her sons, the proud dad Liam (left) and uncle Rian.
Some 370 men are also diagnosed with breast cancer every year in the UK and 81 die from the disease.
In October, Breast Cancer Awareness Month, charities across the country raise awareness in the hope of improving these statistics.
Their collective aim is to raise awareness as well as funds to help combat the disease – from the largest to the smallest charities.
In the pink....make sure you don your best pink garb this October 23 to help raise funds for Breast Cancer now.
The Inflammatory Breast Cancer Network UK falls into the latter category.
IBC is a rare and very aggressive breast cancer which primarly affects women, but men can get it too. The average number of patients diagnosed per annum is just 1.8 per cent.
The Inflammatory Breast Cancer Network UK was founded eight years ago, as there was no support or research being done.
Initially, it offered online support but it quickly grew and, for the last four years, the charity has funded the only research into IBC in the UK at The University of Birmingham, Institute of Cancer and Genomics.
Alongside this research, the charity supports IBC patients and their family members via online, phone and in-person support group meetings around the UK.
Fiona Morris, who lives just outside Duns in the Scottish Borders, first found the charity online after her diagnosis in 2017.
She credits her life to her dog Fynnley and the charity, of which she's now a trustee.
Fiona (52) said: "In June 2017, I suffered a scratch to my left breast while playing with our new puppy.
"A few days later, my breast was sore, red and hot and I immediately thought I had an infection from broken skin caused by the dog's nail.
"My GP thought the same and I was offered antibiotics. When they failed to work, I was given a stronger two-week course.
"When they failed to work, I was urgently referred to the breast clinic. At that stage I had a feeling it was not going to be good news as my breast remained red, sore and swollen. Also the texture of the skin had started to dimple and my nipple had become inverted."
In August 2017, Fiona was diagnosed with IBC Stage 3C.
It came as a massive blow to someone who considered herself fit and healthy.
"I knew about IBC because I had gone onto Google and researched my symptoms, which is the worst thing you can do," she said.
"However, in a way, it was a lifesaver as during that time I found the network.
"Had it not been for our puppy Fynnley and the charity, I do not think I would be here today."
It's been a long hard road to recovery though. Fiona underwent chemotherapy in September 2017 at Borders General.
Her son Rian (23) drove her to and from those appointments, while her husband Mark worked from home to look after her.
Then, in February 2018, she had a radical modified mastectomy and her left lymph nodes removed at the Western General Hospital in Edinburgh.
After a six week recovery, she began three weeks – five days a week – of targeted radiotherapy at the Western, during which she lived with her son Liam (27) in the city.
The men in Fiona's life have been a tower of support to her – prior to, during and after treatment.
She said: "I couldn't have got through it without them.
"I've had to deal with a whirlwind of emotions – from feeling overwhelmed, devastated, angry, upset, physically and mentally drained and frustrated to feeling very isolated.
"Then there is having to deal with all the common side effects of total hair loss, weight loss/gain, sickness and pain.
"But Mark and the boys have been there for me every step of the way."
Fiona also thanks her lucky stars for coming across the IBC Network UK online.
She said: "There were times when it almost felt like a fight to ensure I got the right treatments at the right times. This should not be a surprise really, given the rarity of IBC.
"However, I was very fortunate early on to find the Inflammatory Breast Cancer Network UK, which proved invaluable to me.
"It ensured I received the correct treatment protocols as defined in specific International Standards of Care for IBC. I wish I could say that all UK patients diagnosed with IBC receive these same protocols but, sadly, this is not the case.
"Many patients have to push for extra consultations in order to ensure correct treatment is received – far from ideal at a time when all a patient needs is reassurance and support.
"The treatment is difficult enough without having to contend with anything else. However, it is vital that patients work with their medical teams in learning and understanding IBC and this is where the charity has been a wonderful asset."
Two years post treatment, Fiona is feeling well and optimistic about the future. She continues to work part time from home as a virtual personal assistant.
However, these days she also dedicates time to raising awareness of IBC as a volunteer and trustee with the charity she credits with saving her life.
Her aim now is to raise awareness of IBC to help other people who are diagnosed in future.
She said: "A lot of people will have heard, read, or know someone who has had breast cancer. However, if you ask what they know about inflammatory breast cancer, most people will say they have never heard of it.
"The symptoms of IBC often appear as a rash or an irritated area of skin on the breast. It can suddenly swell and become much larger.
"The breast feels hot, can be sore with shooting pains and itchiness. Breast skin can look dimpled and look like orange peel and the nipple can be discoloured, flattened or inverted."
Lumps, however, are not that common. As such, IBC is not typically discovered by mammograms and is often misdiagnosed.
And it's for that reason that Fiona is sharing her story this month.
She added: "I am beyond grateful that I have had the understanding and support of great medical teams at the Western General and Borders General Hospitals.
"Working with the IBC Network UK has also given me a fresh focus during a time of recovery.
"My only wish is to make more people aware of this orphaned disease and the UK charity that supports it."
Fiona was able to celebrate the birth of her first grandchild, Iona Louise, last month with Mark, proud dad Liam and a delighted uncle Rian.
She hopes many more people in future will be able to celebrate with their families, thanks to the work of the charity she now heartily champions.
Wear It Pink for Breast Cancer Now
Breast Cancer Now's Wear It Pink is back this month.
Taking place on October 23 during Breast Cancer Awareness Month, it has grown to become one of the UK's biggest fundraising events. Since launching in 2002, the event has raised more than £35 million.
Each year thousands of people across the UK dress in their finest pink clothes and fundraise for Breast Cancer Now, the research and care charity.
But this year, it's never been more important to sign up and take part.
Summer Kendrick, Wear It Pink manager, said: "The coronavirus crisis is having a devastating impact on Breast Cancer Now's ability to deliver the progress and support that so many people affected by breast cancer rely on us for.
"Right now, we don't know what the world will look like, what we'll be able to do or who we'll be able to see, but we do know that breast cancer doesn't stop for anything.
"People affected by breast cancer, our nurses and scientists urgently need your support, now more than ever.
"We are so grateful to our incredible supporters who, year on year, take part in Wear It Pink with so much enthusiasm and creativity.
"If there was ever a time to find that pink top, grab that pink tie or dig out that pink tutu, that time is now.
"Please join us and Wear It Pink on October 23 to help us continue our vital work for anyone affected by breast cancer."
Breast Cancer Now is the UK's first comprehensive breast cancer charity, combining world-class research and life-changing care to build a complete view of breast cancer and make faster progress for everyone affected.
Steered by research and powered by care, Breast Cancer Now's ambition is that, by 2050, everyone who develops breast cancer will live and be supported to live well.