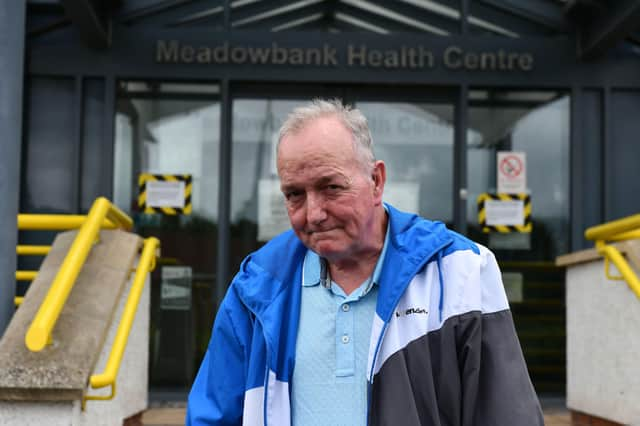 David Aitken feels let down by Parkhill Medical Practice, based inside Meadowbank Health Centre. Pic: Michael Gillen.
Linda Aitken contacted Parkhill Medical Practice on Thursday, August 20, with concerns for her husband David's mental health.
She was keen to see or speak with a doctor about a change in his behaviour which Mrs Aitken believed was being caused by him stopping strong pain medication.
She was told by a receptionist that Mr Aitken would not be able to be seen by a GP as there were no appointments available however a doctor could give her a call back – on Monday.
Mrs Aitken said: "David took a chest infection and in order to give him antibiotics the GP took him off his pain medication.
"It's a strong painkiller and coming off it suddenly can cause side effects for some people.
"His mental health suffered quite a bit because of this.
"He was paranoid, anxious, all over the place and couldn't control his emotions.
"His behaviour had totally changed and he wasn't himself.
"He'd been acting differently for a few days but I phoned on the Thursday and they said I couldn't get a call back until the Monday.
"The way he was, I couldn't leave him like that all weekend."
In the end, Mrs Aitken called NHS 24 and explained her husband's situation.
"I spoke to them and said I know this is really a GP matter but the surgery won't let me speak to someone until Monday.
"I'm really worried about his mental health, I think it's an effect of coming off the medication.
"I spoke with an out-of-hours GP who said it sounded like it could be the medication and she wanted to see him that night. So I took him to Alloa to see her.
"I appreciate with the pandemic things are being done differently, surgeries are busy and doctors are not really seeing people face to face, however when you are dealing with someone's mental health you shouldn't have to wait days just to speak to a doctor on the phone.
"I did receive a call back from a GP at the surgery on the Monday but it wasn't until late in the day.
"If we hadn't phoned NHS 24 and seen the out-of-hours GP, David would have been in that paranoid, anxious, emotional state for four days without medical advice.
"It's disgusting we were expected to wait that length of time just to speak to someone on the phone.We feel let down.
"From Thursday to Monday, especially when it's affecting someone's mental health – that's not acceptable to me.
"It's not just about us, there may be others in similar situations where they are just expected to accept this length of wait and level of service.
"There may be elderly people with no-one to speak up for them who are just accepting this but it just isn't good enough."
Parkhill Medical Practice, which is based in Meadowbank Health Centre in Polmont, was contacted for a comment on the matter.
However, a spokesman for the practice said: "Unfortunately, due to patient confidentiality we are unable to comment."