NHS Forth Valley: Steps being taken to prepare hospitals and staff for 'challenging winter'
Health bosses are making plans to free up hospital beds and other capacity across the district's service as they prepare for a challenging winter.
Watch more of our videos on Shots! 
and live on Freeview channel 276
Visit Shots! now
They say that the priority is "intensive and coordinated efforts" to support more people living at home or in local care homes.
This includes carrying out more AHP (allied health professions) assessments for services such as physiotherapy at home or in other care settings to help prevent patients being delayed in local hospitals, as well as increasing the capacity of NHS Forth Valley's Hospital at Home team which provides medical care to people in their own homes, so they don't need to come into hospital for treatment.
Jim Cannon, NHS Forth Valley's interim director of acute services, said: "This is really important as we head into the winter period when we know local services will face even greater demands. The work being taken forward is a real team effort led by staff and colleagues working across local hospital, community, social care and primary care services.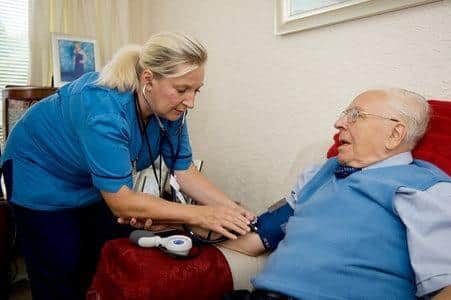 "We also want to ensure that these intensive efforts don't just make a difference in the short-term but are also maintained to deliver longer-term sustainable improvements which we can build on in the months ahead."
The health organisation said people across the area can also help by using the right services when they are unwell or need urgent health advice to ensure they get the right care in the right place as quickly as possible.
This includes: using the NHS Inform website for health advice, including symptom checkers and self-help for many common illnesses and health conditions, including mental health advice; using pharmacies where you can get healthcare advice and treatment for common winter illnesses such as coughs, sore throats and colds and, under a scheme called Pharmacy First, they can also provide free treatment for a range of health issues without a GP prescription. These include urine infections, emergency contraception, conjunctivitis, skin conditions (such as eczema, dermatitis and reactions to insect bites) skin infections (such as cellulitis and impetigo) and thrush.
Opticians can provide advice and treatment for a wide range of common eye conditions such as blurred vision and eye infections or refer you directly to hospital if the problem is more serious.
There is now a wider range of healthcare staff are now working in local GP Practices across Forth Valley to support GPs and help you access a wider range of health services and support. These include mental health nurses, physiotherapists, pharmacists and healthcare support workers who you can book an appointment with direct without having to see your GP first.
People can call NHS 24 on 111 at any time if you think you may need to attend an emergency department or have a minor injury and, in an emergency, always call 999. NHS 24 can arrange for you to speak to a local healthcare professional who can provide health advice or arrange an appointment for you at a local healthcare facility, so you don't need to wait when you attend.
More information on local services and support visit here