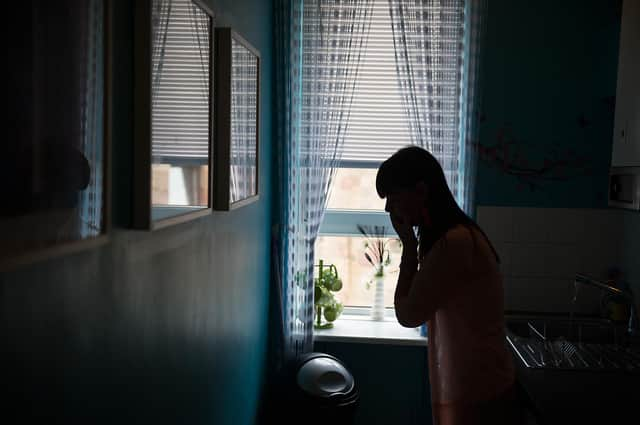 The funding will help support vulnerable young people. Picture: SWNS.
Two separate funds – one targeting schools and one communities – will be brought together to create a service for young people from the age of five up to 24.
The aim is to help them cope with a wide range of issues, including anxiety and depression, bereavement, body image and self esteem, gender identity, self-harm and substance misuse.
The proposal was warmly welcomed at a meeting of Falkirk Council's education, children and young people's executive, which met online on Tuesday for the first time since January.
Councillors agreed it would be a welcome addition to the Child and Adolescent Mental Health Services (CAMHS), which has been heavily criticised in the past for having very long waiting times and a strict criteria which left some children without support.
The first lot of funding – which gives Falkirk £352,000 for 2019/20 and £468,000 every year following – is for a counselling service, aimed at helping school pupils aged from 10 to 18.
The second – which has the same amount of cash – is for a Community Mental Health and Wellbeing Service for children aged five through to young adults up to 24.
The funds also have £45,000 and £62,500 for management costs, respectively.
The service will be delivered across the whole year, including school holidays, to provide vital continuity of care, councillors were told.
The report also made clear that the service will be open access and children and young people will also be able to self-refer.
David McKay, Falkirk Council's head of education, said: "Schools and pastoral staff have always supported children and young people who are displaying various mental health needs and this money will go a considerable way to enhancing that level of support and bring it into the community setting."
He also announced the council will get a further £314,000 to target Covid-related health and wellbeing, although it was too early to say how this cash will be used.
Councillor Adanna McCue, the education portfolio holder, said: "This is very much a first step to creating a service that will meet the needs of our children and young adults.
"There are some very good services within in our schools and communities but they are a bit piecemeal, with different schools having different services.
"I very much see this as being a good quality service right across the board and it is very exciting to see it being developed."
Parent representative Karen Procek said the service sounded like it would be much valued but urged the council to consult with parents carefully.
She said: "A lot of parents have had a really poor service with CAMHS and we need to get this right from the beginning, so consultation is absolutely crucial."
Councillors agreed to begin by recruiting a service manager who will create the new service, either in-house or working with the third sector.