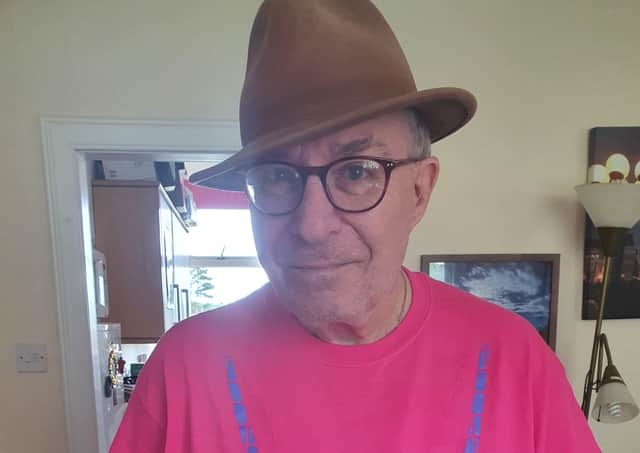 John Beardsmore (65) is sharing his story this Breast Cancer Awareness Month to help men across Scotland.
Now, three years later, 19 men from all over the UK are uniting with one voice to raise awareness during Men's Breast Cancer Week, which this year runs from October 19 to 25.
Among their number is John Beardsmore from East Wemyss in Fife who is sharing his story in the hopes of helping other men across Scotland.
Diagnosed with two separate primary breast cancers, the 65-year-old firmly believes television saved his life.
Special T-shirt...was created so that men with breast cancer could take part in Walk the Walk events, while raising awareness of the campaign.
He explained: "I was at home watching a programme on a Scottish TV channel when a feature about male breast cancer came on.
"Up until that point, I didn't know that men could get breast cancer but watching that feature prompted me to check my chest later that same night, while I was in the bath.
"I was shocked to discover a small lump under my right nipple. I asked my partner Margaret to have a look and she could feel it too."
His GP referred John for tests at Queen Margaret's Hospital in Dunfermline; the consultant sent him for an ultrasound scan and a biopsy and discovered a 7mm lump on his right nipple.
John recalled: "I returned a week later for my results and was told that I had breast cancer. In a way I was quite positive, because I felt able to talk about my diagnosis.
"Throughout my life, I've always been very open about everything. My attitude was that I was going to deal with it – this is my lot and I'll make the most of it!"
Just hours after his diagnosis, John went to his local folk club with Margaret and told everyone he had breast cancer.
He later underwent surgery, during which he had a mastectomy and four lymph nodes removed, to see if the cancer had spread.
One of the lymph nodes tested positive so he was given the option to have the rest of the lymph nodes taken out too.
"I really didn't want any more surgery," he said, "so I had 20 sessions of radiotherapy instead at the Western General Hospital in Edinburgh and was told to take the hormone therapy drug Tamoxifen for five years. I went on to take it for ten."
Nine years later, having been diagnosed with lung cancer too, John was diagnosed with breast cancer again.
John said: "The doctors found a 4mm lump, this time by my left nipple. The lump I found in 2010 and the new one in 2019 were two separate primary cancers.
"I had another mastectomy and my hormone treatment was switched from Tamoxifen to Letrozole. I'm now back to having annual mammograms."
Being diagnosed with two separate primary breast cancers is unusual so John's consultant sent him for genetic tests.
He's from an Ashkenazi Jewish family and research has shown women from this background are more likely to carry the BRCA gene, which carries a greater risk of the disease. So John wasn't really shocked when tests showed he had the BRCA2 gene.
He said: "If I'd known earlier, I might have been able to take preventative action, before I was diagnosed with breast cancer for the second time.
"I have a daughter in her 30s but sadly we're estranged. I got in touch with her and suggested she got tested but I don't know if she has."
After his first breast cancer diagnosis, John took part in Breast Cancer Care's fashion show in Glasgow. He's still firm friends with the other models who took part that year.
"It was something very positive to come out of what could have been a very negative time," he said.
"I've also volunteered for Breast Cancer Now's Someone Like Me service, supporting other men and visited the Maggie's Centre in Kirkcaldy and got to know three men there who have had breast cancer too.
"Although awareness of male breast cancer has improved over the last ten years, many men still don't know that they can get breast cancer too.
"Now I'm an evangelist for breast cancer and I want to help increase awareness. We need to save lives."
Walk the Walk has joined forces with ten other charities to raise awareness of its Men Get Breast Cancer Too campaign.
The lastest charity to join the team is Edinburgh-based Make 2nds Count, which is dedicated to giving hope to women and men living with secondary breast cancer.
Lisa Fleming, the charity's founder, said: "We often refer to incurable secondary breast cancer as the forgotten form of the disease but this is even more true for secondary breast cancer in men. So we are delighted to be one of the campaign's partner charities.
"We help and support all genders who are diagnosed with this incurable form of breast cancer and are proud to support the campaign."
In 2017, Walk the Walk recognised that there was very little awareness of male breast cancer and, with the support of six men diagnosed with the disease, launched the Men Get Breast Cancer Too! campaign.
The campaign has gone from strength to strength, with the six men becoming 19.
This month, the first Male Breast Cancer meet up service will also be launched.
This will provide a monthly meeting point for men living with or affected by breast cancer to speak to others in the same situation.
Meetings will take place online on the fourth Thursday of every month, via Go-To-Meeting.
The first meeting will be held on Thursday, October 22, at 8pm. All men with a history of breast cancer are welcome.
Every year, 370 men are diagnosed with breast cancer in the UK and 81 die from the disease.
The number of men affected is much lower than women. However, the mortality rate for primary breast cancer in men is high in comparison, due to lack of awareness and late detection.