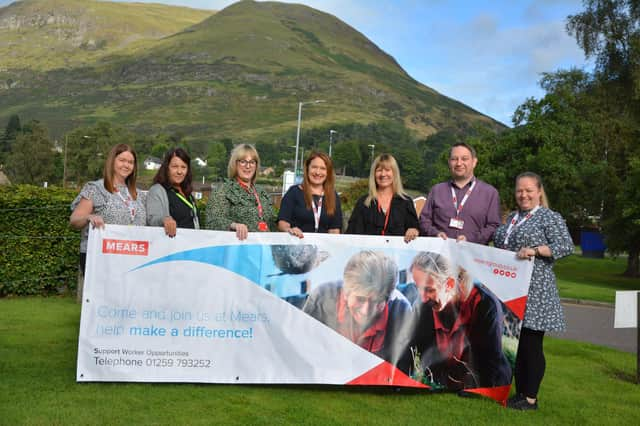 The Mears supporting living team of Nicola Robertson, Jewel Bonfield, Pamela Fisher, Karyn Gilmour, Carole Gillies, Craig Bunyan and Nicola Orr.
One of the key factors in care work is to bring a quality of life to someone with disabilities, to ensure that these special people with differing needs can do what they want for entertainment in everyday life. That's been quite a challenge in COVID times when specialised social clubs and other facilities have been closed.
Some care workers have been new to this career coming from differing backgrounds, maybe from hospitality where they are used to dealing with the public, travel or retail, and also factory work – experience is not vital if you have the skills and attitude they are looking for.
What does the job involve?
Service users with special needs require 24 hour care and can be looked after by a team of three from Mears Supported Living.
These carers ensure that the people they look after have a very full social life. This might mean a trip to the footy, joining a local social club for people with special needs where they play games and dance, even singing in the local church on Sundays or going to the cinema, accompanied by the care team.
One person Mears cares for regularly contributes to the local community, by helping to look after the flower tubs on the pavements of his village, where he waters and helps with replanting – all with the support and help of his carer, who describes the work as varied and very enjoyable.
Another important service that the care team enables is holidays – where they can accompany the person in their care to somewhere different for a breath of fresh air and a holiday.
Stuart changed career just before the pandemic, following a long international career at a senior level in the oil and gas industry, to work supporting people with disabilities to live independently.
Whilst the oil and gas industry was financially very rewarding, he found job satisfaction missing from his work there. Working overseas meant he was away from his family on a regular basis, and he had always dreamt of doing something which would make a real difference to other peoples' lives.
Stuart found new job satisfaction by the bucket load working with Mears Care in Supported Living, where he supports individuals who need 24/7 care to live as fulfilling a life as possible.
"I believed there was so much more I could give in this world," said Stuart. "I know I have the ability and talent to make a difference to someone else's life, who is more challenged than I am, and nowadays I do that every day of my working life."
Stuart works full time to support adults aged 20 – 40 years who need 24/7 care, including sleepovers. He supports those who can have the most challenging behaviour. "It's a job that needs patience and understanding, and doesn't suit everyone. I believe you have to encourage people to live the best life they can, within the boundaries which are necessary for their own safety."
His interest in this kind of employment grew out of his experience supporting his own son, who was diagnosed with autism at the age of 18 months.
"Helping people who are challenged in whatever way, medically or psychologically comes naturally to me, because of the experience I had bringing up my son. At 20 years old, he is now in a full-time job with responsibility. I spent a lot of time encouraging him to live the best life he can, and now I am bringing that experience to my working career to encourage others and support their lives.
"I wish I had taken this path in my career years ago. It brings enormous personal satisfaction knowing and seeing you have the ability to make a real positive difference to the quality of someone's life."
What qualities do you need?
Mears supported living believes that delivering care requires sensitivity, integrity, experience and a high degree of professionalism. "We each have to understand our client's needs, and we all have to have the ability to communicate and work closely with the family and friends of those we care for," says Carole Gillies, branch manager for Central Supported Living service.
"One lady we look after has epilepsy and learning difficulties but we also care for people with other conditions, such as schizophrenia, autism, epilepsy and Downs Syndrome, learning difficulties and physical disabilities."
Care workers are given specialist training on the job, and are supported to study for SVQ qualifications in health and social care whilst working for Mears Supported Living.
"The job is flexible as our teams work on a rota of care – so a normal working week could be two days of 24-hour shifts. Being able to help someone that can't help themselves is very satisfying. I feel very privileged to be able to enhance the quality of living for these people," added Carole.
"Our carers help people enjoy what everyone else does in life – to live life independently. The everyday things that many of us maybe take for granted."
Are you the kind of person Mears Supported Living is looking for?
Have you got a passion with caring for others, while being a part of a growing community that values its employees?
Mears Supported Living is looking for full time and part-time support workers to enable people in their local community to live as independently as possible, by providing the best standards of care and support. These new jobs are in the urban and rural areas of Falkirk, Stirling and Clackmannan.
As a support worker within the supported living service you will provide support and care to individuals with a learning disability, mental health problems or physical disability. You will support service users to live the lives that they want and be part of the local community. You will work as an integral part of a team, providing excellent standards of support and care. Your work as a support worker may involve you working on a one-to-one basis with service users or as part of a bigger team providing support to individuals at any given time.
Be part of a friendly and dedicated team. Mears supports employees to undertake volunteering in the community, in support of our social value commitment. Maternity and paternity packages, use and access to the latest technology, full-time and part-time roles, days and night working, sleepovers etc are all available.