Larbert mum who underwent pioneering surgery as a baby at heart of raising healthcare standards
A Larbert woman, who underwent pioneering pacemaker surgery as a baby, is at the heart of a project aimed at helping to raise the standard of care across Scotland for people with congenital heart disease.
Watch more of our videos on Shots! 
and live on Freeview channel 276
Visit Shots! now
Dr Liza Morton has been an active campaigner for improved services for those affected by the condition and is now representing the views of patients on the standards development group set up by Healthcare Improvement Scotland.
Liza, 44, was born with complete heart block and at 11 days old she underwent surgery to be fitted with a pacemaker in a world first operation of its kind at Glasgow's Yorkhill Hospital in 1978. Since then she has had 11 pacemakers.
Congenital heart disease (CHD) is the most common congenital abnormality, affecting approximately one per cent of babies. A quarter of babies with CHD require medical intervention in the first year of life. Around 20,000 people with CHD currently live in Scotland.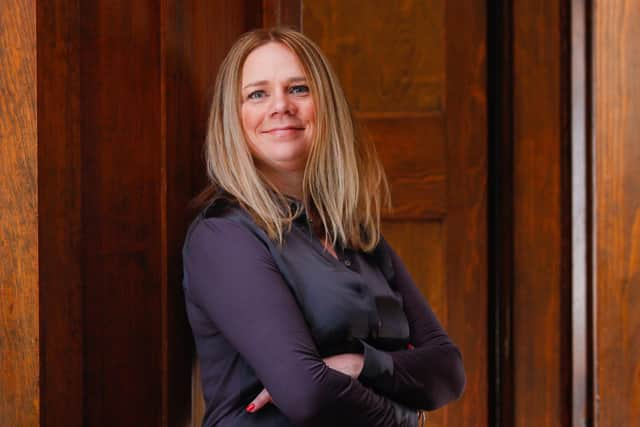 Over ten years ago Liza sought to raise awareness of CHD, submitting a petition to the Scottish Parliament and contacting MSPs, calling for improved care provision. She has also been voluntarily working with various health committees as a member of the Somerville Heart Foundation.
Liza, a chartered counselling psychologist, said: "Babies born in the 1940s with congenital heart disease had a 20 per cent chance of surviving into adulthood whereas today that survival rate is 90 per cent. However, approximately half of the babies with CHD are still being discharged before their need for specialist lifelong care is recognised, which means they don't have access to the specialist services that could help them.
"By setting healthcare standards, we can significantly improve care by engendering trust, safety and patient empowerment, and that's why I'm delighted to be involved with Healthcare Improvement Scotland's development group to create standards for CHD and work with them to enable people with this condition to live as normal a life as possible."
The work Liza is supporting will result in a published set of standards for the NHS in Scotland. The standards will relate to levels of performance that people should expect from health services and cover the key issues relating to the provision of safe, effective and person-centred care and treatment.
NHS National Services Scotland has previously published specialist CHD standards for the Royal Hospital for Children and the Golden Jubilee Hospitals in Glasgow. Healthcare Improvement Scotland has been commissioned to fill the gap in provision by developing standards that will apply to all NHS boards in Scotland.
Rachel Hewitt, programme manager on the CHD standards work at HIS, said: "We are excited to be part of the ground breaking work taking place in Scotland around raising standards of care for people with congenital heart disease. The development group working on this is passionate and committed with a wealth of experience and it is a privilege to work with people like Liza who has been so willing to share her unique and personal experiences on how CHD has impacted her life."