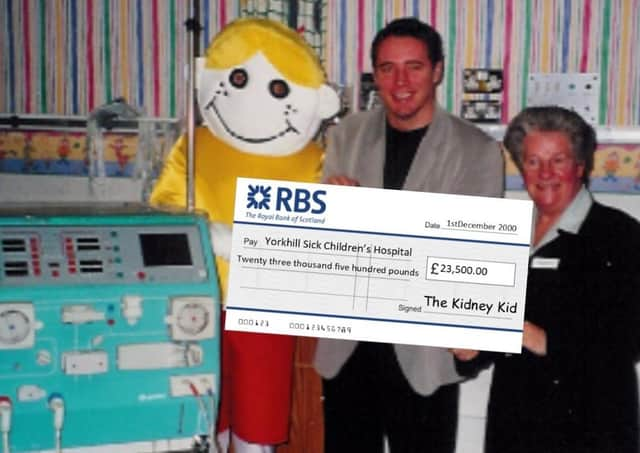 Kidney Kids Scotland's first ever presentation to Yorkhill Hospital 20 years ago, with a very youthful Ally McCoist.
For the last 20 years it has supported Scottish children with renal and urology conditions, and now aims to make 2020 its biggest year for fundraising.
Launched by Sheena Dunsmore, the charity is based in Larbert and run by a "small but very effective and passionate team". In 2017 Sheena was awarded an MBE in the New Year's Honours List in recognition of her achievements.
The main aim of Kidney Kids Scotland has always been to enable children to receive treatment as close to home as possible to minimise disruption to their families.
Kidney Kids Scotland founder Sheena Dunsmore MBE.
Before 2000 there was no hemodialysis available for very young children within Scotland, and kids had to travel elsewhere to receive life saving treatment.
A child on hemodialysis has to travel to hospital three times per week for a three to four-hour treatment, which the charity notes causes huge disruption.
In 2000 Kidney Kids Scotland supplied the very first paediatric haemodialysis machine to the renal unit in Glasgow's Yorkhill Hospital (now the Royal Hospital for Children Glasgow).
Since then Kidney Kids Scotland has supplied all but two haemodialysis machines at the Royal Hospital for Children in Glasgow.
More recently it helped launch the Home Haemodialysis service, which allows children to be treated within their own home by supplying three home haemodialysis machines and funding for a specialist nurse to run the programme.
Deepa Athavale, Consultant Paediatric Nephrologist at the Royal Hospital for Children said: "The paediatric renal service cares for children and young people with renal disease throughout Scotland.
"Kidney Kids Scotland Charity has been an invaluable support to our patients and families over the past 20 years, and continues to be integral in the provision of a holistic paediatric renal service in Scotland.
"It has provided crucial financial support to our families as well as funding the vast majority of our in-centre haemodialysis machines.
"Our home haemodialysis service established in 2016 exists and functions through the support of Kidney Kids Scotland. "Patients and families also receive networking support - opportunities to attend education as well as fun events with the annual Family Weekend event benefit our patients and families immensely.
"As a paediatric renal service, we are hugely grateful to the work of Kidney Kids and look forward to continuing to work together to support children and young people with renal disease in Scotland."
As well as supporting hospitals all over Scotland with much needed equipment and funding for staff Kidney Kids Scotland help families directly – ensuring they receive support when they most need it.
"Help can be in the form of events that bring families together, financial support, or simply a listening ear.
Kidney Kids Scotland has distributed more than £1.9million pounds to help children in Scotland since 2000, and this year hopes to give away its two millionth pound.
Karen McFarlane, who now jointly manages the charity with Sheena, said: "Kidney Failure has no cure.
"This is an illness the child and their family have to learn to live with.
"The children we help are amazing and so very, very brave.
"The charity wants to continue to help as many children and their families as possible, and we hope our 20th anniversary challenges will encourage more people to get onboard and help us continue our vital work".
Kidney Kids Scotland is proud to have reached its 20th anniverdary milestone, and to have achieved so much - and has a programme of fundraising challenges planned to make 2020 a special year.
We'll have more on these efforts, and on the charity's many successes, in future editions of The Falkirk Herald.