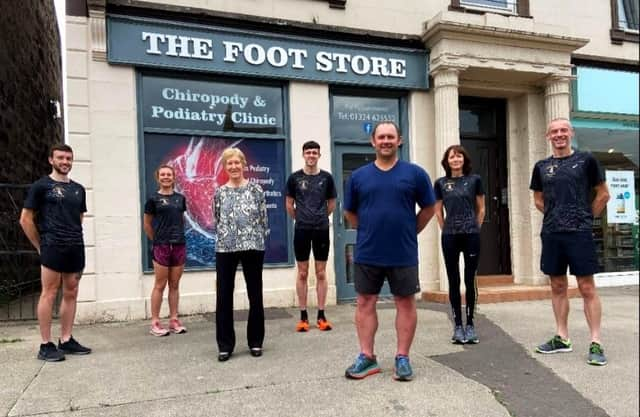 Fitness instructor and triathlon coach Douglas Brodie specialises in sports podiatry
Douglas Brodie, who founded The Foot Store in 2009, also offers biomechanic and muskoskeletal lower limb orthotics advice and treatment.
"You might have seen some of our runners at an event or Parkrun; they are sponsored by The Foot Store, and attend with us for routine foot care orthotics and laser therapy for injuries. If you have anything you would like to ask them regard training, nutrition or managing injuries, they are a friendly approachable bunch and will gladly chat away. We are extremely proud to sponsor and be associated with these local talented athletes."
Examples of the athletes Douglas has worked with include:
Stuart Paterson: a former Great Britain triathlete and Iron Man competitor, Stuart started focusing on ultramarathons three years ago, and has won nearly every ultramarathon he`s entered, breaking several course records, including our own Falkirk eight-hour event. Stuart is one of the very fastest ultramarathon runners in the business, and a member of Grangemouth Triathlon Club.
Lynne Allen: Another Great Britain team member and one of the fastest female ultramarathon runners in the UK. Lynne is a former winner of the West Highland Way race, and is a course record holder. Lynne recently ran the Southern Upland Way (268 miles), averaging 50 miles per day. She is also a former member of the Kirkintilloch Olympians, and is a member of the Reservoir Dogz.
Kane Elliot: This 19-year-old runner competes at international level, and is a European iunior 1500m champion and age group record holder. Kane is also a former world number one at the age of 16 over the 1500m. Kane is definitely a name to look out for in years to come at World championship and Olympic events. He is a member of the Falkirk Victoria Harriers.
Fiona Matheson: Fiona began running at the age of 40, joining Jog Scotland to get fit after having her family. Over the next 20 years, Fiona set three world records and 15 UK and European records at in her age group, most recently breaking the European Masters 10,000m track record by 36 seconds – a record that had stood since 2009. Fiona is also a member of the Falkirk Victoria Harriers.
Brian Lees: A member of the Grangemouth Triathlon Club and Lothian Running Club, Brian is a veteran road runner covering 5km to full marathon distance. A podium-placed runner, Brian qualified to represent Great Britain in the triathlon at the European championships before lockdown in 2020, and hopes to compete at international level for many years to come.
The Foot Store would like to thank Jim Payne Photography; Grangemouth Triathlon Club; Jog Scotland; Falkirk Victoria Harriers; and Falkirk Parkrun.