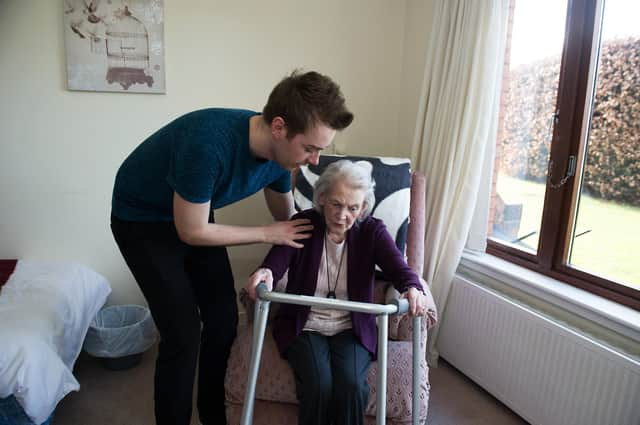 Pic: John Devlin
The hope is that the changes will not only make the service better - in particular for people who need urgent care - they will also make it easier to recruit and retain staff.
Head of integration, Martin Thom, told members of Falkirk s IJB - which oversees the work of the Health and Social Care Partnership - that the current in-house service is in urgent need of change.
Inefficient and expensive, analysis shows that fewer than half of the hours - just 48 per cent - are actually used to deliver care.
In fact, 52 per cent of the hours are a combination of a very high absence rate on top of training, annual leave and unused hours.
Mr Thom told members: "These inefficiencies have driven up the cost of an internal hour of home care to its current level of approximately £45 per hour."
A working group, established over a year ago, looked at the problems and came up with recommendations that focus on three key priorities.
The first is re-ablement which will offer intensive support to help people become as independent as possible.
Not only is that better for the people involved, it will also reduce demand on home care services in the long-term, said Mr Thom.
The second key area is providing an urgent response service.
At the moment, referrals are complex and a lack of capacity often means people are put on a waiting list - either taking up a bed in hospital or adding stress to families struggling to support people at home.
"We would see fewer admissions to hospitals because we would be able to put care into people's houses at the point it is needed," said Mr Thom.
The third focus would be on maintaining some in-house provision as a last resort - for example, for people who have behavourial issues or who live in remote areas where it is difficult to get care from the private sector.
The changes, he said, would mean a shift to more private care provision although, as nearly 80 per cent of care provision across Falkirk is already done privately, Mr Thom said he didn't expect this would be a major shift.
But concentrating on making in-house provision more specialised would, he said, help with recruitment to HSCP jobs and allow them to improve training and development.
Mr Thom said: "The in-house service has, historically, struggled to recruit to vacant posts.
"In part, that explains why we've seen the big shift to external provision but for me it shows that we need to do something around making the in-house service and home care in general an attractive career for people."
Mr Thom thanked the staff who have worked so hard, particularly over the challenges of the past year when they have gone above and beyond to care for people.
"It will also give us a model that will actually meet the needs of the people who use the service," he said.
The new model was agreed by the board and a full consultation will now take place.
Thank you for reading this article on our free-to-read website. We're more reliant on your support than ever as the shift in consumer habits brought about by Coronavirus impacts our advertisers.
Please consider purchasing a subscription to our print newspaper to help fund our trusted, fact-checked journalism.