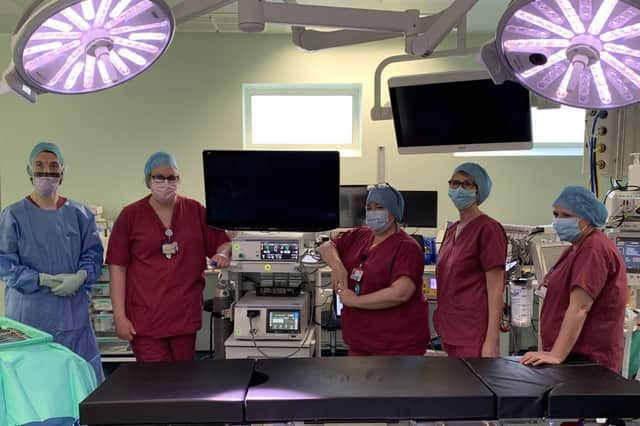 some of the theatre staff in theatre 16, which recently opened at Forth Valley Royal Hospital.
Figures just released show this service has achieved more than 80 per cent of normal activity for elective surgery during the pandemic, making the unit the most productive in Scotland. As a result, waiting lists have reduced significantly.
NHS Forth Valley which has achieved 83.9 per cent of standard pre-pandemic activity, is one of only three units in Scotland to have completed more than half of their usual hip and knee replacement workload between March 2020 and March 2021.
NHS Forth Valley Consultant Anaesthetist Ewan Jack, Clinical Lead Theatres, said: "It is clear that NHS Forth Valley has performed supremely well in providing orthopaedic care to patients. The number of patients waiting for an orthopaedic operation has dropped by almost a third. At the same time the number of patients waiting for an orthopaedic outpatient appointment has reduced by nearly a half from the pandemic peak.
"All those involved should be congratulated on facilitating such quality care in challenging circumstances. The team is highly motivated to expand throughput further with the creation of a new National Treatment Centre at Forth Valley Royal Hospital.
"We have seen excellent examples of staff adapting and finding innovative solutions to all the obstacles and fears that Covid-19 created. With fantastic microbiology support, we kept patients safe by establishing robust pathways which separated patient streams.
"What is especially impressive is the interactions between all the different staff involved in providing this care including administration, health records and pre op assessment staff, surgeons, theatre coordinators, theatre nurses, anaesthetists, physiotherapists and ward staff. These excellent results by NHS Forth Valley were achieved despite temporary reduced theatre access, theatre nurse and anaesthetic redeployment to ICU and staff illness or Covid-related absences.
"What we can say with confidence is that NHS Forth Valley has continued to deliver a high-quality service to many local people despite the tumultuous period."
Dr Jack added: "I would urge all members of the public to get vaccinated for Covid-19 as soon as they are offered as this is one of the main routes back to a normal service."
NHS Forth Valley, with only one acute hospital, has also continued to care for all emergency surgical patients from the local area in addition to assisting a neighbouring NHS Board with its hip fracture workload. Although this additional work resulted in extra pressure, the entire team has risen to the challenge.