What do the new lockdown tiers mean for Scottish schools, universities and childcare?
Nicola Sturgeon has announced a new five level 'framework' for the type of restrictions which will be in place for different parts of Scotland over the winter.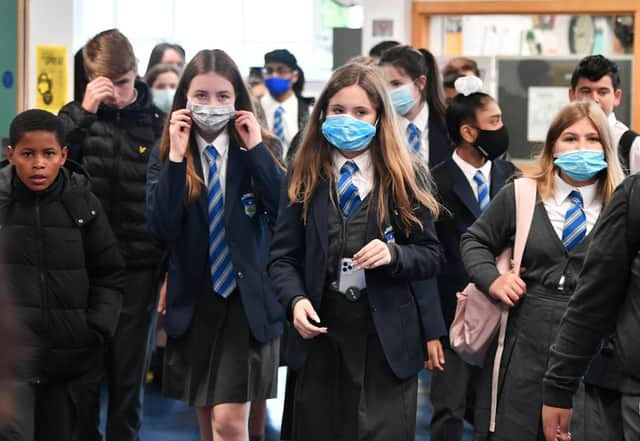 How will the new tiered restrictions in Scotland affect schools, universities and childcare?
The levels, from level zero to level four, go from a baseline of few restrictions and relative normality similar to that seen over the summer to something close to the March lockdown.
You can read a distilled version of what each level means if it applies to where you live here.
One of the First Minister's key aims as part of her response to Covid-19 is keeping schools open, so how does the new framework affect education, universities and childcare?
In the new tiered lockdown, childcare will be allowed to stay open at all levels with potential restrictions in Levels Two, Three and Four.
For parents, this means in Level Zero or Level One, formal childcare will be open with "standard protective measures", with Two and Three seeing "enhanced" measures such as additional use of face coverings which do not restrict capacity or access to childcare.
In the highest level, Level Four, the Scottish government hopes to keep childcare open but may be forced to restrict capacity but would be "based on the evidence of transmission".
In the first four levels, informal childcare is allowed provided the number of households does not exceed general guidance, but in level two and three, this changes to just children being allowed into different households.
This is restricted further in Level Four to just essential workers able to take advantage of informal childcare
Nicola Sturgeon has said repeatedly that many of the additional measures being imposed on Scots are part of a trade-off to keep schools open.
In the new system, schools will remain open at every level with only minor changes as the levels change.
Schools will remain fully open as they are now regardless of level, but enhanced protective measures such as face coverings for senior students in classrooms could be introduced in Levels Two and Three.
In Level Four, targeted protective measures could come in to help protect those children most at risk.
The Scottish government has pledged to "learn lessons" from the start of the academic year which saw large spikes of Covid-19 in universities across the country.
Their new framework admits there will be "particular challenges" around the winter break when it estimates up to 150,000 students (around 60 per cent of the total student population) may return home.
Risks have been identified with students switching households for Christmas and on return, students returning from higher risk areas, and flu exacerbating the level of Covid-19 in the population.
The framework states the Scottish government is "developing a package of options" including supporting students, driving down prevalence through compliance, and increasing online learning around the end of this term and the start of the new term in January 2021.
In-person teaching could be limited to practical elements and exams only, with the Scottish government "exploring the value" of additional testing.
Students may also be asked to take a "precautionary approach" in their contact with people prior to going and on return from home.
Blended learning will be standard across levels zero to two, with levels three and four introducing "restricted blended learning".
A message from the Editor:
Thank you for reading this article. We're more reliant on your support than ever as the shift in consumer habits brought about by coronavirus impacts our advertisers.
If you haven't already, please consider supporting our trusted, fact-checked journalism by taking out a digital subscription.