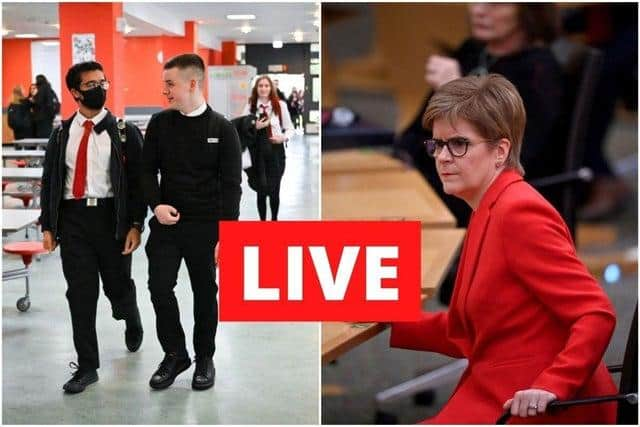 Coronavirus in Scotland
Keep up-to-date with all the latest Covid-19 news in Scotland, the UK and around the world.
Coronavirus in Scotland RECAP: Deputy First Minister to announce latest covid figures as opponents demand clarity on vaccine wastage
Last updated: Thursday, 21 January, 2021, 12:35
Scottish Government civil servants warned not to book summer holidays abroad this year by the national clinical director
92 further deaths and 1,656 new cases reported on Wednesday
Glastonbury Festival cancelled for the second year in a row
334,871 people confirmed to have received first dose of the vaccine
Scottish Government civil servants warned 'no foreign holidays until 2022'
Scottish Government civil servants have been warned not to book a summer holiday abroad this year by the national clinical director in an internal video.
In the video, the Scottish Government clinical adviser answers questions from civil servants on various topics relating to Covid-19 vaccines and restrictions and said Scotland would come out of lockdown "very very slowly".
He warned civil servants that there may be no prospect of foreign holidays until 2022.
Read the full article here.
More than 309,909 people have been given a first dose of the vaccine
The Covid-19 vaccination programme has been going in Scotland for six weeks, with nearly 310,000 people now given a first dose.
As of close of play on Tuesday, 309,909 people have been given a first dose - over 90 per cent of care home residents and 20 per cent of those over 80.
Nicola Sturgeon said on Wednesday that Scotland is on track to give a first dose to all over 80s by the first week in February – a goal that has been put back from the end of January.
Timescales have been frequently amended, and the initial target of one million Scots vaccinated by the end of January and all adults by the end of Spring will not be met. The current aim is 560,000 people by the end of January and all over-18s by the end of Autumn.
Sheriff court jury trials have restarted in Scotland, with the use of remote jury centres
It follows the success of reopening the high courts, using a remote jury model which utilised empty Odeon cinemas.
Seven sheriff courts – Edinburgh, Glasgow, Ayr, Paisley, Kilmarnock, Hamilton and Airdrie – are now running jury trials, with the jury sitting in Odeon cinemas in Edinburgh, Glasgow Quay, Ayr, Braehead and East Kilbride.
David Fraser, executive director of court operations at the Scottish Courts and Tribunals Service, said: "We recognise the concern and impact on the accused, victims and witnesses of any further delay in jury trials.
"The remote jury centres were designed to operate during Covid, ensuring jury trials can continue while restrictions are in place."
You can use this Scotland specific vaccine calculator to see when you might get a Covid jab
The Omni calculator for Scotland works in much the same way as the UK-wide calculator, asking you questions about your occupation, age and whether you have any medical vulnerabilities.
New ONS figures show almost 9 million people had to borrow more money by December 2020 due to the pandemic
Nearly nine million people had to borrow more money because of the coronavirus pandemic by December 2020, new Office for National Statistics (ONS) figures show.
The data, published on Thursday, also showed the proportion of people borrowing £1,000 or more had increased from 35% to 45% since June 2020.
The ONS said the "labour market shocks" associated with the pandemic had been felt more by young people and the lowest paid, with those aged under 30 and those with household incomes under £10,000 were around 35% and 60% respectively more likely to be furloughed than the general population.
Of those who have not been able to work - either because of being on furlough or for another reason - more than half (52%) of people in the top income quintile continued to be paid in full, compared to 28% of those in the lowest.
Family doctors ask Scottish Government to allow them to order supplies 'directly' to vaccinate patients
Family doctors want to accelerate the rollout of Scotland's coronavirus vaccine rollout by bypassing health boards and ordering stocks themselves The Telegraph have reported.
The British Medical Association has asked Professor Alison Strath, the Scottish Government's interim chief pharmaceutical officer, to consider allowing GPs to order the supplies 'directly' that they need to vaccinate their patients.
Dr Andrew Buist, chair of the BMA's Scottish GP's committee said some practices were yet to receive any of their requested doses even though the First Minister had promised all over-80s would be vaccinated by the first week of February.
Jackie Baillie seeks clarity on Scots vaccine wastage
Labour interim leader Jackie Baillie has raised concerns over vaccine wastage in Scotland in a letter to Nicola Sturgeon.
The Dumbarton MSP is seeking clarity on the level of vaccines which are wasted and stepped up demands for national guidance on who should be on reserve lists to minimise this.
It comes as the Scottish Government sets out a new campaign to encourage take-up of the vaccine in Scotland.
Read the full story here.
Scottish Government confirms 1,636 new Covid-19 cases and 89 further deaths recorded in the last 24 hours
Of the positive cases 510 were in Greater Glasgow and Clyde, 328 were in Lanarkshire, 182 were in Lothian and the remaining cases were spread across 10 other health boards.
The total number of people in Scotland who have contracted the virus now stands at 168,219
The death toll under the Scottish Government measure is now 5,468.