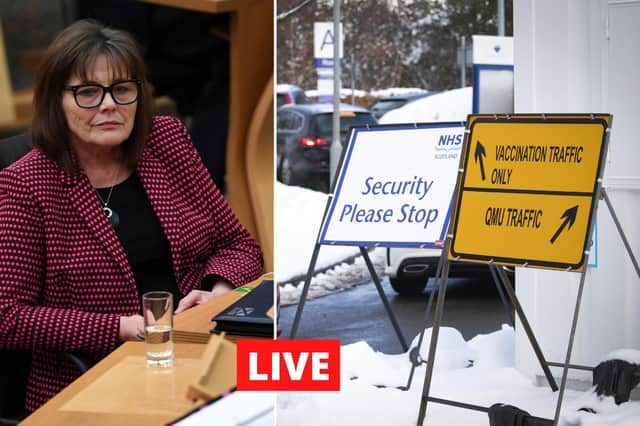 Health Secretary Jeane Freeman hold Covid-19 briefing with national clinical director Jason Leitch on Friday, 12 February.
Follow along here to stay up-to-date with the latest developments on Friday, 12 February.
A message from the Editor:
Thank you for reading this article. We're more reliant on your support than ever as the shift in consumer habits brought about by Coronavirus impacts our advertisers.
If you haven't already, please consider supporting our trusted, fact-checked journalism by taking out a digital subscription.
Scotland coronavirus briefing RECAP: Health Secretary Jeane Freeman gives latest Covid updates
Last updated: Friday, 12 February, 2021, 13:31
Recap on Scotland's daily coronavirus briefing:
67 new deaths have been recorded in 24 hours while 830 have tested positive for the virus since yesterday
Quarantine hotels set to open on Monday
Health Secretary Jeane Freeman said the Scottish Government is still trying to convince its UK counterpart to adopt a "tougher" stance on overseas travellers.
The Scottish Government has reports of people breaching the coronavirus restrictions around funerals, which limits those attending to 20.
The number of vaccine appointments in Scotland will need to be reduced in the next few weeks.
UK should be taking a more 'sensible' approach to letting people in the country from abroad, JF says
'Everyone who comes into the UK needs to undertake managed quarantine,' she said.
'We will keep on those discussions with the UK Government to make the case that this is a clearer simpler better approach and more easily understood by anyone travelling to this island.
'But until we win that support, we need to work with these loopholes to protect the population of Scotland.'
She said the Scottish Government is continuing to 'try and convince' the UK Government that it is 'necessary' to quarantine every person who is coming into the country from abroad.
JF said the lack of a four nation approach is 'disappointing' and stressed that the Scottish Government believes all those arriving from abroad should be subject to quarantine rules.
Record day of coronavirus vaccinations but appointments will soon be reduced - recap of Health Secretary comments during daily briefing
Scotland has seen another day of record Covid-19 vaccinations, but the Health Secretary said the number of appointments will soon have to be reduced due to a lack of supplies and other factors.
Jeane Freeman gave the latest vaccination and coronavirus case figures at the Scottish Government's daily briefing on Friday.
She said 67 deaths of people with Covid-19 and 830 positive tests have been recorded in the past 24 hours.
It brings the death total under the daily measure to 6,666.
Ms Freeman added that 1,113,628 people had received their first dose of a coronavirus vaccine as of Friday morning.
This is 64,881 more than the previous day's figure – another new daily record.
But she said the number of vaccine appointments in Scotland will need to be reduced in the next few weeks.
'We are likely to have annual vaccines for some time', says Jason Leitch
When asked about the new variants at Scotland's coronavirus daily briefing, JL said the current vaccines will give 'some level of protection' against all the new variants, but the country will 'up it but using boosters.'
'If I had to gamble, we are likely have annual vaccines for some time,' he added.
'Dip' in vaccine supplies likely, says health secretary
JF warned that the number of vaccinations in Scotland could fall by a half due to a 'dip' in supplies
Around 400,000 injections had been given this week, but it could be half that in the next two weeks.
Westminster correspondent for The Scotsman asks for updates on couples and why in Scotland non-cohabiting couples can meet, while in England they can't
JL responds referencing the 'four harms' that Covid brings, including 'societal harms' which includes couples.
He said the bubbles allowing single people with children to meet up with one other household, and non cohabiting couples to meet up with each other was a decision made on 'judgement' and a 'risk' that the government was prepared to take.
'The only way to get cases to zero is lock everyone in their homes and deliver food parcels,
'But we have to have some level of harm free reduction , which is what this decision is.'
Update on schools opening?
JL confirmed he will be in discussions with experts and the First Minister over the weekend before Nicola Sturgeon makes an announcement on Monday about whether or not schools can reopen.
JF asked about when quarantine hotel rules will be finalised
The Health Secretary said discussions are ongoing with the UK Government about what exact rules those isolating in hotels will need to follow.
JF says vaccine programme is going well and on target, 'depending on supplies'
JF said the government is on course to vaccinate all over 70s and those with a serious clinical vulnerability by 15 February.
The end of February, beginning of March will see the next group - 60-65s vaccinated.
JF then confirmed all over-50s will receive their first jab by the end of May.
She stressed the targets will be met 'depending on supply.'
'You shouldn't travel' says Jason Leitch, 'unless you absolutely have to'
In response to a question about rules in quarantine hotels, National Clinical Director Jason Leitch reminded people that they should not travel unless it is absolutely necessary.
Those who do travel and use quarantine hotels which are set to be used from Monday.
After being questioned about whether or not the rules at the hotel are strict enough, he said 'we will allow people to behave like human beings' in quarantine, no guards or fences.'
Those staying in the hotels will be allowed to go out for fresh air but not expecting them to abscond, he added.