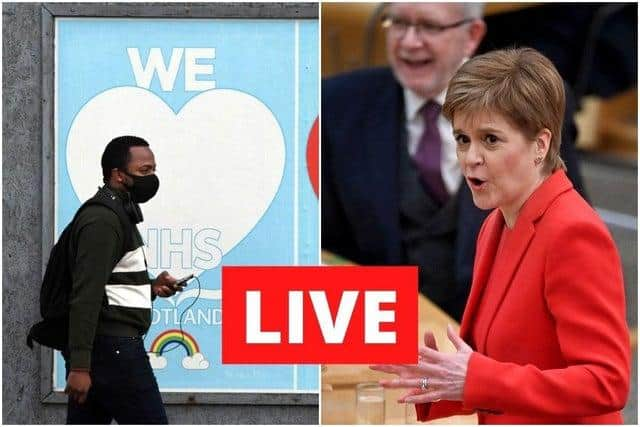 Follow here for live updates on coronavirus in Scotland, UK and the rest of the world
Follow along here to stay up-to-date with the latest developments on Thursday, 4 February.
Nicola Sturgeon coronavirus briefing RECAP: First Minister updates nation on latest Covid news
Last updated: Thursday, 01 January, 1970, 01:00
Record number of patients were infected with coronavirus while already in hospital during the first full week of January, figures show
Scots could face council tax hikes of 6 per cent in 2022
The First Minister has said Scotland's vaccine rollout is 'working well' despite criticism over 'delays' compared to other UK countries
Children's mental health services significantly underfunded, psychiatrists warn
Psychiatrists are calling for more funding for services for children and young people as they warn the country could be facing a mental health emergency.
The Royal College of Psychiatrists (RCPsych) in Scotland said it has seen a significant rise in referrals to child and adolescent mental health services (CAMHS) during the coronavirus pandemic, but there is a "significant lack of funding" for them.
More than eight in 10 (84%) of the 76 child and adolescent psychiatrists who responded to a recent RCPsych in Scotland poll said CAMHS services are very insufficiently or insufficiently resourced, while 43% said they are poorly staffed.
The poll also found 57% of respondents feel the level of need for mental health services has significantly increased during the pandemic, and 47% said there has been a significant rise in waiting times for appointments.
Meanwhile, 63% said the pandemic has had a very negative impact on the wellbeing of children and young people, and 56% believe the impact has been very negative on those with learning difficulties.
Here is an interactive map showing vaccination rates across the country
Shell plunges to £16bn annual loss after pandemic decimates oil prices
Royal Dutch Shell has plummeted to a mammoth 21.7 billion US dollar (£16 billion) full-year loss after hefty writedowns as oil prices crashed amid the pandemic.
The oil giant's plunge into the red compares with profits of 15.8 billion US dollars (£11.6 billion) in 2019 and comes after it was forced to slash the value of the oil in its fields last year as prices collapsed.
The cost of crude has since started to recover, but not enough to prevent Shell slumping to a 4 billion US dollar (£2.9 billion) loss in the final three months of the year.
Shell said that, on an adjusted basis, it made earnings of 393 million US dollars (£289 million) in the fourth quarter, though this was worse than expected and 87% lower than a year earlier.
The group has been making swingeing cost cuts to weather the crisis, announcing in September plans to axe between 7,000 and 9,000 jobs worldwide.
Chief executive Ben van Beurden said the group has taken "tough but decisive actions".
Record number of patients infected with Covid-19 in hospital in Scotland
A record number of patients were infected with coronavirus while already in hospital during the first full week of January, figures show.
Public Health Scotland data reveals that in the week ending January 10, 219 hospital patients were found to have definitely caught Covid-19 while on a ward for treatment unrelated to coronavirus.
A further 113 patients were thought to have "probable hospital onset" of the virus.
The Public Health Scotland statistics record a definite case of hospital infection in cases where a patient tested positive for Covid 15 days or more after being admitted to hospital.
Probable cases are where a positive test result is recorded between eight and 14 days after someone was admitted.
The figures for the week ending January 10 - the most-recently published data - take the totals up to 2,639 definite and 1,142 probable infections in Scottish hospitals.
During that week, Scotland recorded 15,173 new cases of coronavirus - including the highest daily increase of 2,649 people testing positive on January 7.
Vaccine news update
A UK Government-backed study is being launched to determine whether different coronavirus vaccines can safely be used for the first and second doses.
The programme, which has received £7 million in funding from the Government's Vaccine Taskforce, aims to establish whether a mixed-dose vaccine regimen is better than, or a good alternative to, using two doses of the same Covid-19 jab.
The launch comes after England's chief medical officer Professor Chris Whitty warned the pace of the vaccine rollout will inevitably slow as more people get their second jab.
At a No 10 news conference on Wednesday he said suggestions all adults in the UK could get their first dose by the end of May and the second by the end of August were "very optimistic".
Boris Johnson has hailed the "colossal" effort by health workers in getting a first jab to more than 10 million people - almost a fifth of the adult population - across the four nations.
Good morning, here's a look at The Scotsman's front page this morning
Page 3.857142857142857 of 3