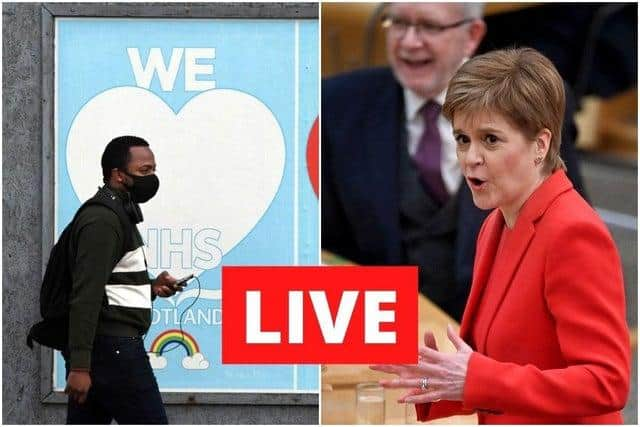 Follow here for live updates on coronavirus in Scotland, UK and the rest of the world
Follow along here to stay up-to-date with the latest developments on Thursday, 4 February.
Nicola Sturgeon coronavirus briefing RECAP: First Minister updates nation on latest Covid news
Last updated: Thursday, 04 February, 2021, 12:20
Record number of patients were infected with coronavirus while already in hospital during the first full week of January, figures show
Scots could face council tax hikes of 6 per cent in 2022
The First Minister has said Scotland's vaccine rollout is 'working well' despite criticism over 'delays' compared to other UK countries
Chief nursing officer Fiona McQueen speaking now
'There is a strange different between this wave and the first wave,' she said
'The impact on the NHS is just as great'
Ms McQueen spoke about how more younger people are being infected in this second wave
But she spoke about the absence of the flu this year
'Concerns over weather' delaying vaccination programme
'Forecast of heavy snow makes my heart sink,' says FM
She said severe weather will have an impact on the vaccination programme and 'it's very much on our minds' at the moment
Deadline to apply for top up grants from government is tomorrow, says FM
FM reminds businesses that applying for funding from the Strategic Framework Fund ends tomorrow
Traders can go onto the government website to see if they reach the requirements to apply for funding
Businesses that qualify can apply for a:
temporary closure grant - £2,000 or £3,000 (depending on rateable value) if your business is required to close by law
business restrictions grant - £1,400 or £2,100 (depending on rateable value) if your business can remain open but is specifically required to modify its operations by law, for example having to close earlier than normal.This does not include where a demand for your products or services has been reduced because of the pandemic
Further information can be found here
If businesses don't qualify, the website also guides traders on where else to look for for funding
'Pace is picking up', says FM
So far, 694,347 people have been vaccinated so far in Scotland
There has been an increase of 45,085 vaccinations since yesterday, the highest daily record and 52 per cent up from the same day last week.
38 per cent of 70 to 75 year olds have been vaccinated so far and the government is 'on track' to vaccinate them by the middle of February
Vaccine figure update:
FM confirms that 98 per cent of elderly residents in care homes have been vaccinated
89 per cent of staff working with care home residents have been vaccinated
'At least' 90 per cent of over80s in the community have been vaccinated
FM urges Scots to follow the stay at home rules
'Progress can be very easily reversed if we drop our guard prematurely,' FM said.
FM gives update on Covid-19 statistics
1,149 people have tested positive for Covid-19 in the last 24 hours
That means a total of 183,418 have tested positive so far since the start of the pandemic
1,812 people are in hospital having tested positive for the virus which is 53 less than the day before
124 people are being treated in intensive care with the virus
53 new deaths have been recorded in the last 24 hours
This brings the total to 6,322 deaths overall since the start of the pandemic
FM confirmed the R number remains below 1
First Minister Nicola Sturgeon will hold a coronavirus briefing at 12.15pm with chief nursing officer Fiona McQueen
Nicola Sturgeon has labelled arguments that Brexit has brought a benefit to the UK procuring more coronavirus vaccines as 'over-simplistic'
Edinburgh airport passenger numbers plummet
Edinburgh Airport has seen the lowest number of passengers since 1995 in the last 12 months.
In 2019, the airport celebrated a record number of passengers as almost 15 million people using the airport.
But this plummeted to just 3.5 million in 2020 - a 76% reduction on the previous year.
The vast majority of those travelled before the pandemic hit and numbers plummeted by 99% between April and June, by 83% from July to September and by 90% between October and December.
The drop in passenger numbers is estimated to have cost the Scottish economy around £1 billion, as well as 21,000 jobs.