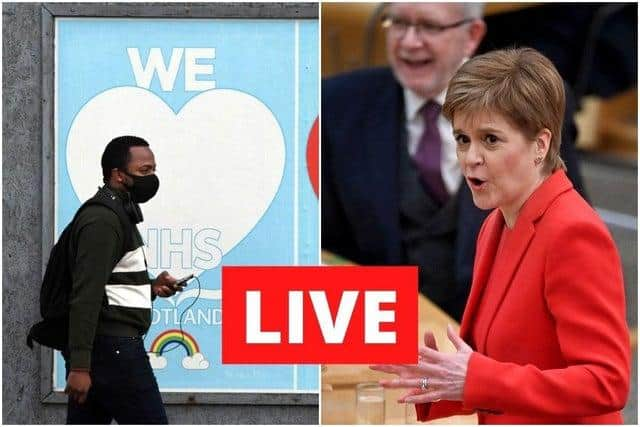 Follow here for live updates on coronavirus in Scotland, UK and the rest of the world
Follow along here to stay up-to-date with the latest developments on Thursday, 4 February.
Nicola Sturgeon coronavirus briefing RECAP: First Minister updates nation on latest Covid news
Last updated: Thursday, 04 February, 2021, 13:11
Record number of patients were infected with coronavirus while already in hospital during the first full week of January, figures show
Scots could face council tax hikes of 6 per cent in 2022
The First Minister has said Scotland's vaccine rollout is 'working well' despite criticism over 'delays' compared to other UK countries
Covid-19 case rate in Scotland falls below 'under control' measure
The number of coronavirus cases in Scotland has fallen below a key measure that indicates the pandemic is under control, with Nicola Sturgeon saying light at the end of the tunnel is "more visible now than at any point in recent weeks".
Giving the latest figures at the daily briefing on Thursday, the First Minister said 53 deaths from coronavirus and 1,149 positive tests have been recorded in Scotland in the past 24 hours.
But the daily test positivity rate has fallen to 4.9% – below the 5% mark at which the World Health Organisation considers a pandemic to be "under control".
This is the first time the figure has fallen this low in more than a month, Ms Sturgeon said.
She cautioned against reading too much into a single day's figures, but added: "Any day with test positivity below 5% – particularly given the phase of the pandemic we are in right now – is welcome.
"We shouldn't overstate it – and I'm going to stress that point – but nevertheless I think, particularly given how grim things have been recently, we should allow ourselves to reflect just a little bit on the rays of sunshine when they appear.
"That is undoubtedly a small ray of sunshine."
'We hope to get back to the level system,' says FM 'not one size fits all'
She could not give any further detail on when the country can return to a tiered system.
She added one of the country's main focuses is getting children back to school, even if it's at the expense of adults' lives 'returning to normal'
FM asked about South African variant
She said she has no update on the variant in the country and it still stands there is knowledge of five cases in Scotland that were brought in by international travel
FM says proposals have been put to government for approval of asymptomatic testing in communities
'The Scottish Government has to be confident the plans are robust,' she said
She said further information will be given on asymptomatic testing when the plans are ready
FM challenged on vaccine programme by journalist who shares a case study of an 85-year-old who still hasn't received his vaccination
She asked all those in the over80s who haven't received vaccine to make sure they contact the vaccination programme helpline on 0800 030 8013
FM was challenged about the 'delay' in giving vaccinations compared to other UK countries, but defended the programme saying the Scottish Government is focusing on vaccinating the elderly and clinically vulnerable first
FM asked if there will be a public enquiry into Covid-19 deaths
Ms Sturgeon confirmed there will be a public enquiry
But she said the country is 'still in the grip of a second wave' and cannot take her 'eye off the ball' in this second wave
'The death toll in our care homes will be engraved on my soul for the rest of my life,' she said
'I want to do everything we can to learn from that first wave
'But we have to keep focused on the here and now
'There will be a public enquiry, but that cannot be at the expense of getting everyone to focus on getting rid of this virus'
'We are going to have to accept the trade off of having no overseas travel,' says FM
'We should be able to see the reduction of death in the coming weeks', says Ms McQueen