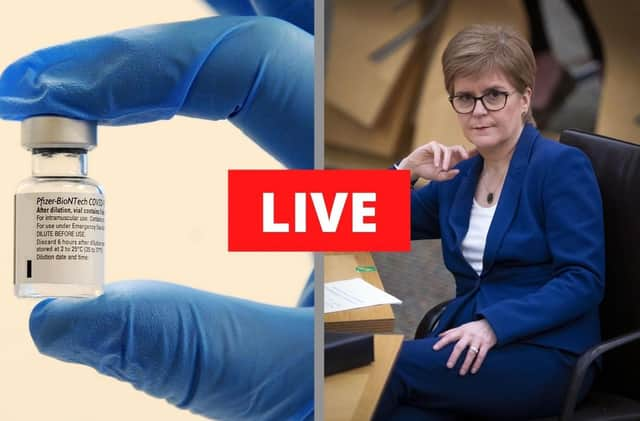 The latest coronavirus updates from Scotland
Keep up-to-date with all the latest Covid-19 news in Scotland, the UK and around the world.
Nicola Sturgeon coronavirus briefing RECAP: 1,480 new cases of Covid-19, £500k grant for health and social care workers breaks, 450 care homes under investigation, Bute House work was 'essential safety work'
Last updated: Friday, 22 January, 2021, 12:27
1,480 new positive Covid-19 cases and 71 further deaths in the past 24 hours
Vaccine approval is increasing across Europe including the UK
Health and social care workers to receive free snacks and hot drinks on shift with £500k Scottish Government investment
Work carried out at Bute House was 'essential safety work' and House is 'not being used as a residence'
Scottish GPs demand to speed up vaccine rollout by ordering supplies themselves
Scottish GPs want to accelerate the rollout of Scotland's coronavirus vaccine by bypassing health boards and ordering stocks themselves.
The British Medical Association has reportedly asked Professor Alison Strath, the Scottish Government's interim chief pharmaceutical officer, to consider allowing GPs to order the supplies they need to vaccinate their patients 'directly'.
As it currently stands, GPs must place their orders with their local health boards
New Bond film release delayed again due to Covid-19
No Time to Die has moved from its last planned release date of April 2 and will now be scheduled to open in theaters on October 8, as confirmed by a new poster for the film debuted on Twitter.
Parents could get less than two weeks notice for schools return
John Swinney has said parents would get "as much notice as possible" about when schools may reopen, but it could be shorter than the fortnight being promised by England's education minister.
Edinburgh University has announced that all undergraduate learning will remain online until April 2, 2021, when the academic year concludes.
Opposition parties and health professionals alike have been calling for a faster rollout of the Covid-19 vaccine in Scotland this week.
Billy Connolly's wife Pamela Stephenson confirms he has received his first dose of the Covid-19 vaccine
Crown Office investigating 474 care homes in Scotland over Covid deaths
Cases of Covid-linked deaths are being investigated at more than 450 care homes in Scotland, it has been reported.
The Crown Office and Procurator Fiscal Service's dedicated Covid-19 Death Investigation Team (CDIT) is probing the circumstances of coronavirus-related deaths in 474 care homes across the country.
Department of Health leaked documents reveal those who test positive for Covid-19 in England could be paid £500 to self-isolate under proposals to be discussed by ministers
The universal payment would cost up to £453m a week, 12 times the cost of the current system, according to an official policy paper.
There have been concerns that the current financial support, unveiled by the Prime Minister four months ago, is not working and is exclusionary because low paid workers cannot afford to self-isolate, meaning that they are torn between losing earnings or spreading the disease.
The Scottish Government has insisted that repairs carried out in the First Minister's official residence in Edinburgh were "essential", after it was revealed that a team of workmen had been hired last week.
Vaccine approval in European countries, including the UK, is increasing
YouGov reports that vaccine approval is increasing across Europe and UK has the most amount of people willing to take the vaccine.
It reports that 81% of Brits have or will take the COVID-19 vaccine, an increase of 20% since their first survey.