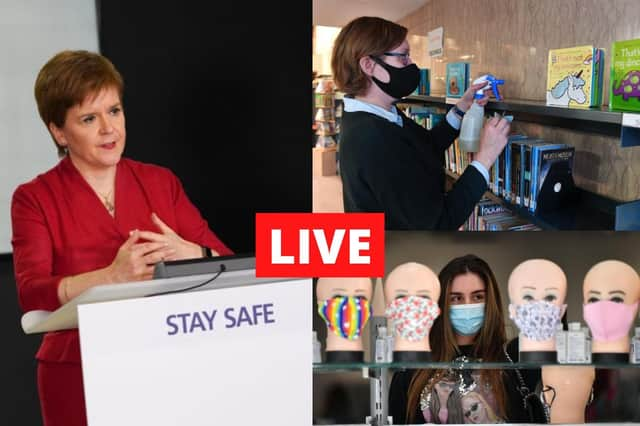 Coronavirus in Scotland LIVE
Live updates on coronavirus in Scotland, the UK, and around the world.
A message from the Editor:
Thank you for reading this article. We're more reliant on your support than ever as the shift in consumer habits brought about by Coronavirus impacts our advertisers.
If you haven't already, please consider supporting our trusted, fact-checked journalism by taking out a digital subscription.
Nicola Sturgeon briefing LIVE: 28 deaths recorded as country confirms 999 new cases
Last updated: Tuesday, 03 November, 2020, 13:30
28 new deaths recorded in Scotland as 999 people test positive in the last 24 hours
Nicola Sturgeon demands UK Government to give more 'clarity' on furlough dates
Dr Gregor Smith said the country should not be going into winter with around 1,000 new cases a day
She added: "We have grounds for cautious optimism, but not complacency"
Nicola Sturgeon closes her briefing with a "frustrated" but "heartfelt" plea to urge the UK treasury to give more "clarity" on the furlough scheme in the coming months
Dr Gregor Smith said it is not good for the country to be going into winter with an average of about 1,000 new cases a day. He said if this continues, further action needs to be taken.
FM: "We need to be confident not just that the situation we face right now isn't deteriorating, we also need to be confident that at current levels of intervention the situation is improving significantly enough.
"If we are not confident of that, it may be that we can't move areas down a level, and it may also be that we have to move some areas up a level.
"While we hope this will not be the case, that analysis means we cannot rule out having to move some areas of the country to level 4 for a period."
She said: "We are right now in a difficult position in Scotland, but it is not without its encouraging signs.
"We have to satisfy ourselves though that those signs are encouraging enough and going firmly enough in the right direction, so there are some difficult judgments that lie ahead of us."
Nicola Sturgeon stressed the importance of not giving people false hope so that Scotland continues to get the numbers lower when heading into winter.
Dr Gregor Smith said he is "cautiously optimistic" about the recent figures shown
"We are more likely to see a rise in the 'R' number again and when it rises, this will really accelerate the spread of the virus, so we have to be cautious," he added
Some levels of Scotland could be moved to level 4
Nicola Sturgeon has warned that some areas of Scotland could be moved to level four if a "significant improvement" is not seen.
She confirmed that the situation in Scotland is better than in other parts of the UK, but warned Scots "cannot be complacent"
Dr Gregor Smith said it's a 'constant battle' working out the best level of restrictions for each part of Scotland to ensure the safety of the public
FM said she is still seeking clarity from the UK Government about furlough support for Scotland from December 2 if the country needs to go into another lockdown