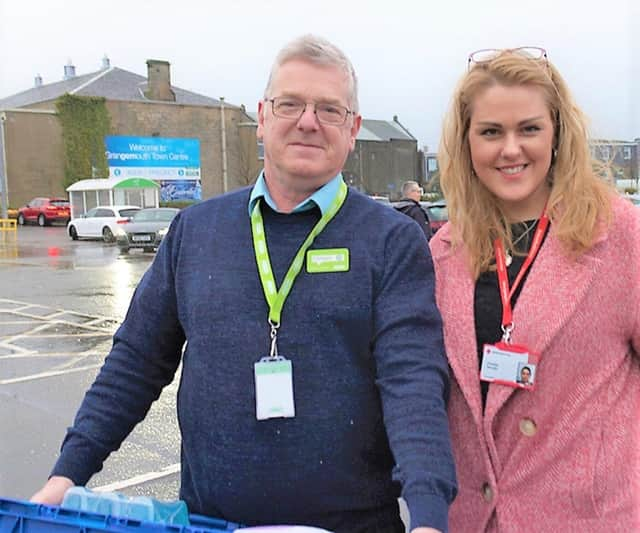 Pictured Asda manager Stephen and British Red Cross volunteer Chantal Sinclair. Pic: GCO Photography
Among the goods gifted by the store this week to representatives of the British Red Cross in Stenhousemuir were antibacterial soaps and toilet rolls.
Chantal Sinclair, a volunteer with the charity and Safebase, has been involved in organising the initiative, which will see the items split into packages to be distributed to people in need in the community.
She said: "I'd been in the supermarket and there were a few elderly people who had been quite upset as they weren't able to access items like soap and toilet rolls. It's just crazy and insane and I thought we could try and do something to help.
"I spoke to managers at Asda to see if they could help us.
"Stephen and all the staff in Grangemouth have been so generous and we'd like to thank them.
"We'll be putting together parcels that we can distribute to people and we're focussing on those vulnerable elderly people in the community who are without family. Our resources are limited, but we'll try to help as many as we can.
"Parcels cannot be accessed from the British Red Cross shop at the moment as it is closed, however people can contact Chantal Sinclair on Facebook to arrange for parcels to be delivered."