COVID-19: Forth Valley-led campaign could save dental practices from permanent closure
A campaign led by Forth Valley dentists could save several practices from closing their doors permanently amid the coronavirus crisis.
Watch more of our videos on Shots! 
and live on Freeview channel 276
Visit Shots! now
More than 850 practitioners from around the country have united to urge the Scottish Government to offer greater financial support to NHS dental services currently suspended from providing face-to-face care due to the outbreak of COVID-19.
All those who pledged their support to the cause have now claimed a mini "victory" after Chief Dental Officer Tom Ferris revised the original deal.
The package would have seen clinics receive the equivalent of 90 per cent of their average monthly income but crucially didn't acknowledge contributions made by adult patients towards the cost of their NHS dental care — a move campaigners claimed would see many practices collapse.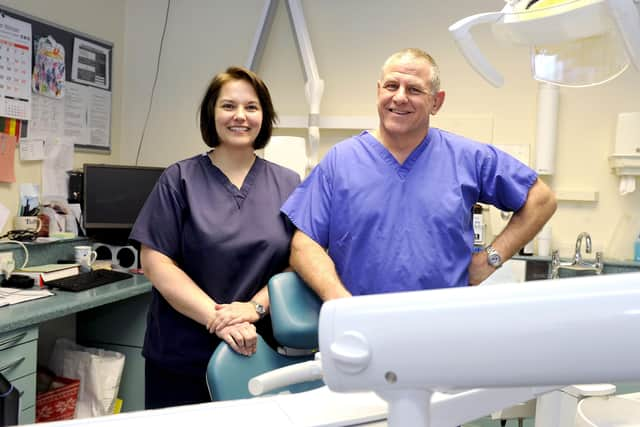 A decision made by Forth Valley's local dental committee to write to First Minister Nicola Sturgeon and Health Secretary Jeane Freeman last week paid dividends as the government has altered its stance and agreed to pay 80 per cent of the average income from fees paid to dentists and patient contributions.
The Forth Valley-led movement rapidly gained support when the letter, written by Dr Gillian Lennox of Forth Valley Smile Design in Stenhousemuir, was shared among dental committees nationwide.
As well as the fears over the financial impact and job losses, practitioners also 
had genuine concerns about the country's dental health being "pushed back a generation".
Dr Lennox's letter read: "The economic impact of this crisis will continue for years.
"Overnight, practices have seen their incomes decimated. Every health care sector, apart from dentistry, has received a fair funding package. Every other sector has financial stability for their staff and themselves.
"We do not – and, if practitioners are left bankrupt, ultimately it will be patients who lose out.
"It is essential there is a fully functional dental service at the end of this crisis or we risk the dental health of the population being pushed back a generation. We're all in this togethe but general dentist practitioners feel forgotten about in the healthcare system."
Within a matter of days of the letter being sent, campaigners received the good news the government had taken their concerns and requests on board.
While the renewed deal is likely to be welcomed by most, there remains a sense of trepidation as dental practices will be unable to receive payments from the new government package and access furlough, whereby businesses can claim an 80 per cent grant of a furloughed employee's wages, capped at £2500 a month.
Dr Lennox explained: "We are still waiting on the fine print of the deal but this has been a national success with Forth Valley leading the charge both at health board level via our dental director, Jennifer Rodgers, and our area and local dental committees getting our practitioners on board.
"It's good in that the government has addressed the inequality of the patients who pay and the patients who don't. The problem is we're still not being allowed access to the furlough scheme because they're giving us money, we've got to make do with that.
"Some practices will be okay and others will have to make decisions on what will be most effective, the government money or furloughing.
"We know the government was taken aback by the swell of opinion. I would definitely say it has saved some practices."
Another cause for concern among dentists is the potential backlog they could be facing when practices reopen due to patients changing their eating habits during lockdown.
Dr Lennox said: "When people are stressed their eating habits are very strange. People are in their homes for longer, eating junk and doing things they wouldn't normally do.
"There will be a huge amount of extra work we are going to come back to because people aren't following their normal habits. I'd plea to patients in these distressing times not to forget their dental health. Please brush twice a day and try to limit sweet treats."
A spokeswoman said: "The Scottish Government has listened to the concerns of dentists and has put in place new measures to ensure the financial sustainability of NHS dental practices during this difficult and uncertain period.
"This is a considerable enhancement on what was previously announced and provides additional financial security. This will also allow NHS dental practices, dentists and the dental team to concentrate on the wider NHS response to the COVID-19 outbreak."