Coronavirus in Scotland RECAP: Nicola Sturgeon unveils new five-tier framework of restrictions to tackle Covid-19
Live updates on coronavirus in Scotland, the UK, and around the world.
Friday, 23rd October 2020, 6:27 am
Updated
Friday, 23rd October 2020, 2:27 pm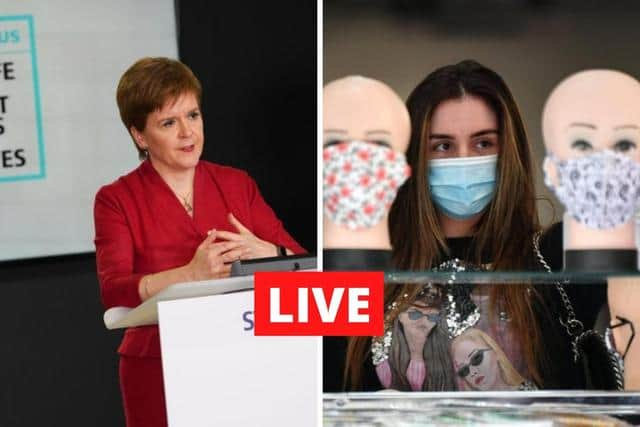 Live updates on coronavirus in Scotland, the UK, and around the world.
Follow along here to stay up-to-date with the latest developments on Friday.
A message from the Editor:
Thank you for reading this article. We're more reliant on your support than ever as the shift in consumer habits brought about by coronavirus impacts our advertisers.
If you haven't already, please consider supporting our trusted, fact-checked journalism by taking out a digital subscription.
Coronavirus in Scotland LIVE: The latest updates on Friday
Last updated: Friday, 23 October, 2020, 09:51
Scotland's five-tier plan to be announced
18 deaths from Covid-19 reported Friday
1,401 new positive cases in Scotland
Fragments of coronavirus acid in Scotland's waste water
Sturgeon to announce five-tier plan of coronavirus measures for Scotland
Nicola Sturgeon will on Friday announce a five-tier plan of measures for dealing with the coronavirus pandemic in Scotland.
The new set of restrictions has been anticipated since a similar three-tiered system was introduced in England by Prime Minister Boris Johnson.
If approved at Holyrood next week, the new measures will come into force in Scotland on Monday November 2.
The Scottish First Minister will discuss the tiered system at her daily coronavirus briefing on Friday afternoon as well as plans to increase testing capacity north of the border.
Ms Sturgeon has already said the three middle tiers will be broadly similar to the English system, where areas are classed as either "medium", "high" or "very high" risk.
READ MORE: Coronavirus in Scotland: Traces of covid19 found in waste water of almost every Scottish area
Scientists have found fragments of coronavirus's ribonucleic acid (RNA) in waste water samples from the majority of Scotland's health board areas, according to an environmental body.
Tourist spending to fall £10 billion in London this year – Sadiq Khan
Tourist spending in central London is set to fall by £10.9 billion this year due to the pandemic, according to an analysis published by mayor Sadiq Khan.
The figure represents a far lower total than the amount of spending lost due to the large decrease in commuters traveling into the city, the study says.
Mr Khan said the data showed new bail-outs announced by the Prime Minister and Chancellor on Thursday are only "a sticking plaster solution", with the collapse of London tourism to leave many hospitality, retail and leisure business without hope of returning to normal for "many months to come".
He called on the Government to enact a "functioning" Test and Trace system to help the economy reopen safely.
Katherine Jenkins: What I had to learn in lockdown
Katherine Jenkins and her husband had to learn to live together in lockdown, the Welsh star has revealed.
The classical singer, 40, wed film producer Andrew Levitas in 2014.
She told The Jonathan Ross Show: "I haven't spent that many consecutive nights in the same house with my husband, so that was lovely.
"I was always away or he was away filming.
"We had to learn to live in the same house."
Meanwhile, comic Russell Howard said he moved in with his parents so his house could be "Covid secure", as his wife is a doctor.
"We were apart for six weeks," he said.
"She was saving lives and I was living with my mum and dad as a 40-year-old man. There was something magnificent about it."
READ MORE: Care home staff being quizzed by police over Covid deaths
Care home staff are being left "emotionally distressed" by a police investigation into coronavirus deaths.
READ MORE: When is Nicola Sturgeon's 'five tier' briefing? How can you watch it and what will she say?
Nicola Sturgeon will be updating the country on the latest coronavirus statistics and restrictions at a press conference held at St Andrew's House in Edinburgh.
One in 10 asked to work by bosses while furloughed
Nearly one in 10 workers whose wages were covered by the Government have said their bosses asked them to work during furlough, which was against the rules of the scheme.
And criminal gangs have syphoned off nearly £2 billion in taxpayer funds allocated to help businesses and furloughed workers, according to a new report.
The revelations come in a review of the furlough scheme by the National Audit Office, which praised civil servants for pushing through employment support schemes at high speed, but said that, in their haste, they might have left some doors open for fraudsters.
The auditors said that HM Revenue and Customs (HMRC) should have made sure that employees knew their employer was taking furlough cash, so they could challenge potential fraud.
Around 9.6 million people were put on furlough through the Coronavirus Jobs Retention Scheme, while another 2.6 million were helped through the Self-Employment Income Support Scheme.
The NAO said there is evidence that the "schemes provided an effective bridge during the early phases of the pandemic, allowing some people to return to work when the national lockdown eased".
Labour calls on Government to clear up 'confusion' on plans to help businesses deal with Covid restrictions
Labour has called on the Government to clear up "confusion" on new plans to help businesses deal with coronavirus restrictions.
Chancellor Rishi Sunak needs to clarify how long elements of the package will be in place for, shadow chancellor Anneliese Dodds said.
She told BBC Radio 4's Today programme: "The Chancellor suggested that a number of these measures will apply, he stated, for six months…
"He has set out that approach for some elements of his plan, but there is a lot of confusion around other elements, whether they're short term, long term, what, exactly the score is."
Good morning, folks!
A big day ahead with Nicola Sturgeon set to announce a five-tier plan of measures for dealing with the Covid crisis in Scotland.
If approved at Holyrood next week, the new measures will come into force in Scotland on Monday, November 2.
At today's daily coronavirus briefing, the First Minister will discuss the tiered system as well as plans to increase testing capacity north of the border.
Don't go anywhere - you can follow it all right here.
Wales prepares to enter two-week 'firebreak' lockdown
Wales will enter a two-week "firebreak" lockdown at 6pm on Friday in an attempt to protect the country's NHS from being overwhelmed by the resurgence of coronavirus.
The Welsh Government has said the "sharp and deep" lockdown, brought in to coincide with half-term holidays, could be enough to avoid a longer and "much more damaging national lockdown" in the months ahead.
Under the measures, which will last 17 days until November 9, people will be asked to stay at home and to leave only for a limited number of reasons, including exercise, buying essential supplies, or to seek or provide care.
First Minister Mark Drakeford said supermarkets would only be able to sell "essential" items during the firebreak to ensure a "level playing field" for retailers forced to shut. They will not be allowed to sell things such as clothing and hardware.