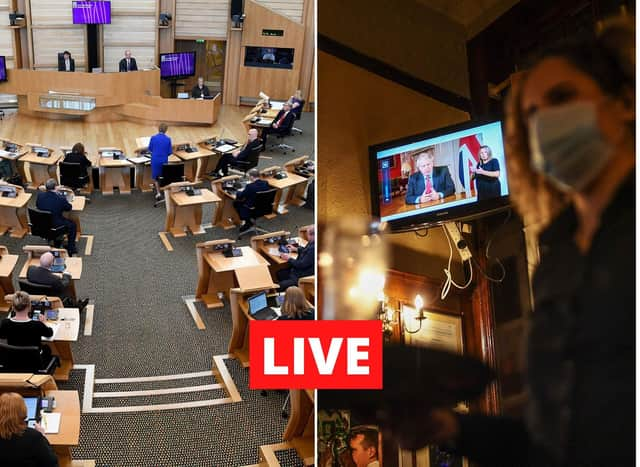 The latest updates on Covid-19 in Scotland.
Follow along here to stay up-to-date with the latest developments on Friday, January 8.
A message from the Editor:
Thank you for reading this article. We're more reliant on your support than ever as the shift in consumer habits brought about by coronavirus impacts our advertisers.
If you haven't already, please consider supporting our trusted, fact-checked journalism by taking out a digital subscription.
Coronavirus in Scotland LIVE: The latest updates on Friday, January 8
Last updated: Thursday, 01 January, 1970, 01:00
Third vaccine approved for use in UK
Places of worship close as latest coronavirus restrictions in Scotland continue
Scotland records 93 more coronavirus deaths in 24 hours
2,309 more people have tested positive for Covid-19
Travellers must test negative for Covid to enter Scotland
Community transmission of Covid-19 began in February, research finds
Undetected community transmission of Covid-19 took place as early as February in Scotland after the virus entered the country mainly through European travel, researchers have found.
A study led by the University of Glasgow discovered coronavirus was brought to Scotland primarily from countries such as Italy and Spain, with few cases directly linked to China and south-east Asia where the virus is believed to have originated.
Researchers said quarantining travellers from high-risk areas could have prevented the escalation of the outbreak.
The scientists sequenced virus samples from the first confirmed cases of Covid-19 in Scotland.
They found SARS-CoV-2, the virus which causes Covid-19, was introduced hundreds of times during the first four weeks of the outbreak in Scotland, mainly from other European countries.
This predated both UK travel restrictions and extensive restrictions in other European countries.
New travel testing rules could see passengers 'caught out' abroad
Plans to require international travellers to test negative for coronavirus before arriving to England and Scotland will be "a real challenge" for some passengers due to varying testing facilities in other countries, Heathrow's chief executive has warned.
John Holland-Kaye called on the Government to take the lead in creating a "common international standard for testing" to replace current "confusing" differences between nations.
He said his airport had the capacity to test up to 25,000 people a day – used to help departing passengers meet other countries' inbound tourism requirements – but other airports around the world lacked such facilities.
Speaking to BBC Breakfast on Friday he said: "So, if you're caught out in one of those countries, and you now have these new requirements, then you'll find it quite difficult to get the tests that are needed in order to come back home again.
"And that's going to be a real challenge for a lot of passengers."
First Minister Nicola Sturgeon will hold a virtual coronavirus briefing at 12.15pm with national clinical director Professor Jason Leitch and Police Scotland Chief Constable Iain Livingstone.
Covid-19 cases in Scotland 'could have been worse' in January, adviser claims
Coronavirus case numbers in January "could have been worse", according to a top medical adviser, but Scots have been warned they are "not out of the woods yet".
Interim deputy chief medical officer Dr Dave Caesar has said that restrictions placed on Scots on Boxing Day are working, but compliance needs to remain at a high level to ensure the more transmissible strain of the virus does not spread.
All of mainland Scotland and Skye were placed into Level 4 restrictions from December 26, before a lockdown was enforced earlier this week.
"Our case numbers are high, they're not as high as they could have been if we hadn't taken the measures that we undertook from Boxing Day," he told the BBC.
"Our health system is under serious pressure but is coping.
"I hate to say it, but it could have been worse by this time in January. We're not out of the woods yet by any stretch of the imagination, but I suppose we're holding our own in very significantly challenging circumstances."
Coronavirus in the UK: Clap for Heroes has less enthusiastic comeback as founder doesn't participate
Clap for carers returned on Thursday night with a different name – but met with a less enthusiastic response than before.
M&S hit by Covid-19 restrictions and EU paperwork
Covid-19 restrictions in the past three months saw Marks & Spencer take a knock in sales as the retailer suffered from the November lockdown and tiering restrictions.
Bosses at the high street stalwart revealed that sales in the three months to December 26 fell 7.6% on a like-for-like basis, with the food division growing 2.6%, but clothing and home sales dropped 24.1%.
The national lockdown in England hit particularly hard, with both food and non-food sales down 4.5% and 40.5% respectively.
Online sales were strong – including a new tie-up with Ocado to offer grocery deliveries for the first time – and shoppers were keen on buying sleepwear and leisurewear as they stayed indoors.
Pfizer Covid-19 vaccine 'works against rapid spread mutant strains'
The Covid-19 vaccine from Pfizer and BioNTech protects against two new mutant variants that are causing rapid spread across the UK, according to new research.
The pharmaceutical giant and researchers from the University of Texas carried out lab tests on the strains, one of which was found in the UK while the other originated in South Africa.
The variants contain mutations including N501Y, an alteration in spike protein of the virus, which is a target for vaccines.
In the new study, which has not yet been peer-reviewed, blood samples were taken from 20 people who received the Pfizer vaccine.
Laboratory studies found that the samples had neutralising levels of antibodies which worked against the new strains.
The third lockdown in England was in response to the rapid spread of the mutant strain found in the South East, which has now spread to other parts of the UK.
Travellers must test negative for Covid to enter England and Scotland
All travellers to England and Scotland from international destinations will have to test negative for coronavirus before they can enter the country, it has been announced.
Under plans set out by Transport Secretary Grant Shapps, from next week passengers arriving in England by boat, train or plane – including UK nationals – will have to take a test up to 72 hours before leaving the country of departure.
Similar measures have been announced by the Scottish Government, while officials were said to be working closely with the devolved administrations in Wales and Northern Ireland on adopting them there.
Mr Shapps said the move was designed to prevent new variants of the disease which have emerged in countries such as South Africa and Denmark. Failure to comply will lead to an immediate £500 fine.
There will be a limited number of exemptions, including hauliers, children under 11, crews, arrivals from the Common Travel Area with Ireland and for those travelling from countries without the infrastructure available to deliver tests.
Places of worship close as latest coronavirus restrictions in Scotland continue
Places of worship across mainland Scotland will close from Friday as the latest set of coronavirus restrictions continue across the country.
Churches and other similar venues can only open under the new guidance – set out by First Minister Nicola Sturgeon on Monday – to broadcast a service or conduct a funeral, wedding or civil partnership.
Once again there are limits on such ceremonies taking place with a maximum of 20 people allowed to attend a funeral service – however wakes are banned.
Up to five people can attend weddings and civil partnership services.
Elsewhere ski centres, showrooms of larger retailers and clinics offering cosmetic and aesthetic procedures must also close.
Page 3.2222222222222223 of 3