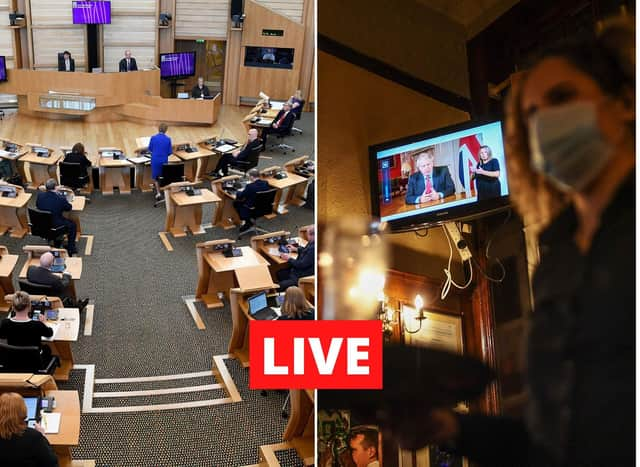 The latest updates on Covid-19 in Scotland.
Follow along here to stay up-to-date with the latest developments on Friday, January 8.
A message from the Editor:
Thank you for reading this article. We're more reliant on your support than ever as the shift in consumer habits brought about by coronavirus impacts our advertisers.
If you haven't already, please consider supporting our trusted, fact-checked journalism by taking out a digital subscription.
Coronavirus in Scotland LIVE: The latest updates on Friday, January 8
Last updated: Friday, 08 January, 2021, 12:27
Third vaccine approved for use in UK
Places of worship close as latest coronavirus restrictions in Scotland continue
Scotland records 93 more coronavirus deaths in 24 hours
2,309 more people have tested positive for Covid-19
Travellers must test negative for Covid to enter Scotland
Trials of the Moderna coronavirus vaccine suggest it is 94% effective against Covid-19.
Nicola Sturgeon LIVE
Universities and colleges will not resume in-person teaching until at least the end of February, Nicola Sturgeon has announced.
The First Minister said: "I can confirm that the staggered return to term-time accommodation and studies for students, which had been planned for since the end of last term, will now be extended.
"For the vast majority of university students, learning and teaching will be online only until at least the end of February.
"And that means if you're a student you should stay at home rather than travelling back to your campus or term-time accommodation.
"There will be exceptions to that in the very small number of cases where remote study is not possible – for example for a student nurse or a doctor on a practical placement.
"Any students who have remained on campus will be fully supported by their institution.
"However, the vast majority of university students should stay at home rather than travelling back to university and should be learning online over the next period."
She added the Government would keep the measures "under close and ongoing review".
Nicola Sturgeon LIVE
Speaking at the Scottish Government's coronavirus briefing, Ms Sturgeon said: "The risks of international travel are particularly acute at the moment as new strains of this virus emerge and as case numbers globally continue to increase.
"Indeed, that's why it is – as of now – illegal for anyone to travel to or from Scotland unless it is for an essential purpose and I want to reiterate that point right now.
"You should not be travelling within Scotland and you should not be travelling out of Scotland or into Scotland for anything other than an essential reason.
"Even with such a reason, anyone who is travelling to Scotland must still comply with quarantine requirements if they are coming from a country that is subject to those requirements.
"Last night, the Scottish Government, along with the UK Government, announced a further measure aimed at reducing the risk of importation of the virus – people travelling to Scotland from overseas will be required to present a negative Covid-19 test result before they embark upon their journey."
She added: "The tests will be required to be highly reliable in terms of their specificity and their sensitivity and so, in practice, they are likely to be PCR tests.
"They will be required of anyone travelling to Scotland from outside of the common travel area, and they will need to be taken no more than 72 hours before people start travelling to Scotland."
Nicola Sturgeon LIVE
Nicola Sturgeon has confirmed that visitors to Scotland will have to have tested negative for coronavirus before travelling.
No start date for the policy has been announced, but the First Minister suggested it would come into effect from the end of next week.
The measures will be in addition to the existing quarantine requirements, although there are some exemptions such as young children and hauliers, Ms Sturgeon added.
Scotland records 93 more coronavirus deaths in 24 hours
Scotland has recorded 93 deaths of coronavirus patients and 2,309 new cases in the past 24 hours, according to official figures.
The death toll under this measure – of people who first tested positive for the virus within the previous 28 days – is now 4,779.
Scottish Government statistics indicate the daily test positivity rate is 8.1%, from 11.3 % on Wednesday, when 2,649 positive cases were recorded.
A total of 146,024 people have tested positive in Scotland since the start of the pandemic.
There are 1,530 people in hospital confirmed to have Covid-19, up 93 from 1,467 in 24 hours.
Of these patients, 102 are in intensive care – up by two from the previous day.
Nicola Sturgeon says 1,530 people are now in hospital with Covid - this is more people than were in hospital at the peak of the first wave in April 2020.
BREAKING: Third vaccine approved for use in UK
The Moderna vaccine is the third jab authorised for use in the UK, joining vaccines made by Pfizer and AstraZeneca.
The Government has ordered 17 million doses of the Moderna jab, but supplies will not delivered until the spring.
Health Secretary Matt Hancock said: "This is further great news and another weapon in our arsenal to tame this awful disease.
"We have already vaccinated nearly 1.5 million people across the UK and Moderna's vaccine will allow us to accelerate our vaccination programme even further once doses become available from the spring.
"While we immunise those most at risk from Covid, I urge everyone to continue following the rules to keep cases low to protect our loved ones."
Nicola Sturgeon LIVE: 2,309 new positive cases reported on Friday, and 93 additional deaths registered.
The Medicines and Healthcare products Regulatory Agency has approved the Moderna coronavirus vaccine, the Department for Health has announced.