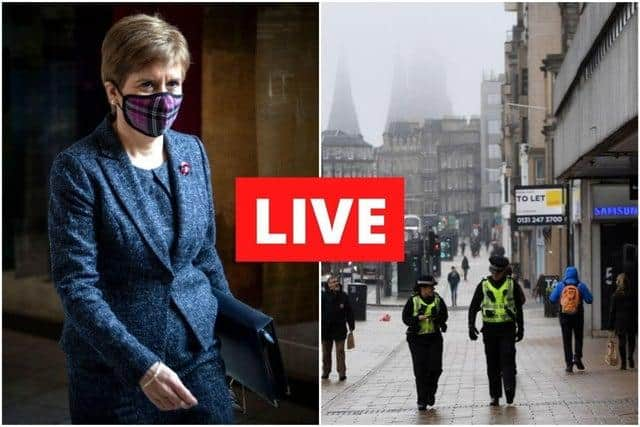 The latest updates on Covid-19 in Scotland.
Follow along here to stay up-to-date with the latest developments on Monday, February 15.
A message from the Editor:
Thank you for reading this article. We're more reliant on your support than ever as the shift in consumer habits brought about by coronavirus impacts our advertisers.
If you haven't already, please consider supporting our trusted, fact-checked journalism by taking out a digital subscription.
Coronavirus in Scotland LIVE: The latest updates on Monday, February 15
Last updated: Monday, 15 February, 2021, 12:03
Hotel quarantine begins for international arrivals to Scotland
Travellers flying directly into Scotland on international flights have to self-isolate for 10 days in a quarantine hotel room, under new regulations taking effect on Monday.
Unless exempt, a passenger will have to pay £1,750 to quarantine in a room at one of six designated hotels in a bid to avoid importation of the virus.
However, Transport Secretary Michael Matheson said on Sunday a "loophole" allowing overseas travellers to avoid hotel quarantine still exists which could "potentially undermine the public health approach here in Scotland".
In England, the UK Government will only require hotel quarantine for visitors from a "red list" of 33 countries designated as high risk, meaning travellers arriving from elsewhere could avoid it by entering Scotland via England.
Visitors would still have to self-isolate for the 10-day period, but would not have to do so at one of the designated hotels due to a lack of agreement between Scottish and Westminster governments.
Mr Matheson told the BBC's The Sunday Show, he said: "It is a loophole that has been created by the UK Government and its failure to take action on the basis of the clinical, expert advice that has been provided on this matter."
He added: "The simplest and the safest approach to dealing with this is to have a comprehensive system in place.
"If the UK Government aren't prepared to do that, we could resolve the issue by simply ensuring those who are transferring on to Scotland have to go to a quarantine facility near to the airport they arrive at in England."
Treasury announces £1.1 billion coronavirus support boost for Scotland
The Treasury has announced a further £1.1 billion of coronavirus support funding for the Scottish Government.
The UK Government said the cash takes the amount allocated through the Barnett formula north of the border since the start of the pandemic to £9.7 billion.
It said the £1.1 billion can be spent now or carried over into the 2021/22 financial year.
Chief Secretary to the Treasury Steve Barclay said: "From the outset of this crisis, people and businesses in Scotland have been able to rely on the UK Government.
"UK Treasury schemes such as furlough, support for the self-employed and business loans have helped to protect jobs and livelihoods.
"The UK Government will continue to offer this support and to give the Scottish Government the resources and flexibility it needs to fulfil its responsibilities to the people of Scotland.
"I would urge the Scottish Government to make the full and best use of this funding as well as their devolved powers to support people, businesses and public services."
The Scottish Government welcomed the funding and pledged to set out plans for the cash within days.
Gordon Ramsay: I can change a nappy with my eyes closed after lockdown
Gordon Ramsay says he can change a nappy with his eyes closed after spending time at home during lockdown.
The TV chef, 54, has spent much of the past year at home with his wife Tana, 46, and their five children following the temporary closure of his restaurant empire due to coronavirus restrictions.
He said his youngest son Oscar, one, had become his "best mate" during lockdown, and he had changed some 150 nappies in total.
Ramsay said: "Having the chance to spend that time with your family is unprecedented. So, we were very fortunate having all seven of us together – the only one we're missing now is Jack, he's off as a Royal Marine, active, and so again, you depend on those Zoom calls.
"But it's much harder for the 18 to 25-year-olds because they can't see a way out as you can as an adult and a parent and so the reconnect is extraordinary.
"And on top of that is the quality time. I must have gone through about 150 diapers with Oscar. I can literally change a nappy now with my eyes closed and he's become my best mate.
"And how fitting is that that my first best mate is now a Royal Marine commando and I have a new best mate in Oscar.
"I think he should have a buzzcut, I suggest we should go number two on top and shave it at the sides to number two."
People have become kinder because of virus crisis, study suggests
People have become kinder during the coronavirus crisis, being more friendly to each other, keeping in touch with friends and relatives and donating more to food banks, new research suggests.
Other acts of kindness to increase in the past year include having surprise gifts, or strangers saying hello, according to hotel chain Travelodge.
Its survey of 2,000 adults showed how much people value being greeted with a smile, or having offers of help.
A third of respondents believed random acts of kindness were contagious and one in four said they had been inspired by Captain Sir Tom Moore to become a more giving and kinder person.
Travelodge highlighted what its own staff had been doing, including the hotel manager at Milton Keynes Central helping a homeless person with a new start in life as a receptionist, and Warrington Central Travelodge providing urgent accommodation for 40 flood victim families who had to evacuate their homes due to the damage caused by Storm Christoph.
Shakila Ahmed, Travelodge spokeswoman, said: "One key thing that we are experiencing across our hotels is that kindness is prevailing in these challenging and tumultuous times.
"Our research also shows that kindness is contagious and has been spreading far and wide across the UK during the Covid-19 pandemic.
"We are so proud of our 563 UK hotel teams that go the extra mile every day for their guests and for their local community.
"Their kindness is making a real difference to people's lives, whether it is helping flood victims, making goody bags for NHS guests or helping a homeless person with a new start in life."
Health Secretary Matt Hancock said the Government is looking at how to ensure people in the UK can continue to travel if other countries choose to only allow visitors who have been vaccinated against Covid-19.
When is the next lockdown review? Date Nicola Sturgeon and her government will review Scotland Covid restrictions
Nicola Sturgeon introduced a second lockdown period on January 4
Wetherspoon boss: Lift coronavirus restrictions on pubs at same time as non-essential shops, or 'economic mayhem will inevitably follow'
Wetherspoon chairman Tim Martin has urged the UK Government to reopen pubs at the same time as non-essential shops, warning that the industry is "on its knees" and needs to reopen to save jobs.
First Minister Nicola Sturgeon will hold a coronavirus briefing at 12.15pm with chief nursing officer Fiona McQueen.
Experts urge caution on lifting lockdown restrictions too soon
Scientists have warned that lessons must be learned from the "mistakes" made previously in relaxing lockdown measures too fast.
A number of experts have called for a cautious approach, ahead of Boris Johnson's announcement next Monday of a "road map" for the lifting of restrictions.
The Prime Minister is facing pressure from some quarters to set out a swift easing of the lockdown, on the back of a successful rollout of the vaccines.
But Professor Neil Ferguson, who advises the Government as part of the New and Emerging Respiratory Virus Threats Advisory Group (Nervtag), warned that more information is needed about how effective vaccines are going to be.
He told Good Morning Britain: "We have results from scientific studies, clinical trials, but the real world is a different thing and so, again as the Government has said, we need to see how much protection vaccinated people have, how quickly death rates come down before we can be completely confident about going that next step and really reopening."
Health Secretary Matt Hancock told BBC Breakfast a "sustainable exit" whereby measures are lifted in a way that does not result in another lockdown is "an important part of our considerations".
Prime Minister Boris Johnson said he has no plans to introduce so-called vaccine passports for activities like going to the pub.