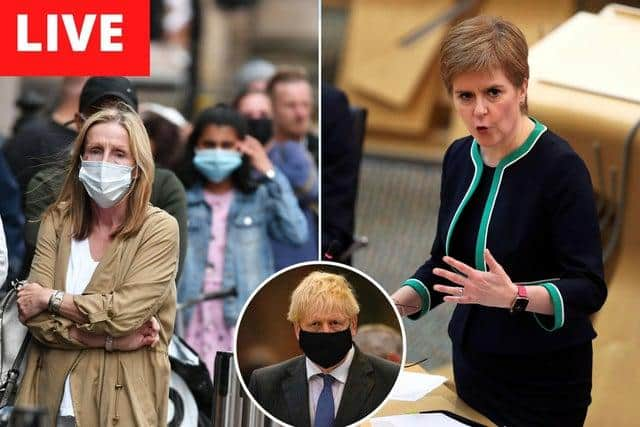 Follow along here to stay up-to-date with the latest developments.
Follow along here to stay up-to-date with the latest developments on Wednesday.
A message from the Editor:
Thank you for reading this article. We're more reliant on your support than ever as the shift in consumer habits brought about by coronavirus impacts our advertisers.
If you haven't already, please consider supporting our trusted, fact-checked journalism by taking out a digital subscription.
Coronavirus in Scotland LIVE: The latest updates on Wednesday
Last updated: Wednesday, 28 October, 2020, 12:54
Covid brought pay cut for 45% of Scots workers
28 Covid-19 deaths in Scotland reported on Wednesday
1,202 new cases of coronavirus reported
Coronavirus cases in Scotland pass 60,000
Make joint plan to enable safe travel at Christmas, leaders of UK nations urged
Uniform guidance for family gatherings at Christmas must be devised between all four nations of the UK, political leaders have been urged.
Boris Johnson, Nicola Sturgeon, Mark Drakeford and Arlene Foster were warned that their governments must "accept the inevitability" that people will travel over the festive period.
The call came in a letter from the Liberal Democrats in Scotland, Wales and England – together with the Alliance Party of Northern Ireland.
They said guidance cannot be made in isolation given the "interlinked" nature of life in the UK, and called for a "four nations summit" to agree a plan.
Protect Scotland Covid-19 tracing app now works in Northern Ireland and Jersey
Scotland's coronavirus contact tracing app is now compatible with similar systems in Northern Ireland and Jersey – and should be able to link up with the app in England and Wales in the "coming weeks".
Health Secretary Jeane Freeman said such moves are an "important step" in helping to reduce the spread of Covid-19.
More than 1.5 million people have downloaded the Protect Scotland app to their smartphones, with more than 10,000 people having been contacted by the system to let them know they have been in close contact with someone who has tested positive for coronavirus.
Samantha Morton: Government's lack of arts funding is 'outrageous'
Samantha Morton has attacked the Government for its "outrageous" lack of support for the creative sector amid the coronavirus pandemic.
The Oscar-nominated star, 43, suggested those in power did not understand that the TV and film they consumed relied on a network of industry workers.
Speaking during a Bafta Masterclass event, Morton called on more Government funding for the arts.
"I think in these times – certainly the times of Covid and moving forward – I just want everybody to be safe, as safe as we possibly can be. But (if we are to) survive we need more funding from the Government," she said.
"It's outrageous what they're doing and (they're) not understanding. What are they all doing? They're sitting at home watching their Netflix and their BBC iPlayer in the evening.
"Whether it's Bake Off or another series or something, they're watching. They're watching us. They're watching cameramen who have done their work, editors (who) have done their work, actors (who) have done their work, directors (who) are directing, people (who) have done post. I just pray and hope we get to keep doing this."
The Government is distributing a £1.57 billion funding package to the arts as well as further measures.
The latest National Records of Scotland statistics show 106 death certificates, between 19 and 25 October, had mention of Covid-19.
The National Records of Scotland (NRS) figures indicate 106 people died in the week ending October 25 - an increase of 31 deaths from the previous week.
Nicola Sturgeon news briefing LIVE: 1,202 new cases recorded and 28 more deaths in Scotland
Latest NRS figures released
A total of 4,482 people have died in Scotland with confirmed or suspected coronavirus, according to the National Records of Scotland (NRS).
A total of 106 deaths relating to Covid-19 were registered between October 19 and 25, an increase of 31 from the previous week
There were 44 deaths in Greater Glasgow and Clyde, 20 in Lanarkshire and 14 in Lothian.
The statistics are published weekly and account for all deaths registered in Scotland where Covid-19 was mentioned on the death certificate.
They differ from the lab-confirmed coronavirus deaths announced daily by the Scottish Government because they include suspected or probable cases of Covid-19.
1,202 people test positive for Covid-19 in last 24 hours
NHS Greater Glasgow & Clyde: 451
NHS Ayrshire and Arran: 91
28 deaths and 1,202 positive tests in 24 hours
Scotland has recorded 28 deaths from coronavirus and 1,202 positive tests in the past 24 hours, Nicola Sturgeon said.
The First Minister told the Scottish Government's coronavirus briefing the death toll under this measure – of people who first tested positive for the virus within the previous 28 days – has risen to 2,754.
The figures are lower than the 4,482 deaths given earlier by the National Records of Scotland as they do not include suspected and probable coronavirus infections.
Ms Sturgeon said 60,403 people have now tested positive in Scotland, up from 59,201 the previous day.
The daily test positivity rate is 6.8%, down from 8.7% on the previous day.
Of the new cases, 451 are in Greater Glasgow and Clyde, 292 in Lanarkshire, 152 in Lothian, and 91 in Ayrshire and Arran.
There are 1,117 people in hospital confirmed to have the virus, up by 17 in 24 hours.
Of these patients, 85 are in intensive care, a rise of three.