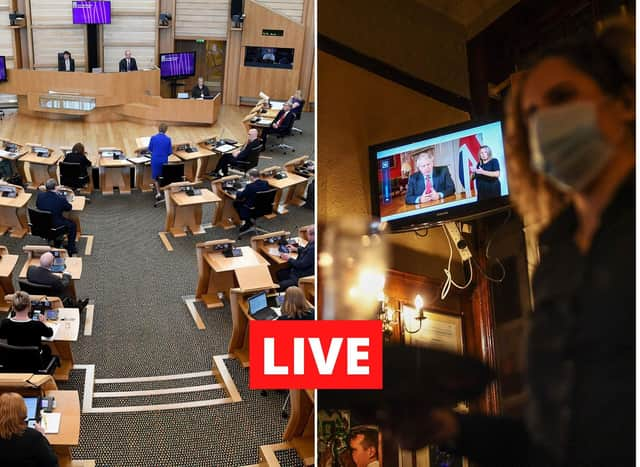 The latest updates on Covid-19 in Scotland.
Follow along here to stay up-to-date with the latest developments on Thursday.
A message from the Editor:
Thank you for reading this article. We're more reliant on your support than ever as the shift in consumer habits brought about by coronavirus impacts our advertisers.
If you haven't already, please consider supporting our trusted, fact-checked journalism by taking out a digital subscription.
Coronavirus in Scotland LIVE: The latest updates on Thursday
Last updated: Thursday, 19 November, 2020, 12:29
R number likely to be 'very slightly below 1', says Sturgeon
Health Secretary to update MSPs on how Covid vaccine will be distributed
House fire deaths doubled at start of lockdown, MSPs told
50 new Covid deaths in Scotland reported on Thursday
FM confirms 1,089 new cases of coronavirus
House fire deaths doubled at start of lockdown, MSPs told
The coronavirus lockdown is a key factor behind the doubling of house fire deaths, Scotland's chief fire officer has told MSPs.
Sixteen people died in house fires during April, May and June, an increase from eight on the number of deaths in the same period of last year.
Chief fire officer Martin Blunden and Scottish Fire and Rescue Service (SFRS) chair Kirsty Darwent have said they believe the increased number of deaths is linked to people spending more time at home as a result of the coronavirus pandemic.
The conveners of Holyrood's justice and police committees said the fire chiefs also told them more could be done to reduce the risk of potentially fatal blazes if the fire brigade is made aware of where vulnerable people are living.
In a letter to First Minister Nicola Sturgeon, the conveners of those committees – Adam Tomkins and John Finnie – ask for help "overcoming any obstacles in sharing relevant and timely data" with the SFRS.
Police make further inquiries into Margaret Ferrier's alleged Covid-19 breach
Police Scotland are carrying out further inquiries into an alleged breach of coronavirus rules by MP Margaret Ferrier.
It comes after the force submitted an "initial assessment" to the country's prosecution service.
Ms Ferrier had the SNP whip removed after it emerged she made a trip from Glasgow to the House of Commons while waiting for results of a Covid-19 test and a return journey after being informed she had the virus.
In a statement, Police Scotland said: "We have submitted an initial assessment of the circumstances to (the) Crown Office and Procurator Fiscal Service and are carrying out further inquiries under their direction."
The Crown Office declined to comment.
Harry Hill makes plea to save museums devastated by pandemic
Comedian Harry Hill has warned that many museums may not survive the pandemic and told how they have made him feel "happier".
More than half (60%) of galleries, museums and historic houses are concerned about their survival, according to Art Fund, which is launching a £1 million appeal to help museums "weather the storm".
Hill, 56, said museums are the "nature of inspiration" but their precious collections could be "scattered to the four winds".
He told the PA news agency: "We see them as permanent. Museums, on the whole, don't close.
"But we're in this bizarre situation where perhaps half of them are faced with closure if they don't get some sort of bailout or hard cash.
"I'm afraid if people can't buy tickets or souvenirs in the museum shops, then they are in trouble."
Majority of Scots think Scottish Government handling pandemic well, poll finds
Almost three-quarters of people in Scotland believe the Scottish Government has handled the coronavirus pandemic well, according to a new poll.
The study for BBC Scotland found that 72% of those questioned think it has done well and just 15% think it has handled the situation badly, while 12% say it has done neither well or badly and the remainder do not know.
A similar Ipsos Mori poll conducted in May found that 78% of respondents said the Scottish Government was doing well and 11% badly.
Meanwhile, only a quarter (25%) of the 1,037 Scottish adults questioned said they think the UK Government has handled the pandemic well, while more than half (55%) think it has done badly, the November poll found.
Only 19% of those questioned said Prime Minister Boris Johnson has handled the crisis well, while 62% said he has handled it badly.
However, almost three-quarters (74%) of respondents believe First Minister Nicola Sturgeon has handled the pandemic well, while only 13% say she has done so badly.
Release of Covid-19 second wave death forecasting 'not in public interest', claims Scottish Government
The Scottish Government has been accused of "absurd" decision making after officials blocked the release of forecasting analysis examining the potential number of deaths from a second wave of Covid-19.
Oxford vaccine produces strong response in older adults, early data suggests
Hopes have been raised that the UK could produce a successful coronavirus vaccine after data from the University of Oxford showed its jab provokes a strong immune response in older people.
The ChAdOx1 nCov-2019 vaccine, developed with pharmaceutical giant AstraZeneca, has been shown to trigger a robust immune response in healthy adults aged 56-69 and people over 70.
Phase two data, published in The Lancet, suggests one of the groups most vulnerable to serious illness and death from Covid-19 could build immunity, researchers say.
According to the researchers, volunteers in the trial demonstrated similar immune responses across all three age groups (18-55, 56-69, and 70 and over).
The study of 560 healthy adults – including 240 over the age of 70 – found the vaccine is better tolerated in older people compared with younger adults.
Volunteers received two doses of the vaccine candidate, or a placebo meningitis vaccine.
No serious adverse health events related to the vaccine were seen in the participants.
The early results are consistent with phase one data reported for healthy adults aged 18-55 earlier this year.
Health Secretary Jeane Freeman to make statement on vaccine rollout
Health Secretary Jeane Freeman is due to make a statement on Thursday to give more details about plans for the rollout of a Covid-19 vaccine.
Mixing at Christmas poses 'substantial risks', says Sage scientist
Mixing at Christmas poses "substantial risks", particularly for older people, and there is "far too much emphasis" on having a normal festive period, a Government scientific adviser has said.
Andrew Hayward, professor of infectious disease epidemiology at University College London (UCL) and a member of the Scientific Advisory Group for Emergencies (Sage), said the country was "on the cusp" of being able to vaccinate older populations and it would be "tragic" to throw away the gains made in suppressing coronavirus.
He also attacked the Government for "inconsistent" messages over what to do, saying it was clear that if people wanted to avoid Covid-19 they should not mix indoors.
BBC poll suggests Nicola Sturgeon has handled Covid-19 pandemic better than Boris Johnson
According to a new poll, almost three-quarters of people in Scotland believe the Scottish Government is handling the Covid-19 pandemic well.
Royal Mail sees revenues from parcels surpass letters for first time
Royal Mail has revealed revenues from parcel deliveries overtook letters for the first time as it hiked its sales outlook thanks to a boom in online shopping during the pandemic.
Shares in the group rose as much as 9% as it said full-year revenues at Royal Mail could now be between £380 million to £580 million higher year-on-year.
This marks a sharp reversal on the fall of up to £250 million previously estimated in its scenario-based forecast and would see the division deliver a "better than break-even" result if sales came in at the top of the new range.
It comes as rocketing levels of internet shopping have sent parcel deliveries soaring, with Royal Mail reporting a near-10% jump in revenues to £5.7 billion over its first half.
In its busiest day, Royal Mail processed 2.5 million tracked parcels.
But this was offset by ongoing woes in its traditional letters business and soaring costs of the pandemic, which sent Royal Mail group tumbling to a £20 million operating loss for the 26 weeks to September 27.