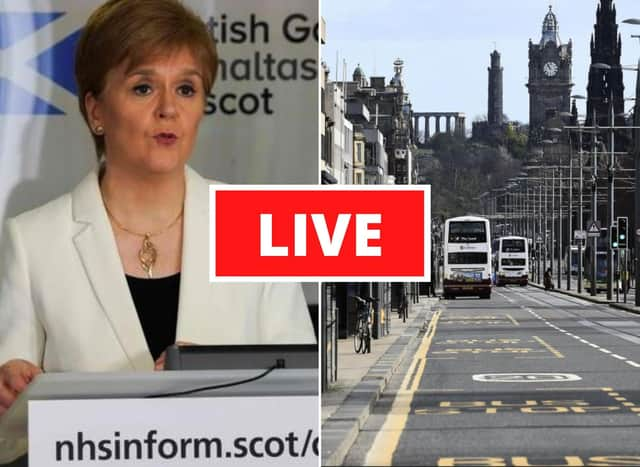 The latest Covid-19 updates from Scotland.
Follow along here to stay up-to-date with the latest developments on Tuesday.
You can watch it live from 12.15pm here.
A message from the Editor:
Thank you for reading this article. We're more reliant on your support than ever as the shift in consumer habits brought about by Coronavirus impacts our advertisers.
If you haven't already, please consider supporting our trusted, fact-checked journalism by taking out a digital subscription.
Coronavirus in Scotland LIVE: The latest updates on Tuesday
Last updated: Tuesday, 20 October, 2020, 13:45
15 further deaths in Scotland reported on Tuesday
1,456 new Covid cases in Scotland
824 Covid-positive patients in hospital - 69 of those in ICU
Extra funding to support free school meals
Republic of Ireland to be placed in second lockdown
Covid is 'not going to go away', warns WHO expert
Dr David Nabarro, the World Health Organisation special envoy on Covid-19, said the new coronavirus "is not going to go away".
Speaking to the All-Party Parliamentary Group on Coronavirus, he said: "Coronavirus is by and large much more stable than many other viruses that we deal with.
"So we're basically saying, my colleagues and I, just recognise that we as humanity are going to have to live with this virus for the foreseeable future.
"Living with the virus means holding it at bay, it doesn't mean letting it come and infect anybody and not worrying about it.
"The talk about herd immunity as a strategy is not viable, it's not ethical, it's not based on anything that we've ever done before.
"We encourage everybody to just put that one on the side, we may change our advice, but right now that's not the advice."
Potential vaccine will not be 'the cavalry' saving people from Covid pandemic, says expert
Stephen Reicher, professor of social psychology at the University of St Andrews, told the All-Party Parliamentary Group on Coronavirus: "There is a little bit of a representation that the vaccine is a bit like the cavalry riding over the hill and saving us all so we don't actually have to save ourselves: well, it's not."
He said it would be "counter-productive" if a vaccine was used to delay implementing other measures.
Prof Reicher added: "A vaccine solves nothing, it's people getting vaccinated that solves something."
He said polling indicated that about 50% of people were "dubious" over a vaccine, which was related to a "lack of trust", a "huge issue" that needed to be addressed.
"The loss of trust in the UK Government – which has been catastrophic, it's fallen from about 70% to little over a quarter – ill serves us when it comes to a series of critical measures," he said.
"When it comes to a vaccine you need to have trust in that vaccine as it being safe and for your own good, so loss of trust is a real issue."
Eat Out to Help Out Scheme set the hospitality industry back, says expert
A Scottish public health expert has claimed that the UK Government's Eat Out to Help Out Scheme has set the hospitality industry back.
St Andrews University professor says Government needs to "reset" relationship with public over Covid response
The Government needs to "reset" its relationship with the public over the response to the coronavirus pandemic, an expert has said.
Stephen Reicher, professor of social psychology at the University of St Andrews, told the All-Party Parliamentary Group on Coronavirus, that authorities needed to move away from punishment.
He was asked by Labour MP Barbara Keeley how a "negative narrative" around the pandemic, that sees people saying "I don't believe the science", could be countered.
Prof Reicher said the UK had a concept of leadership and government that was "terribly paternalistic".
He added: "We need to completely reset the relationship between government and public, there needs to be a lot more humility".
"We don't need world beating this or that, we need functional this and that, we need to be able to admit our mistakes and we've got things wrong and how we're going to improve them.
"We need to move away also from punishment."
He said the "threat of fines" meant people might not get tests if they could be potentially "criminalised", nor would they "give up the names of their mates".
Prof Reicher added: "Treating the public as a partner with the respect and humility and support that is necessary is absolutely crucial."
The Government is publishing a long-awaited report into a 2016 exercise examining how well the UK could respond to a pandemic.
Exercise Cygnus aimed to "test systems to the extreme, to identify strengths and weaknesses in the UK's response plans" to an influenza pandemic, Health Secretary Matt Hancock told MPs.
He added that "Exercise Cygnus was not designed to consider other potential pandemics" or to identify what action could be taken to prevent widespread transmission.
Mr Hancock said all 22 recommendations from the report had been accepted and acted on, including developing a free-standing Pandemic Influenza Bill.
"This meant the Government was ready with legislative proposals that could rapidly be tailored to form the basis of what became the Coronavirus Act 2020," he said.
"Many of these workstreams have provided a good foundation during the current Covid-19 pandemic, helping speed up our response and save lives."
Poorer countries implementing test and trace systems better than the UK, says Devi Sridhar
Poorer countries are implementing test and trace systems better than the UK, Devi Sridhar, professor and chair of global public health at the University of Edinburgh, has said.
She told the All-Party Parliamentary Group on Coronavirus said she did not understand how countries such as Vietnam and Senegal were able to return test results rapidly but "we're not able to do that in the UK".
Prof Sridhar added: "There is something fundamentally wrong here when we are needing to look at who is being given contracts to deliver what and with what expertise, because it is public taxpayer money that is being spent.
"We are going into another lockdown because that test and trace system is not working, and it's not because we are not putting enough money in."
"It's not about lack of money here, countries that are far poorer are doing better on it."
Devi Sridhar says increasing number of local lockdowns is driving country towards national lockdown in all but name
Devi Sridhar, professor and chair of global public health, University of Edinburgh, told the All-Party Parliamentary Group on Coronavirus that local lockdowns should be used to protect areas with low incidence of Covid-19 cases from those that have spikes.
Restrictions on movement should be introduced, accompanied by testing and tracing, she explained.
Prof Sridhar added: "I think the mistake has been that we're now seeing all over the country increases so all that's going to be is putting in more and more local restrictions until we basically have a national lockdown but we're just not calling it that."
Nicola Sturgeon: "I will do everything and the Scottish government will do everything in our power, to avoid widespread school closures again. We want to keep schools open as far as is possible."
Scots firms pocket hundreds of millions of pounds from Covid loan scheme
Businesses across Scotland have collectively received hundreds of millions of pounds through one of the UK government's main coronavirus loan schemes.
Covid: To avoid Wales-style lockdown, Scotland must stick to the rules – Scotsman comment
The two-week Covid lockdown in Wales – in which all non-essential shops are to close with people asked to stay at home – is a warning about Scotland's future if the virus begins to spread more rapidly.