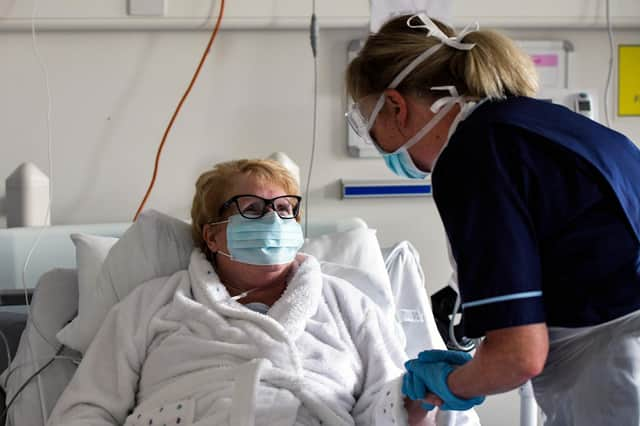 Forth Valley Royal Hospital
Forth Valley NHS says the hospital has seen a significant rise in patient numbers in recent weeks and all areas are now very busy.
While the rise includes a number of patients being treated for Covid-19, most of the recent admissions are people with other health conditions who require urgent care and treatment.
Andrea Fyfe, director of acute services for NHS Forth Valley, said: "Over the last few weeks we have seen a significant increase in the number of patients who have had to be admitted to hospital for urgent care or treatment.
"While most of these cases are not related to coronavirus, like other hospitals across the country, we are also seeing an increase in the number of patients who have tested positive for Covid-19, including some patients who require intensive care.
"These increased admissions, on top of the ongoing work to re-schedule many of the operations, scans and treatments which were paused earlier in the year, means that all areas of the hospital are currently very busy.
"We would therefore ask anyone with minor injuries and less serious health issues to make use of alternative local services to help free up our staff to focus on our sickest patients."
The new minor injuries assessment service gives patients across Forth Valley a quick video assessment service and offers clinical advice for a wide range of minor injuries which could help avoid a trip to hospital.
To make an appointment, call 01324 566130 – the service is available daily from 9.00am-9:30pm.
GPs across the Forth Valley are open and practice staff continue to provide healthcare advice and treatment via telephone and video consultations as well as face-to-face appointments and home visits, where appropriate.
Call your surgery for an appointment.
Pharmacists across Forth Valley can also provide health advice and and, under an initiative called Pharmacy First (www.nhsforthvalley.com/pharmacyfirst) can also provide free treatment for a wide range of common health conditions.
Thank you for reading this article on our free-to-read website. We're more reliant on your support than ever as the shift in consumer habits brought about by Coronavirus impacts our advertisers.