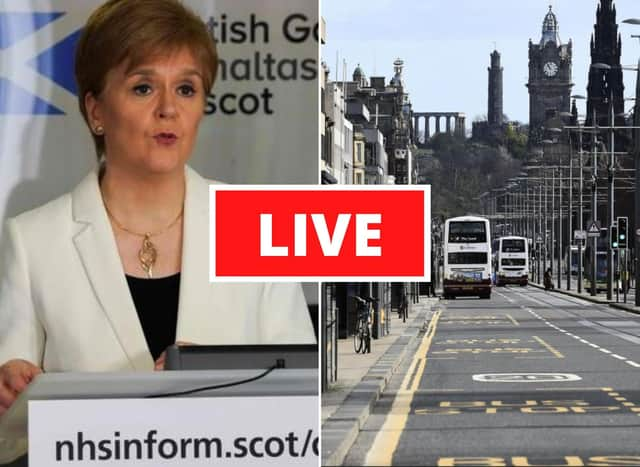 The latest updates on Covid-19 in Scotland.
Hello and welcome to our live blog for Thursday, March 25.
Follow along here to stay up-to-date with the latest developments on the coronavirus crisis.
A message from the Editor:
Thank you for reading this article. We're more reliant on your support than ever as the shift in consumer habits brought about by coronavirus impacts our advertisers.
If you haven't already, please consider supporting our trusted, fact-checked journalism by taking out a digital subscription.
Coronavirus in Scotland LIVE: The latest updates on Thursday, March 25
Last updated: Thursday, 25 March, 2021, 14:12
NHS Scotland staff to be offered at least 4% pay rise
Ten deaths of coronavirus patients recorded on Thursday
701 new Covid cases reported in Scotland
10 deaths from coronavirus and 701 positive tests
Scotland has recorded 10 deaths from coronavirus and 701 positive tests in the past 24 hours, the latest figures show.
It brings the death toll under this measure – of people who first tested positive for the virus within the previous 28 days – to 7,572.
The daily test positivity rate is 2.4%, down from 3.1% on the previous day.
There are 310 people in hospital confirmed to have the virus, down 11 in 24 hours, and 32 patients are in intensive care, an increase of one.
A total of 2,285,711 people have received their first dose of a coronavirus vaccine and 263,236 have received their second dose.
Labour will put Covid recovery 'front and centre' – Sarwar
Scottish Labour leader Anas Sarwar has pledged to put plans for the coronavirus recovery "front and centre" in the election campaign.
He said it must be the key issue for debate over the next six weeks, as Scots prepare to go to the polls amid the ongoing pandemic.
Mr Sarwar condemned his SNP and Tory rivals, insisting neither party would be able to build the recovery.
He claimed Nicola Sturgeon's SNP has independence as its "one priority" while the Conservatives want to return to the "failed system" in place before the Covid-19 crisis.
Speaking on the first day of campaigning ahead of May 6 election, Mr Sarwar pledged: "I will be a leader that focuses on what unites us as a country, not what divides us.
"We can't come through Covid and go back to the old arguments. Instead I will be focusing on delivering a national recovery plan, and I want to unite Scotland around a national recovery plan that is going to build a fairer and stronger Scotland."
701 new Covid cases reported in Scotland on Thursday - and 10 further deaths
PM: Covid passports may not be possible until full vaccine rollout
Boris Johnson has said it may not be feasible to implement coronavirus health certificates until everyone has been offered a vaccine, as publicans criticised his plans.
The Prime Minister said on Thursday that the Government will say more on their possible use in early April, and suggested they could also be based on whether individuals have developed antibodies through infection, as well as vaccinations and negative tests.
But landlords rejected their use after his earlier suggestion it could be up to them to decide whether to screen customers' certificates on entry, ahead of fresh details emerging of a possible incentive for pubs to adopt the measure.
Mr Johnson also defended his credentials as a "freedom lover" as some lockdown-sceptic Conservative backbenchers prepared to rebel in a Commons vote to extend coronavirus laws for a further six months.
The boss of the Shepherd Neame chain said that making jabs mandatory for entry to pubs is a "fairly poorly thought-out idea", as trade bodies suggested the idea was "simply unworkable".
Churches reopen for communal worship after legal victory
Worshippers have returned to churches in Scotland after a judge ruled coronavirus regulations that forced their closure were unlawful.
Churches were closed for lockdown and only permitted to conduct weddings or funerals – with the number of attendees strictly limited – and broadcast services online.
But a group of 27 church leaders launched a judicial review at the Court of Session arguing Scottish Government ministers acted out-with their powers when ordering the closure of places of worship under emergency legislation.
Judge Lord Braid issued his judgment on Wednesday, finding the Government regulations were unlawful as they disproportionately interfered with the freedom of religion secured in the European Convention on Human Rights.
St Mary's Catholic Church in the Calton area of Glasgow was among the churches to reopen on Thursday, welcoming worshippers for midday mass.
Canon Tom White was involved in the legal action and he said he was "delighted" at the outcome.
Publicans uneasy over only allowing access to vaccinated customers
Publicans have criticised Boris Johnson's suggestion that it could be left up to them to decide whether to only permit customers who have been vaccinated against coronavirus.
The boss of the Shepherd Neame chain said on Thursday that making jabs mandatory for entry to pubs is a "fairly poorly thought out idea".
Bosses of Young's, Greene King and City Pub Group called the idea "unworkable", "devastating" and "chaotic and discriminatory", respectively – echoing strong resistance from trade bodies.
But fresh details emerged of a strong incentive for pubs to adopt checks of health certificates under plans being considered in the Government's review into their possible use.
Though no decision has been made, the PA news agency was told pubs may be allowed to scrap social distancing rules if they check customers' certificates at the door, allowing them to operate far more profitably.
The Prime Minister said on Wednesday that it "may be up to individual publicans" whether they require customers to have a "Covid vaccination certificate".
Tory lockdown sceptic Steve Baker warned the move could create a "two-tier Britain", while Labour frontbencher Ed Miliband said it would be wrong to leave the public health measure up to pub landlords.
Jonathan Neame, chief executive of Shepherd Neame pub group, ruled out making vaccines mandatory for entry to his premises.
"I think it's absolutely fine to exclude people where there is a situation of bad behaviour or drunkenness, and that's already enshrined in law," he told BBC Radio 4's Today programme.
"But if you're going to exclude people for what they are, or what they have not done, that's a wholly different issue which does touch on discrimination, civil liberties, and in this case data protection issues."
Drinkers may need proof of a Covid jab or test to go to the pub under new proposals
Pub landlords may be given permission to ask customers for proof of a Covid-19 vaccination before being allowed to enter, the Prime Minister has said.
Pandemic underlines need for early years investment, says Johnson
The coronavirus crisis has underlined the need to invest in children's early years, the Prime Minister has said, as the Government published plans to ensures babies get the best start in life.
Personalised child health records will be digitised and local authorities will be encouraged to publish what support is available to families under proposals in the Government's review into early years care.
The Best Start For Life: A Vision For The 1,001 Critical Days details six areas that could improve young children's health development.
These include support for families being well publicised by local authorities, a hub where parents can access services and advice, and developing a skilled workforce to help meet the needs of families with babies.
In addition, the personal child health record, known as the Red Book, will be digitised for every child born from April 2023, to protect it against loss and make it easier for medical staff to share information.
Child poverty was rising before pandemic hit, figures show
Child poverty was increasing in Scotland before the pandemic hit, the latest figures show, moving further away from the Government's targets to tackle the problem.
Data released on Thursday shows 26% of children were living in relative poverty in 2019/20 – around 260,000 youngsters.
This is up from 23% in 2018/19, when around 230,000 children were living in relative poverty.
Households which are in poverty under this measurement have incomes below 60% of the median (middle) UK income.
The 2017 Child Poverty (Scotland) Act, which was supported by all parties at Holyrood, set targets to reduce child poverty to less than 18% by 2024 and less than 10% by 2030.
Campaigners said the latest data is "utterly dismaying" and called for the new Scottish child payment benefit to be at least doubled.
Almost 100,000 applications were made for the £10-a-week benefit when it launched earlier this year.
Coronavirus in Scotland: This is why there is no Scottish Government Covid-19 briefing on the BBC today
The BBC will no longer broadcast daily coronavirus briefings held by the Scottish Government, as purdah kicked in ahead of the Holyrood election in May.