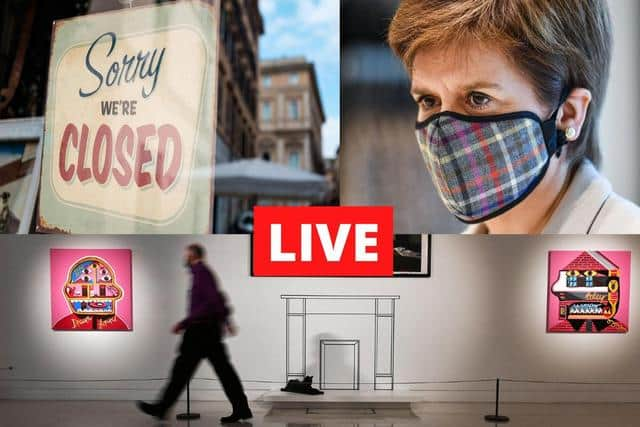 Live updates on Covid-19 in Scotland, the UK, and around the world.
Hello and welcome to our live blog for Friday, April 2.
Follow along here to stay up-to-date with the latest developments on the coronavirus crisis.
A message from the Editor:
Thank you for reading this article. We're more reliant on your support than ever as the shift in consumer habits brought about by coronavirus impacts our advertisers.
If you haven't already, please consider supporting our trusted, fact-checked journalism by taking out a digital subscription.
Coronavirus in Scotland LIVE: The latest updates on Friday, April 2
Last updated: Friday, 02 April, 2021, 14:11
Stay-at-home order lifted in Scotland
Police warn against large Easter weekend gatherings
414 new cases of Covid-19 reported on Friday - and four deaths
Scottish Government reports four Covid-19 deaths and 414 new cases
Scotland recorded four coronavirus patient deaths and 414 positive tests in the past 24 hours, according to the latest data.
It brings the death toll under this measure – of people who first tested positive for the virus within the previous 28 days – to 7,614.
Figures published by the Scottish Government indicate the daily test positivity rate is 2.0%, up from 1.8% on Thursday.
A total of 2,515,748 people have received the first dose of a Covid-19 vaccination and 414,540 have received their second dose.
The Scottish Government is only publishing updates on the above data during the Easter break and the remaining daily statistics – such as hospital and intensive care figures – will be updated on Tuesday.
Coronavirus in Scotland: 414 new cases of Covid-19 reported on Friday - and four further deaths
Current lockdown has got to be the last, says Scottish Labour leader
The current coronavirus lockdown has "got to be the last" as another one would be "devastating", Anas Sarwar has said.
The Scottish Labour leader said he supported the "cautious" route out of lockdown but the Government should be open-minded about changing pace.
He met with vaccinators outside the Edinburgh International Conference Centre, where he thanked them for their work over the past months.
Mr Sarwar also called for further investment in medical science amid concerns the coronavirus pandemic is affecting research into other illnesses.
He told the PA news agency: "I support the framework we have just now but we should be open-minded about slowing down if the data starts going the wrong way or accelerating if the data is going the right way.
"I think we have to have a flexibility – keep hope and optimism in the country but also have a cautious approach so we don't have another spike in cases which takes us back into another lockdown.
"This has got to be the last lockdown, we cannot have another lockdown because it would have devastating consequences on our economy, our health and particularly the wellbeing of our young people.
"I think it's right that we take this cautious approach."
UK unlikely to experience third wave of Covid, says Prof Bauld
The UK is unlikely to experience a third wave of Covid-19 on the scale of that which is currently sweeping through Europe, a leading expert in public health has said.
Linda Bauld, professor of public health at the University of Edinburgh, told Times Radio: "I think we are in a very different position for two main reasons – the first one is that they are dealing with the B117 (variant) which unfortunately we exported to them and caused us huge challenges – still does – but much more in the winter."
She continued: "More importantly, 11.6% of citizens in the EU on average have been given their first dose of the vaccine – that's all people, not just all adults – compared to over 40% of people in the UK, so you can see they are in a different place than we are."
Stay local: Jason Leitch says people should 'use their common sense' as the stay at home message is lifted
Scotland's National Clinical Director, Jason Leitch, said that as restrictions begin to lift from today people need to 'use their common sense' and stay within their local areas.
Stay local: Stay-at-home order lifted in Scotland from today as coronavirus restrictions begin to ease
From today, April 2, the stay at home message is being replaced by the stay local message, meaning Scots can travel within their local authority area for non-essential purposes for the first time this year.
UK regulator reports 30 cases of rare blood clot events after AstraZeneca jab
British regulators said they have identified 30 cases of rare blood clot events associated with the AstraZeneca vaccine but stressed the benefits of the jab in preventing coronavirus outweigh any risks.
The Medicines and Healthcare Regulatory Agency (MHRA) said on Thursday that the risk associated with this type of blood clot is "very small" and that the public should continue to take up the vaccine when offered it.
The agency said it had identified 30 cases of rare blood clot events following use of the Oxford/AstraZeneca jab, out of 18.1 million doses administered up to and including March 24.
Of these, it said it had received 22 reports of cerebral venous sinus thrombosis and eight reports of other thrombosis events with low platelets.
Responding to the data, a member of the Joint Committee on Vaccination and Immunisation (JCVI) said that taking up the vaccine was "by far the safest choice" at minimising risk of serious illness or death.
Professor Adam Finn, from the University of Bristol, said: "The report states that these cases are being very carefully investigated to better understand whether or not they may have any causal relationship with vaccination.
"Nevertheless, the extreme rarity of these events in the context of the many millions of vaccine doses that have been administered means that the risk-benefit decision facing people who are invited to receive Covid-19 vaccines is very straight forward: receiving the vaccine is by far the safest choice in terms of minimising individual risk of serious illness or death."
SNP promises more cash to help high streets recover from Covid crisis
The SNP has pledged to help Scotland's high streets, with a promise of cash being spent to encourage Scots to shop locally and support retail businesses that have been hit hard by the Covid-19 pandemic.
The SNP announced if it wins the next Scottish Parliament election it will spend £275 million over the next five years on community regeneration and to help revitalise town centres.
SNP leader and First Minister Nicola Sturgeon also promised there would be £10 million for the Scotland Loves Local campaign, to encourage people to shop in their own area wherever they can.
The commitments come after the Scottish Government extended the 100% rates rebate given to key sectors hardest hit by coronavirus – including retail and hospitality – for 2021-22 at a cost of £719 million.
Ms Sturgeon thanked businesses – many of whom have been forced to close their doors during the pandemic for the "sacrifices they have made to help get the virus under control over the last 12 months".
Travel bans are to be introduced for visitors from the Philippines, Pakistan, Kenya and Bangladesh, the Department of Transport has said.
The countries have been added to the UK's so-called red list amid concerns about new Covid-19 variants, such as those first identified in South Africa and Brazil.
From 4am on Friday April 9, international visitors who have departed from or transited through the Philippines, Pakistan, Kenya and Bangladesh in the previous 10 days will be refused entry into the UK.
Police warn against large Easter weekend gatherings
Britain's biggest police force is warning people not to gather in large groups over the Easter weekend following an easing of Covid-19 restrictions.
Forecasters said a "big swing" in weather conditions could bring gale-force winds and even snow to parts of the UK over the bank holiday, while parts of the South would hang on to warmer conditions for the longest.
The cooler temperatures could limit scenes of revelry seen in packed parks and beauty spots around the country during almost record-breaking March conditions earlier this week.
But the change in weather could tempt people to meet up inside, which is still banned under coronavirus regulations, except for those in the same household or support bubble.