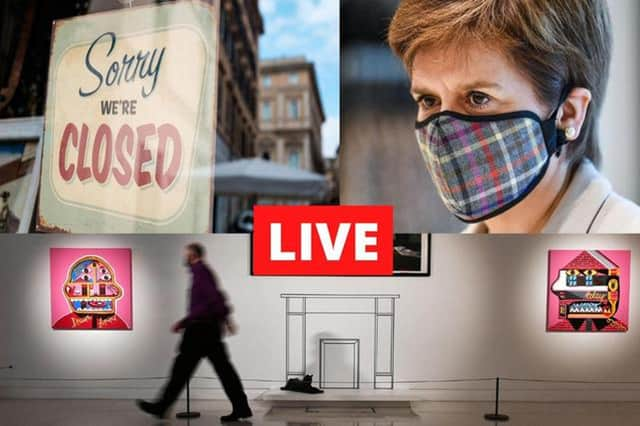 Live updates on Covid-19 in Scotland, the UK, and around the world.
Hello, and welcome to our live blog for Thursday, April 8.
Follow along here to stay up-to-date with the latest developments on the coronavirus crisis.
A message from the Editor:
Thank you for reading this article. We're more reliant on your support than ever as the shift in consumer habits brought about by coronavirus impacts our advertisers.
If you haven't already, please consider supporting our trusted, fact-checked journalism by taking out a digital subscription.
Coronavirus in Scotland LIVE: The latest Covid-19 updates on Thursday, April 8
Last updated: Thursday, 01 January, 1970, 01:00
Scots react to receiving Moderna vaccine
364 new Covid cases reported in Scotland
One Covid death recorded in Scotland
Possible delay to Scotland's Covid-19 vaccine programme
Government-listed Covid test supplier criticised for 'appalling' service
Dozens of complaints have been made against a Covid-19 test supplier after quarantined travellers were left waiting several days for a kit to arrive.
East Yorkshire-based Latus Health has been accused of providing an "appalling" service, with customers claiming they received their £175 coronavirus tests late – potentially delaying their exit from quarantine.
The healthcare firm, which is on the Government's official list of test suppliers, said there had been "some delays" with Royal Mail and that it pays for a 24-hour next day delivery service.
However, some 70 people have joined a Facebook group to complain about the firm, which is listed as a test provider on the Department of Health and Social Care (DHSC) website.
People returning to the UK from non-red list countries are required to quarantine for 10 days at home and take two Covid-19 tests – one on day two and another on day eight – before they can leave, depending on a negative result.
But customers who have ordered through Latus Health have complained of test kits arriving more than a week late, and further delays in receiving test results.
Scots react to receiving Moderna vaccine on first day of rollout
Scots have welcomed being among the first in the country to receive the new Moderna vaccine against coronavirus.
The vaccine was only delivered to Scotland at the start of the week with NHS Greater Glasgow and Clyde (NHSGGC) becoming the first health board north of the border to roll out the first doses.
People who visited the vaccination centre at the SSE Hydro in Glasgow on Wednesday were given Moderna including Alistair McMaster.
The 55-year-old, whose mother received AstraZeneca, told the PA news agency: "It was fine, easy, no pain or anything.
"I asked what one it was and (the nurse) said it was the new one just tried out today for the first time – so a wee bit of a surprise, but worth a try."
Sam Ferguson and Heather McGregor were also both surprised to find out they were also among the first.
Mr Ferguson, 52, said he had been talking to workmates who "were not sure" about AstraZeneca, admitting recent news "puts a doubt in your mind".
Virus crisis prompts rethink on skills and careers, study suggests
Three out of five workers plan to learn new skills, gain qualifications or change their career altogether as a result of the Covid outbreak, a new study suggests.
Finance giant Aviva said its research also indicated that an increasing number of people want a job that involves helping others.
The most popular change people would like to introduce to their occupation is the ability to work from home, according to a survey of 4,000 adults.
One in 10 respondents said they want to work from home, suggesting that home-working has proved a benefit of the pandemic for some, said the report.
The desire to work from home is strongest in London, where one in six people intends to find a role that will allow them to work remotely, and lowest in Scotland, at one in 20, the poll found.
Under 25-year-olds are most likely to want to make changes to their work plans in the next few years as a result of the pandemic and are more likely than any other age group to work from home, said Aviva.
Covid-19 crisis makes it 'right time' to up spending on mental health, Ross says
Tories are pledging to increase funding for mental health services by hundreds of millions if they win May's Holyrood election.
Scottish Conservative leader Douglas Ross has revealed his party's manifesto for that vote will include a pledge to ensure mental health care gets 10% of the NHS budget.
Currently just over 8% of health service spending goes to this area, the Tory said, adding that increasing it to 10% could increase funding levels by approximately £325 million.
The Royal College of Psychiatrists has already called for mental health care to receive a tenth of the NHS budget – with Mr Ross arguing the coronavirus pandemic meant this was the "right move at the right time".
He said there had been a "massive impact on individuals' mental health over the last year" with the coronavirus lockdown seeing people "shut away from our loved ones" and others staying inside for long periods as they work from home.
Mr Ross said that this was why his party "will be putting in our manifesto an increase in funding for mental health services up to 10% of the total health spend in Scotland".
He told members of the Scottish Parliamentary Journalists' Association that the Conservatives "believe more has to be done and more support has to be given to mental health services".