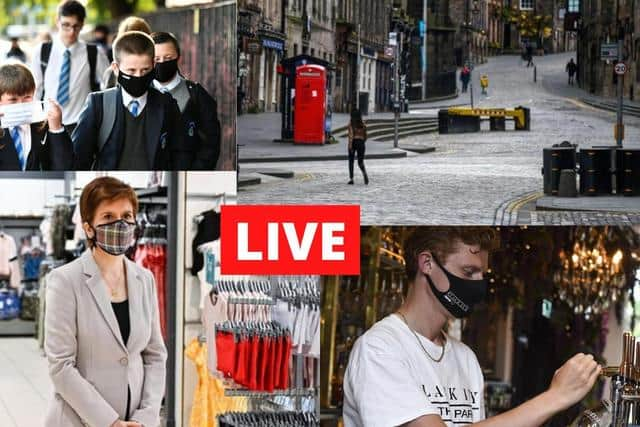 The latest updates on Covid-19 in Scotland.
Hello and welcome to our live blog for Tuesday, March 30.
Follow along here to stay up-to-date with the latest developments on the coronavirus crisis.
A message from the Editor:
Thank you for reading this article. We're more reliant on your support than ever as the shift in consumer habits brought about by coronavirus impacts our advertisers.
If you haven't already, please consider supporting our trusted, fact-checked journalism by taking out a digital subscription.
Coronavirus in Scotland LIVE: The latest updates on Tuesday, March 30
Last updated: Tuesday, 30 March, 2021, 12:10
Stay at home rule to lift on Friday, FM confirms
411 new Covid cases reported in Scotland
12 Covid deaths reported on Tuesday
Click and collect and hairdressers to reopen from Monday
Business confidence up in March but one in five firms expect to cut jobs
Confidence among businesses in Scotland is at its highest since the coronavirus pandemic began but one fifth of companies are still expecting to cut jobs, according to a financial report.
The Bank of Scotland Business Barometer questions firms each month to gauge economic and trading prospects.
Its March report found confidence among firms in Scotland rose 15 points during the month to -2%, the highest reading since March 2020.
The boost was attributed to the planned easing of lockdown restrictions, with shops and hospitality due to reopen from April 26.
But the report also found a net balance of 20% of firms in Scotland expect to reduce staff levels over the next year, up 16 points on last month.
Fraser Sime, regional director for Bank of Scotland Commercial Banking, said: "Scottish business confidence has increased for a second consecutive month and is the highest since March 2020.
Countries must unite in face of future pandemic threat, global leaders say
The post-coronavirus world needs to work to protect the health of future generations and deal with future pandemics in a highly co-ordinated fashion, leaders including Boris Johnson have said.
Covid-19 has been a "stark and painful reminder that nobody is safe until everyone is safe" and a new treaty for pandemic preparedness and response will be needed to tackle future health crises.
The issue has been raised by Mr Johnson and 23 other world leaders including French and German counterparts Emmanuel Macron and Angela Merkel in a letter printed in the Daily Telegraph and other papers across the world.
Coronavirus has led to nearly 2.8 million deaths worldwide, according to figures from the Johns Hopkins University, while 127 million people have been infected by the virus first detected in China in late 2019.
The letter said Covid-19 has been the "biggest challenge to the global community since the 1940s", noting the two world wars brought about an era of co-operation between nation states.
Sir Lenny Henry: You can trust the science, take the jab
Sir Lenny Henry has said he wrote a letter encouraging black Britons to have the Covid-19 vaccine because there has been a "disproportionate amount of black people and brown people dying" during the pandemic which "we want to stop".
The TV star and Comic Relief co-founder, 62, has enlisted support from other high-profile figures, including actors Chiwetel Ejiofor and Thandie Newton, radio personality Trevor Nelson, musician KSI and author Malorie Blackman, as signatories.
The letter, which is backed by the NHS, has also been turned into a short film directed by Amma Asante.
Sir Lenny told the PA news agency: "Everybody signed it because we all believe that this a time for us to be looking after our loved ones and there's been a disproportionate amount of black people and brown people dying in the pandemic and we want to stop that.
"And we think the misinformation about the science and the expertise of the people that know that stuff, the misinformation that is being perpetuated is wrong, and we thought there must be something we can do to counter it and this was the big idea."
The letter, addressed to "mums, dads, grandparents, uncles, aunties, brothers, sisters, nephew, nieces, daughters, sons and cousins", says that the "reality is the new normal may mean needing a vaccine to do many of the things we now take for granted".
It adds: "You have legitimate worries and concerns, we hear that. We know change needs to happen and that it's hard to trust some institutions and authorities.
"But we're asking you to trust the facts about the vaccine from our own professors, doctors, scientists involved in the vaccine's development, GPs, not just in the UK but across the world, including the Caribbean and Africa."
Fewer people sought help for severe asthma during pandemic – study
Fewer people sought help for severe asthma attacks during the first wave of the Covid-19 pandemic, researchers have said.
Three research papers published in the journal Thorax suggest people with asthma were seen less frequently by their GP with a serious attack, and were less likely to be admitted to hospital than before the pandemic.
Due to the fact asthma can be made much worse by viral respiratory infections, it was expected that people with asthma may suffer more as Covid-19 swept the country.
Patients with the most serious type of asthma requiring hospital admissions in the past, or tablet steroids, have either shielded or been eligible for a Covid-19 jab as part of priority group 6.
The new research suggests that stay-at-home messages and fears of catching Covid-19 may have dissuaded patients with worsening asthma from seeking help.
Alternatively, shielding, restrictions on travel and social contact, reduced air pollution and less transmission of flu and other respiratory illnesses could have led to a reduction in severe asthma cases during lockdown.
In one paper looking at England, there was almost a 20% fall in severe asthma attacks, while a second paper on Scotland and Wales suggested the number of cases resulting in emergency hospital admission fell by more than a third (36%).
Scottish man threatens hunger strike after being forced into hotel quarantine
A repatriated seaman is threatening to go on a hunger strike if he is forced to remain in hotel quarantine after flying into Edinburgh Airport.
Royal Mail profit surge leads to special dividend for shareholders
Bosses at Royal Mail have announced they expect to pay a special dividend of 10p a share to hand out surging profits made during the global pandemic.
The former state-owned mail service said the board has reviewed the performance of the past 12 months and is likely to make the payment of around £99 million on September 6.
The dividend announcement also comes as the boss of Royal Mail's logistics business, GLS, said he will provide a business update this afternoon.
Martin Seidenberg is set to outline medium-term targets, including a focus on international and business-to-customer as key growth opportunities.
Bosses expect revenues to grow by around 12% a year for the next five years, hitting operating profits of 500 million euros (£426.6 million) and generating free cash flow of more than one billion euros (£850 million).
Adjusted operating profits in the Amsterdam-based division are expected to be around £350 million in the current financial year, the company added.
The plans follow a profit upgrade announced earlier this month, with bosses revealing adjusted operating profits are expected to be around £700 million – up from £325 million a year ago.
Royal Mail announced at the time that it had seen a large surge in customers posting letters and using its services during the most recent lockdown.
First Minister to give midday update, with latest plans to ease lockdown
Coronavirus infection survey to continue to 2022
A coronavirus infection survey assessing levels of the virus in the population is to continue for another year, officials have confirmed.
The Office for National Statistics said that its Covid-19 Infection Survey will continue with an additional focus on vaccine surveillance.
At present there are about 400,000 people taking part in the study across the UK.
Each month participants provide a sample to see whether or not they are infected with the virus.
This means that experts can track levels of infection across the UK – even among people with no symptoms.
The ONS said that moving forward, the survey will track the impact of vaccination via millions of blood samples.
The number of participants who provide antibody blood samples will be gradually increased to about 150,000.
These participants will take a finger-prick blood test as well as their regular nose and throat swabs.
Each blood sample will be tested for antibodies.
Participants selected to give blood samples will be asked to remain in the study until April 2022, rather than the current maximum of a year.
The First Minister will be providing the country with an update on lockdown restrictions on Tuesday.
First Minister Nicola Sturgeon will hold a coronavirus briefing at 12 noon with chief medical officer Dr Gregor Smith and national clinical director Jason Leitch.