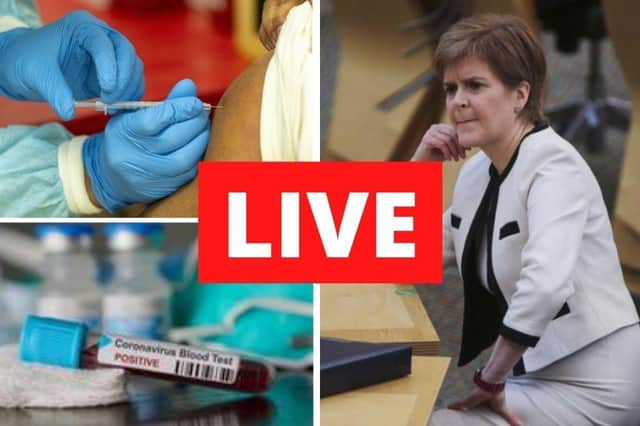 Third of the country vaccinated as Covid alert level lowered.
Health Secretary Jeane Freeman will return to St Andrew's House today for the daily coronavirus briefing where she will continue to defend the cautious routemap out of lockdown announced on Tuesday.
More than one and a half million have received their first dose of the vaccine as of yesterday, which Nicola Sturgeon said yesterday is a "really significant milestone".
A message from the Editor:Thank you for reading this article. We're more reliant on your support than ever as the shift in consumer habits brought about by coronavirus impacts our advertisers.
If you haven't already, please consider supporting our trusted, fact-checked journalism by taking out a digital subscription.
Coronavirus in Scotland RECAP: follow here for all of Friday's updates
Last updated: Friday, 26 February, 2021, 10:08
Scotland's Covid alert level lowered as cases and NHS pressure 'recedes'
The UK's four chief medical officers have agreed the Covid-19 alert level should be lowered from five – its highest – down to four as the risk of the NHS being overwhelmed within 21 days "has receded".
The Level 5 alert was announced on January 4 as lockdown measures were introduced by Boris Johnson amid fears the health service could be swamped within 21 days.
'Stretched to the limit' - doctors quitting as Covid-19 increases burnout, union warns
Senior doctors and consultants are leaving their posts with many taking early retirement amid exhaustion and burnout increased by the Covid-19 pandemic, the British Medical Association in Scotland has warned.
A survey by the union of 261 consultants showed that almost half were considering retirement in the next five years, with more than half of those saying this would mean leaving earlier than their pension age.
Scotland's tiered restrictions explained
Scotland's roadmap out of lockdown was unveiled on February 23, with reopening dates for schools and non-essential businesses revealed to the public.
Among the headline decisions was the first minister's confirmation that Scotland would return to a tiered system of restrictions.
Ms Sturgeon told the Scottish Parliament "if all goes according to plan", the country will move back to the levels system of coronavirus restrictions from late April, with all council areas moving to Level 3.
Third of population vaccinated, says Nicola Sturgeon
First Minister Nicola Sturgeon confirmed a third of Scotland's population has received a first dose of the Covid-19 vaccine.
More than 1.5 million jabs have been given – 1,515,980 – to people across the country, an increase of 27,903 on the day before.
Ms Sturgeon said: "The fact that more than one and a half million people have now received the first dose of vaccination is, I think, a really significant milestone.
"We've now given a first dose to almost exactly one third of the adult population and that includes virtually everyone in the top four clinical priority groups recommended by the JCVI."
Not enough nursing staff to provide safe and effective care in Scotland, poll suggests
Nearly two thirds of Scots believe there are not enough nursing staff to provide safe and effective care, according to a new poll.
The Royal College of Nursing (RCN) Scotland survey, carried out on January 25 and 26 by Scotpulse, suggests 73% believe the number of staff employed in the country's health and care services is too low.
Johnson and Johnson vaccine: efficacy of the single-shot vaccine, how does it work and has it got UK approval?
Trials have shown the vaccine is more than 60 percent effective in preventing moderate illness, and could be a more cost-effective vaccine than US-competitors Pfizer and Moderna.
UK's Covid alert level has been lowered from 5 to 4 - here's what that means
NHS England's National Medical Director and the UK's four Chief Medical Officers have lowered the UK's Covid alert level to 4.
Previously, the level was set at 5 - the highest possible - which represents levels of coronavirus presenting a "material risk of healthcare services being overwhelmed".
The decision to move the UK down a level has been taken after latest figures on infections and hospitalisations, as well as advice from the Joint Biosecurity Centre.
However, with level 4 representing "a high or rising level of transmission", experts have warned the general public not to get complacent about the virus.