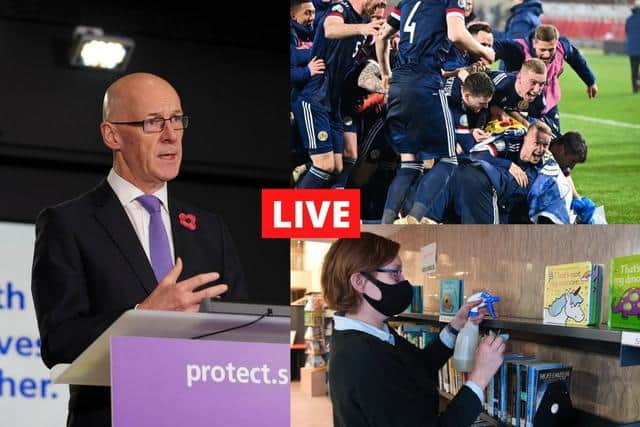 The latest updates on Covid-19 in Scotland.
Follow along here to stay up-to-date with the latest developments on Friday, February 5.
A message from the Editor:
Thank you for reading this article. We're more reliant on your support than ever as the shift in consumer habits brought about by coronavirus impacts our advertisers.
If you haven't already, please consider supporting our trusted, fact-checked journalism by taking out a digital subscription.
Coronavirus in Scotland LIVE: The latest updates on Friday, February 5
Last updated: Friday, 05 February, 2021, 13:20
Army gives Covid-19 jabs at mass vaccination centre
Scotland recorded 61 deaths on Friday
895 positive tests across the country
The Oxford/AstraZeneca coronavirus vaccine is just as effective at fighting the UK variant as it is the original virus, new research suggests.
John Swinney LIVE
A testing centre for asymptomatic people will open next week in Fife, Deputy First Minister John Swinney has said.
The centre, part of a drive by the Scottish Government to test people in the community regardless of symptoms, will open in Cowdenbeath on Wednesday, while four more will open in Fife in coming weeks.
Mr Swinney said proposals for similar centres from 19 local authorities were expected to be agreed by the end of Friday, and further agreements due to be reached next week.
Lateral flow tests will be used at the centres, but any positive cases will be confirmed using the more sensitive PCR tests.
Mr Swinney said: "The targeted expansion of testing in these communities will help more people find out if they have Covid, even if they don't have symptoms.
"It will help them to know if they or their contacts need to self-isolate and will therefore play an important part in helping us to stop the spread of the virus."
John Swinney LIVE
Road clearing due to bad weather will be prioritised around vaccination centres, the Deputy First Minister has said.
The Met Office has issued amber warnings for snow in parts of Scotland in the coming days, but John Swinney said the Scottish Government and its partners are working to ensure disruption is kept to a minimum.
Mr Swinney said: "We're prioritising the clearance of roads in and around vaccination centres, that is standard practice around NHS facilities wherever there is snow or ice.
"These measures should help to ensure that people are able to meet their destinations."
Speaking at the coronavirus briefing in Edinburgh, the Deputy First Minister said invited for a vaccination can rearrange their appointment by following the instructions on the letter they received.
John Swinney LIVE
Scotland has recorded 61 deaths from coronavirus and 895 positive tests in the past 24 hours, Deputy First Minister John Swinney said.
The number of new cases has fallen from the 1,149 announced on Thursday, although the number of deaths has increased from 53.
It brings the death toll of people who first tested positive for the virus within the previous 28 days to 6,383.
Speaking during the Scottish Government's daily briefing, Mr Swinney said 184,313 people have now tested positive in Scotland, up from 183,418 the previous day.
The daily test positivity rate is 4.9%, the same as yesterday.
There are 1,794 people in hospital confirmed to have the virus, down 18 from 1,812 since yesterday, and 123 patients are in intensive care, down four.
As of 8.30am, another 48,165 patients had received a first dose of coronavirus vaccine, taking the total to 742,512.
The increase is the largest daily increase since the vaccination programme began.
A total of 99% of older care home residents have received a vaccine, along with 93% of all care home residents.
In the over-80s group, 92% have now received at least one dose.
John Swinney LIVE
Scotland's Deputy First Minister John Swinney spoke about the "dreadful" incidents in Kilmarnock ahead of the Scottish Government's regular coronavirus briefing.
He said: "A tragedy like this would be impossible to understand at any time but after the events of the past year it is particularly shocking that such an incident has taken place at an NHS hospital.
"An investigation is of course ongoing, however, Police Scotland have confirmed that the site at Crosshouse Hospital is secure and it is safe for patients and staff to go there.
"So for now I simply want to thank the police officers and all of the medical staff who were involved in the response to this incident for all that they contributed and to express my sympathy to the staff of the hospital for the trauma to which they are having to come to terms.
"And again I want to send my deepest condolences to the family and the friends of those who have been killed."
John Swinney coronavirus briefing LIVE: 895 new Covid-19 cases recorded in Scotland - and 61 further deaths registered on Friday
Covid-19 vaccines used across the UK are safe, new MHRA analysis shows
Covid-19 vaccines being rolled out across the UK are safe, with the "overwhelming majority" of suspected side-effects being mild, the regulator has said.
The Medicines and Healthcare products Regulatory Agency (MHRA) said its analysis showed a reporting rate of three suspected side-effects for every 1,000 doses of vaccine administered – with the issues reported being similar to those for the annual flu vaccine.
Professor Sir Munir Pirmohamed, chairman of the Expert Working Group of the Independent Commission on Human Medicines, told a media briefing that Covid-19 vaccines were "extremely safe" and "hugely beneficial".
It is the first time data on side-effects for jabs in use in the community has been scrutinised, including for the newer Pfizer/BioNTech mRNA vaccine
Up to 87m pints of beer thrown away since pandemic started, industry body claims
Pubs have been forced to throw away up to 87 million pints of beer in the UK since the start of the pandemic, an industry body has claimed.
The British Beer & Pub Association (BBPA) said the waste was the equivalent of £331 million in sales, based on the average cost of a pint at £3.81.
Emma McClarkin, the association's chief executive, warned there would be a "wave of closures" and job losses in the sector unless the Government provides further financial support.
She has called for an extension to the VAT cut for the hospitality sector and a reduction to the UK's "excessive" beer duty – the tax on selling and producing beer.
Coronavirus in Scotland: 'Wasted doses' of Covid-19 vaccine labelled 'disgrace' by staff at EICC
Staff at the Edinburgh International Conference Centre (EICC) mass vaccination centre have raised concerns over Covid-19 vaccine doses being "wasted" due to an instruction for vaccinators to throw away unused vaccine at the end of a shift.
Road border checks not ruled out if quarantine rules remain unchanged
Health Secretary Jeane Freeman has not ruled out checks on road borders with England if the UK Government does not tighten its international quarantine proposals.
First Minister Nicola Sturgeon said last week that plans by the UK Government for a "managed quarantine" system for travellers from certain countries do not go far enough, as she announced Scotland will do the same for all travellers.
She added she will continue to urge the UK Government to tighten its system, and Ms Freeman said more action may need to be taken in Scotland if it does not do so.
The Health Secretary told BBC Radio Scotland's Good Morning Scotland programme: "Those are difficult issues, partly because we've got individuals who work in Scotland and live just over the border and vice-versa, and of course there will always be exemptions for haulage traffic, but we need to continue to talk that through with the UK Government."
When asked if there could be checks on the border with England if restrictions are not tightened by the UK Government, she added: "I'm not saying yes and I'm not saying no.
"What I'm saying is, those discussions need to continue to see what more we can do, if we can't persuade the UK Government to take the tough, clinically-led approach that we are taking, then we need to work with them to identify how can we then continue to protect Scotland to the maximum level."