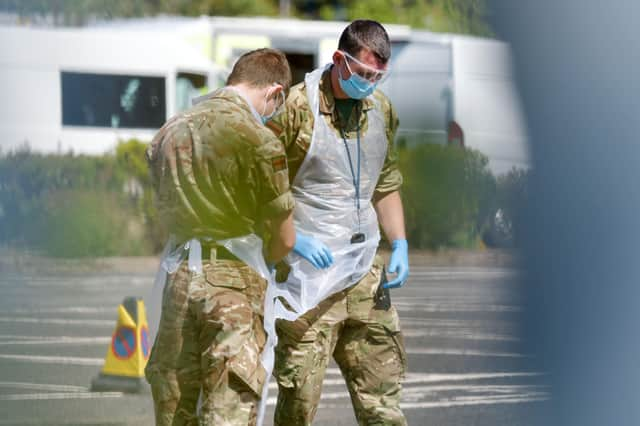 The British Army conducting tests in David's Loan, Langlees
Part of the UK-wide testing facility, two units arrived in the area and set up temporary bases this week, including a test centre in David's Loan.
Speaking on Wednesday at the NHS Forth Valley briefing, Doctor Graham Foster, director of public health for Forth Valley, said: "There are two mobile army units in the Falkirk area today, from the 13 mobile 'pop up' units in Scotland which are available to all local authorities.
"They test a different group of people from the NHS, but they will still be frontline workers."
For a couple of days at least the army testing facility supplemented the three testing centres NHS Forth Valley has set up in Grangemouth, Falkirk and Stirling and the mobile testing it carries out on a regular basis.
During yesterday's briefing it was stated there are recovery plans being drawn up in preparation for NHS Forth Valley when it emerges on the other side of the COVID lockdown – whenever that may be.
Dr Foster said: "We are going to be in lockdown for a while yet. It's important we do try to keep the public onside and remind them this is working, the lockdown is working."
Forth Valley medical director Doctor Andrew Murray said: "It's not about putting things back as they were, because a lot of things we are doing at the moment have been very beneficial so we want to retain them. We want to keep the best of it and not go back to what we were doing previously."
According to NHS Forth Valley there is still plenty of capacity left in its hospitals and other facilities.
Dr Murray said: "This is because people in this area have really adhered to social distancing and isolation, staying home to save lives."
The continuity of treatment of cancer patients in the area is something that has been made a priority.
"We have tried to completely ring fence the cancer work in NHS Forth Valley," said Dr Foster. "We don't have figures to hand about what cancer appointments have been cancelled.
"However, we have entered into a partnership with the private hospital in Kings Park, Stirling, where cancer surgeries can be carried out in their premises if need be – including procedures for breast cancer, skin cancer and thyroid cancer.
"We still have our outpatients facility for cancer patients where we can talk to them via video calls. We are trying to keep the impact on that group of patients to an absolute minimum.
"We have been able to maintain chemotherapy and radiotherapy treatments – there should be no disruption. However, there may be an alteration to the regime in terms of social distancing, but we have kept all these going as much as we possibly could."
Dr Foster added: "The NHS is very much open for business and if people have concerns have concerns about anything they should do so.
"If you need medical attention please do come forward."