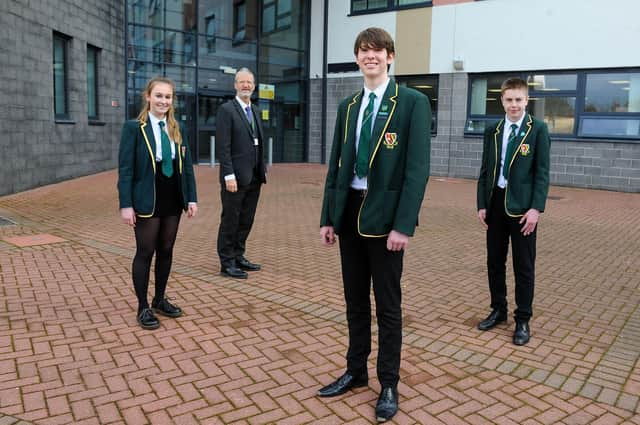 St Mungo's High School. Annual pic of prizewinners, Senior Dux, Senior proxime accessits, Junior Dux, and Junior proxime accessits. Pictured: Alicia Thom 15 joint, Junior Dux; Stephen Phee, headteacher; Charlie Meikle 17 joint, Senior Dux and Reece Scott 16 joint, Junior proxime accessit. Not pictured Owen McElroy joint, Senior Dux.
The successes of the 2019-20 academic year were marked with a different style of presentation to adhere to the coronavirus restrictions.
It was switched to a day-time event with no guest speaker, music or parents in attendance with all celebrations posted online.
But, Stephen Phee, rector, told pupils: "That should not take the shine off what you have achieved this year.
Charlie Meikle 17 joint,Senior Dux.
"I actually think this year's awards are extra special and meaningful because your result is not just based on a one off SQA exam, it's based on your work throughout the year."
He added: "I hope that this award encourages you to continue to work hard this and next year I will be standing here celebrating with you again.
Stephen Phee, headteacher and Charlie Meikle 17 joint,Senior Dux.
Art & Design: Art & Design: Gabi Moleda, Molly Rigg, Aisling Stassin; Learner Drama: Patrick Beer, Orla Cannon, Ruby Jones
English: Finn Alexander, Maeve McCabe
French: David Awoyemi, Alex Dunn
Home Economics: Harry Padda, Maria Rogan, Aisling Stassin,
Mathematics: Finn Alexander, Mariyah Saddiq
Media: Holly Bulloch, Andrew Higgins
Learner Music: Emily Graham, Lucy Wilson
Physical Education: Holly Bulloch, Luke Culliton, Emily Graham
Religious Education: Morgan Clark, Emma MacNicol
Science: Grace Robertson, Lucy Rodger,
S1 Successful Learner Social Subjects
History: Maja Kwiatkowska, Sarah-Jane Kane, Paula Soje, Hollie McGuire, Lucy Wilson, Andrew Higgins; Spanish: Laila Campopiano
Art & Design: Paula Soje; ICT: Cara Letham; Design Technology: Andrew Higgins; Drama: Morgan Clark; English: Orla Cannon; French: Holly O'Connor; Home Economics: Paige MacDougall, Paula Soje.
Media: Naiya Cook; Beth Rafferty; Music: Harry McLay; Physical Education: Sarah-Jane Kane, Jack Reynolds; Geography: Harry McLay; Spanish: Paula Soje; Mathematics: Hollie McGuire
Religious Education - Paula Soje, Kayah Smith; Science: Hannah MacSween; Social Subjects (History): Joseph Deane; Modern Studies: Timothy Taskin; Geography: Harry McLay
Spanish: Paula Soje; Mathematics: Champion: Hollie McGuire
S1 - Mariyah Saddiq, Nathan Scott, Emily Graham, Harry McLay
YP1 - Holly O'Connor, Aimee Wallace, Emily Graham, Paula Soje, Hollie McGuire, Emma McNicol, Ava Paterson
S2 CFE Achievement Awards
Successful Learner Art & Design: Shanza Ashraf, Eve Harkins, Katie McElroy; Business Education: Holly Stanners, Courtney Easton; Learner Drama: Tjay Ballingall, Mia Dornan; Learner English: Emily McLellan, Flynn Hogg; Learner French: Olivia Horne
Home Economics: Lilly Campbell, Nicole Sawic, Amelia Wysock; Mathematics: James Shearer, Neel Haval, Amelia Wysocka; Media: Harry Bruce, Joseph Grattan; Music:Tom Green, Flynn Hogg; Physical Education: Cameron Greg, Louisa Kane, Kiana Sneddon; History: Nicole Sawicz, Jack Grattan.
Modern Studies: Lexi Cattanach, Jasiu Janowiec; Geography: Fergus Canavan, Aidan McCreath; Spanish: Cameron Gregg; Learner in Science: Suzanne Bell, Rebecca Fish
Religious Education: TJay Ballingall, Kiran Iqbal
Art & Design: Eva Dougall; Business Education: Shanza Ashraf, Jessica Crangle; Computing Science: Kasie Chatburn; Design Technolog James Shearer, Julia Trzybinska; Drama: Laura Krzyzak; English: Courtney Easton; French:: Flynn Hogg; Home Economics: Keri Anderson, Laura Krzyzak; Maths: Flynn Hogg; Media:Amelia Wysocka; Music:James Shearer; Physical Education:Jamie Anthony, Laura Krzyzak; Religious Education: Jodie Lawrence, Tom Green
History: Emma Meikle ; Modern Studies: Tom Green; Geography: Amelia Wysocka, Harriet Tribble; Spanish: Lucja Trzeciecka; Science: Amy Hogarth
Lockdown Legends - S2 - Ellie Donaldson, Shanza Ashraf, Lauren Burton, Nicole Sawicz,
Fergus Canavan, Carmen Judge, Flynn Hogg
Art: Chloe Boyle, Mirren Hainey, Elle Walker; Learner Biology: Savya Sunny, Eilidh Watson; Business Education: Sara Stevenson; Chemistry:Sidra Chaudry Khatoon, Eman Irfan; Computing Science: Michael McKinlay, Logan Clements; Drama: Shaunylei Lumsden-Letham, Aine O'Donovan,Vanesa Pollakova; Engineering Science: Molly McGhee; English: Mirren Hainey; French: Euan McGuire; Geography: Alisha Anderson, Christopher Watkins.
Graphic Communication: Martyna Lyczek; Health & Food Technology: Kimberley Crawford, Holly Milne; Hospitality: Practical Cookery -Samantha Graham, Sahara Keskin,Alison Smith; Learner History: Timea Csicsvakova, Amy Callaghan; Mathematics: Amy Millar, Kimberley Crawford, Luke Crozier; Medias:Niamh Montague; Modern Studies: Grace Galvin, Alyssa Cannon; Music: Georga Beattie, Isla Hutton, Elanor Thom; Music Technology: Michael McKinla, Connor Redding
Physics: Kayla Godfrey, Emma Kinghorn; Practical Craft Skills: Charlie Gill; Practical Electronics:John Holmes; Physical Education: Thomas Fulto, Emma Kinghorn, Molly McGhee; Physical Education (Core): Euan Cunningham, Emily McArdle, Christopher Watkin; Spanish: Ellie Morrison; Science: Zain Ali, Sahara Keskin; Religious Education: Chloe Boyle, Kimberley Crawford
Art & Design -; Cara Dickson; Biology- Kimberley Crawford; Education -Grace Galvin; Science - Claire Hagerty; Chemistry - Haylie Jackson; Drama Caitlin O'Donnell; Engineering Science - Connor Sweeney; English -Georga Beattie; French - Piper Ure; Geography -Eilidh Watson; Graphic Communication- Mirren Hainey; : Practical Cookery - Caitlin O'Donnell, Bekah Weightman; Health & Food Technology -Megan Donaldson; History -Cara Dickson; Maths - Rachel Reid; Media -Niamh Irvine, Charlie Swanston; Modern Studies -Megan Donaldson; Music - Michael McKinlay, Joshua Stones; Music Technology -Keir Haggerty; Physical Education -Caitlyn Christie, Daniel Galvin; Physical Education (Core -Nathan Hill, Keira Nicol Physics -Nathan Hill; Practical Craft Skills - Aaron Thomson; Practical Electronics -Graeme Christie; Religious Education - Logan Clements, Euan McGuir; Spanish -Ula Kelly; Science - Jacob Klosowicz
English - Ciaran Bell; Mathematics - Leo Murphy; Drama -Martin Munro; Practical Woodworking - Ciaran Bell; Practical Electronics - Jared Callaghan
Administration - Dawid Golda; Applications of Maths -Anita Ziswa; Art -Sarah Feyder; Biology - Walliss Mooney & Alicia Thom; Business Management- Liam Tribble; Chemistry-Reece Scott Computing- James Carter; Drama- Mya Hay; Engineering Science -Christopher Hay English - Reece Scott; French- Emily Gribben; Geography -James Carter; Graphic Communication - Scott Yeardly; Health & Food Technology -Hannah McIntyre; History -Reece Scott; Maths - James Carter
Media- Mia Gardner; Modern Studies -Iman Bhatti; Music- Sophie Scott; Music Technology- Liam Tribble; P -Dylan Carlyle; Physics -James Carter; Practical Cake Craft -Aine King; Practical Cookery -Zuzanna Kozieja; Practical Woodworking- Johnjoseph McGrellis; Sociology - Ailidh MacMillan; Spanish- Anna Marr
Administration - Ben Sinclair; Art -Laura Kokoszka; Business Management -Callan Hogarth; Chemistry -Patrick A Campbell; Computing - Wojciech Galazka; Drama -Olivia McArdle; Engineering Science -Craig Yeardly; English - Charlie Meikle; French - Niamh Doyle; Geography - Alexander B McLeod; Graphic Communication- Cameron M Lynch
Health & Food Technology -Alisha C Callaghan; History- Isabella Sams; Human Biology - Abbie Stewart; Maths - Charlie Meikle; Media -Emma Robb; Modern Studies -Emma Robb; Music -Lewis D Kelly; Music Technology -Sarah K Black
Photography -Hannah E Paton; PE -Luke Crosbie & Jamie Richardson; Physics- Charlie Meikle; Politics- Bethany Grant; Sociology -Maria Q Cairney; Spanish- Abbie Stewart; Sports Leadership - Patricja Maj
Art -Alysha R M McMillan; Biology- Iona A Gemmell; Chemistry -Craig Yeardly; English -Sophie T Stoddart ;French- Joseph Allison; Graphic Communication -Jude C Weir; History -Caitlin J Gill ;Maths - Craig Yeardly; Modern Studies -Sophie T Stoddart; Music -Thomas Henderson; Music Technology -Eoin E McGee; PE -Callan Hogarth; Physics -Craig Yeardly; Spanish -Mark McKinlay;
Modern Languages Baccalaureate with distinction -Mark McKinlay
National Progression Awards
Film -Natasha O'Hara; Cyber Security Level 6 - Alexander McLeod; Computer Games Development Level 6 - Maya Finlay; Music Performing -Logan Ballentyne, Joshua Rosser; NPA Drama - Georgina Grundy
Dean E Finlay, Neive Henderson, Liam Hunter, Haris Iftikhar, Declan Lafferty, Martin R Munro, Leo W D Murphy, David Nisbet
Academic Achievement (6 National 5 As)
Awais Akram, Hammad Ali, Iman Bhatti, Dylan Carlyle, James Carter, Ava Clark, Suzy Farquharson, Emily Gribben, Christopher Hay, Jiyona Joseph, Mia Lugget, Joanne Lumsden,
Myron MacBeth, Anna Marr Walliss Mooney, Reece Scott, Sophie , Scott, Alicia ThomStar Awards (6 National 5s)
Neha Ali Kirsty A Arbuckle, Zsofia Barany, Mirran Bell, Kennedie Campbell, Millie Cassid,
Jasmine Chakir. Owen Clark, Finley Delargy, Jasmin Dick, Alicia Dobson, Charlotte Donaldson
Aidan Dougall, Marcus Evans, Sarah Feyder, Mia Flannagan, Jacob Gallagher, Mia Gardner,
Caitlin Jamieson, Jismaria Jijo, Cole Johnston, Eve Jones,Leah Kemp, Kirsten Kennedy, Jenna Kiddie,Alleia Kiran, Sophie Leonard, Conor Little, Suzannah Macaulay, Myron MacBeth, Sophie MacKenzie, Paskal Malecki, Isla Mayor, Josh McColl, Kai McCourt,Olivia McGhee, Christopher McGuire, Hannah McIntyre, Aidan McKay, Anya McKenna, Danielle McNamara Matthew Mulholland, Sarah Mulholland, Aimee Newbigging, Niamh Northway, Jude Pennock, William Reid, Owen Rodgers, Paige Rydeard, Oscar Savage, Aleksander Smith, Erin Stanners, Jamie Stewart, Leah Strathearn, Nicole Swan,Lexie Torrance, Liam Tribble, Filip Turkiewicz, Luca Vannucci, Oliver Weir, Michael Welsh, Scott Yeardly, Gilman Zafar
Andrew Captain, Lucy Scott,Columba Captain, Emily Cameron, Kentigern Captain, Joely Lerpiniere,Margaret Captain, Patrick Barrett, Ninian Captain, Amber McGuire, Ogilvie Captain, Victoria Duncan
Roy Northam Memorial Trophy -Ava & Carmen Judge
Saul Elliott Memorial Shield - Samuel Kane
Rector's Award- Ben Sinclair
HJ Lynch Award - Imogen Thom
Concrete Society of Scotland Award for excellence in BGE Technology -Molly McGhee
The Phillip Collins Reading Award - Lewis Smith
Anne Mitchell Award- Toby Gribben
Microsoft Showcase School Digital Award - Alexander McLeod
Junior Proxime Accessit- James Carter
Junior Proxime Accessit - Mia Lugget
Junior Dux - Reece Scott, Alicia Thom
Senior Proxime Accessit -Patrick Campbell
Senior Dux - Charlie Meikle, Owen McElroy.
Thank you for reading this article on our free-to-read website. We're more reliant on your support than ever as the shift in consumer habits brought about by Coronavirus impacts our advertisers.
Please consider purchasing a subscription to our print newspaper to help fund our trusted, fact-checked journalism.