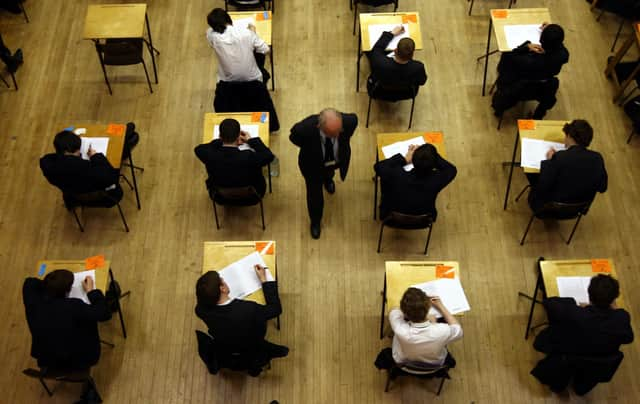 Tough questions were asked about next year's exams. Picture: PA Wire.
Holly Anderson and Callum Mack – pupils at Grangemouth High School – were warmly welcomed to the education, children and young person's executive when it met online on Tuesday.
In a discussion about SQA results in Falkirk, which also looked ahead to next year, they asked the council's head of education, David McKay, how he would make sure that the workload of preparing for both continuous assessment and exams would not be too much for teachers.
Callum Mack said: "Teacher workload is going to be a lot at the moment.
"Even though the SQA have said that exams are going ahead, there is obviously still uncertainty and if they don't go ahead teachers will have to use evidence.
"How do we know that teachers won't be overworked as they've got evidence to prepare for National 5 and they will also have Highers and Advanced Highers to prepare evidence for too?"
Mr McKay replied: "I was keen to see if you had any comments and you've come in with a belter – it's a really challenging question."
He told them that teachers' workload was a concern and that had been one reason to cancel next year's Nat 5 exams already, allowing teachers to concentrate on continuous assessment.
He also said that some course content has been reduced.
"You're right, it will have some challenges to staff but many of them are gathering this type of information anyway, as you know, just in case any one of you happened not to be presented for an exam, you've got some evidence to fall back on," he said.
"We're looking to make sure we link in with our schools and we're talking to the unions as well to make sure that we're listening to our colleagues and looking to support them in any way we can."
Members welcoming the pupils said they were keen to hear their input and know if there are any issues they want to raise.