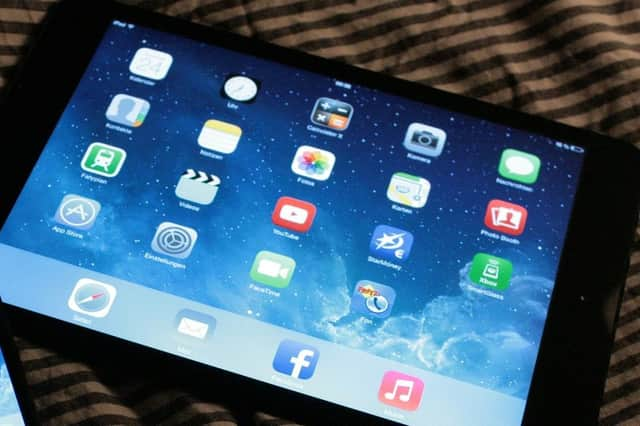 Pupils will now be given iPads
Not only were supply chains disrupted, plans to introduce the devices in face-to-face sessions also became impossible.
But the delays didn't meant the programme stopped, members of Falkirk Council's education, children and young people executive heard.
In fact, it proved its worth during the latest phase of lockdown, as 1500 pupils were given devices to help them keep up with their classmates during home learning.
Falkirk Council also provide 600 internet connectivity packs to those pupils most in need.
The council was also able to hand out 1,873 devices and familiarisation training to primary and secondary teachers.
The meeting heard the "positive impact of the distribution of these devices and training was clearly evident in the latest period of lockdown, with both teachers and pupils using their new devices to create and access learning resources".
The new devices and connectivity meant that a much higher number of pupils were engaged with home learning during the second lockdown and also meant families could access wider resources online.
As pupils begin their phased return to schools, the wider pupil device rollout is now beginning, with a target date for completion of August 2021.
All pupils from P6 upwards will be given their own iPad to use, while younger pupils will share, with a ratio of one to every five pupils.
The Connected Falkirk programme also means better internet being rolled out for 58 sites across the district.
The report noted that 14 schools have their new internet lines installed and ready for connection to new Wi-Fi; 25 schools have their cabling groundworks underway; and 19 schools are in the planning phase with installers.
Councillor Adanna McCue, the SNP's education spokesperson, said: "This has had a huge impact on our young learners and our ability to keep families up to speed during this horrendous time.
"I've seen briefings from different high schools and I'm blown away by the learning that's been going on."
Labour group leader Robert Bissett also praised the rollout.
He said: "It's been crucial at this time and I'm glad to see the pace it's gone at."