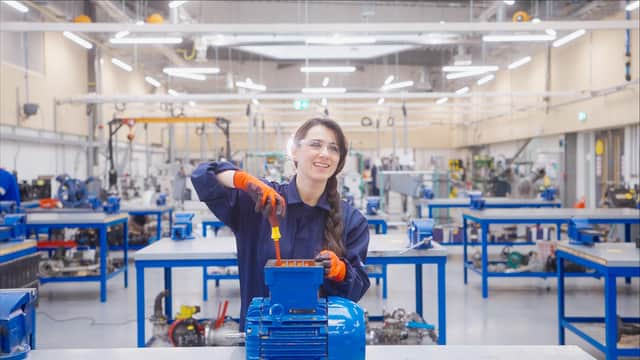 Exam results day: find out which courses still have spaces available at Forth Valley College this August.
The college has places available in courses across all four teaching departments: Business and Communities; Care, Sport and Construction; Creative Industries, Hospitality and Tourism; and Engineering and Science – but unusually, it is in the widely respected subject area of science where spaces are still to be filled.
You could be a school leaver eager to push on and enter a trade or someone who realised that school was not for them and are keen to flourish in further education. If you are then Forth Valley College wants to hear from you.
STEM excellence – courses and apprenticeships
It's not too late to start the next stage in your education or career development
If you want to study science or engineering at our new multi-award winning £78 Million Falkirk Campus it is good to know FVC is one of Scotland's leading STEM (Science, Technology, Engineering and Maths) colleges and strategically linked to the Grangemouth strip with numerous strong industry links. It is worth noting that the much sought after Modern Apprenticeships in Engineering and Life Sciences are on offer to apply for from January.
The Engineering and Science Department has created state-of-the-art training facilities which allow FVC to offer innovative integrated degree programmes in this field linked to the University of Strathclyde, Heriot-Watt University and the University of Stirling and provide training to more than 1000 Modern Apprentices (MAs) every year in everything from engineering to construction.
All ranges of science qualifications have spaces on courses in this field from National Certificate (NC Applied Science Level 5 and 6), Higher National Certificate (HNC Applied Biological Sciences; HNC Chemical process) and Higher National Diploma (HND Applied Biological Sciences; HND Chemical Process Technology; HND Industrial Biotechnology; HND Sustainability) to several of our partnership degree courses (BSc (Hons) Applied Biological Sciences (University of Stirling); BSc (Hons) Applied Biological Sciences - Year 2 (University of Stirling); BSc (Hons) Brewing and Distilling (Heriot-Watt).
Additionally, two new teacher training partnership degrees – a first in Scotland, delivered by Forth Valley College and the University of Stirling – have spaces to be filled and are set to help ease the path to science teaching jobs for graduates.
The BA (Hons) Professional Education (Chemistry, Secondary) and the BA (Hons) Professional Education (Physics, Secondary) have been specifically designed to lead to students becoming secondary school teachers in the chosen subjects, without having to complete an additional year's teaching course after graduating.
As well as preparing students for further study, completing any one of these courses can enable graduates to attain roles such as Research Scientist, Scientific Technologist, Microbiologist, Biomedical Scientist, Biotechnologist, Protein Scientist, Molecular Biologist, Chemical Engineer, Process Engineer Analytical, Industrial Laboratory Technician and Environmentalist or enter the Food and Drink Industry or look forward to a career in the Chemicals or Life Science Industry.
More information on the spaces available can be found here: https://www.forthvalley.ac.uk/ways-to-study/fvc-pathways/
To cap it all the college works closely with a wide range of partners to ensure it is delivering opportunities which meet the needs of learners, employers, local industry and national skill agendas – in short, Forth Valley College is Making Learning Work in everything that it does and it wants to help you choose a course that works for you.