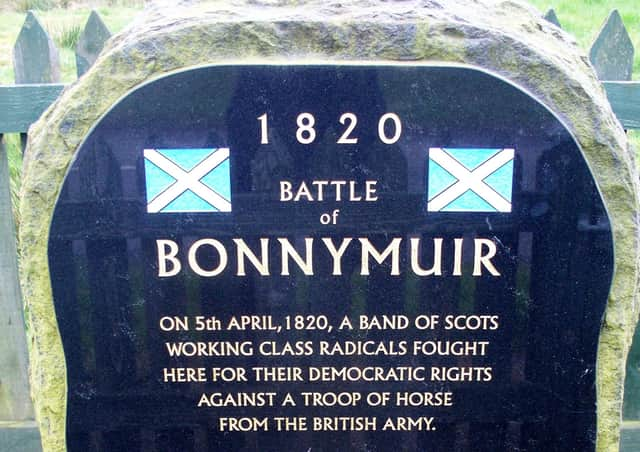 Bonnymuir memorial.
Until fairly recently the Radical 'war' of the early 19th century was an all but forgotten episode of Scotland's past, and wasn't taught in schools.
Even Falkirk Provost Billy Buchanan, a man for whom local community and heritage has always been important, only stumbled accidentally on the story of the seismic events which happened a stone's throw from Bonnybridge two centuries ago .
He was in a library in Melbourne, Australia, many decades ago, when the word "Bonnymuir" leapt from the page he was reading.
Bonnymuir battlefield today.
As the amazing story unfolded he asked himself the inevitable question: "Why were we never told about this - why don't we know about this history?"
Now, after a very long silence punctuated only by continued efforts from committed enthusiasts, a welter of national, regional and local politicians are set to descend on an obscure moorland site by Bonnybridge.
They will each be paying homage to men who once launched a suicidal bid to achieve justice for the country's downtrodden, starving workers.
Discontent had been brewing for decades, but exploded after the Napoleonic Wars when conditions ironically grew even worse.
In 1819 a peaceful demonstration at St Peter's Field in Manchester ended in carnage when the government's men launched a cavalry charge against helpless and unarmed men, women and children.
The massacre became known as "Peterloo".
Nothing changed, and in Scotland a series of riots and violent protests culminated in a massive strike.
When the workers failed to rise in full revolt, a group of Glasgow weavers led by Andrew Hardie and John Baird marched on Falkirk with the aim of seizing the iconic Carron Iron Works - the leading producer of cannon in its day - to inspire a revolution.
They hoped to meet up with other groups along the way but, led by Government spies to the convenient killing ground of Bonnymuir, they never got as far as the ironworks.
Brought to ground by a troop of the crack 10th (Prince of Wales) Hussars and another of less impressive local yeomanry horsemen (booed and pelted with stones as they cantered through Falkirk) they tried to stand their ground.
Armed with pikes, muskets and pistols, they awaited the horsemen behind a dyke, but the sabre-armed cavalry were soon among them and with many wounded they were ridden down.
Nobody died that day, although several Radicals were badly injured, and the Government losses were reportedly restricted to one horse killed and two men slightly wounded.
The "rebellion" was crushed, Hardie and Baird were later hung, then beheaded, and their supporters were transported to Australia.
But their hopeless, quixotic gesture had not been in vain.
A revolution-in-waiting now had its martyrs, and the Government - stained with the blood of its own citizens - knew that violence and kangaroo courts would never ultimately be enough to silence the people.
Despite the rearguard efforts of the 'haves' to keep the 'have-nots' in their habitual near-serfdom, the Great Reform Act of 1832 finally signalled the early beginnings of a true democracy.
Now Provost Buchanan is pleased, and proud, that the events of 1820 will achieve a national focus when, on Sunday, April 5, a still-growing list of MPs, MSPs and civic dignitaries join well-wishers at the site of the "battle" for a special bicentary commemoration event.
He staged a history pageant to commemorate Bonnymuir back in 1981, but strongly believes the story again needs to be brought to the forefront of our efforts to understand Scottish history today.
"I think 99 out of 100 people in Bonnybridge will never have heard of these events - and neither did I. It was as it had been swept from our history".
Next month's event may help to change that. Provost Buchanan sums up his own verdict on the events of the Radical War: "Trust must prevail over falsehood and error. Liberty, humanity and justice for all - their cause was just".
Meanwhile perhaps nothing is more eloquent of the misery afflicting the people of Scotland in those days than the fact that when the men transported to Australia were pardoned in 1835 few showed any interest in returning to Scotland. Why would they?